Lana Condor Beauty and Skin-Care Secrets Interview
Lana Condor Can't Keep a Secret and is Giving Away All Her Beauty Tips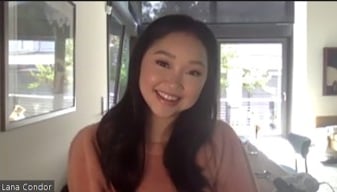 Actress Lana Condor is, in one word, adorable. Whether she's making pizza, letting her boyfriend practice his MUA skills, or even talking about her relationship with a brand, it's as cute as a basket of puppies.
"I'm just happy that it's out because I was afraid I was accidentally going to say something and spoil the surprise," she told POPSUGAR about about her new role as Neutrogena Global Brand Ambassador over Zoom. "Keeping secrets is just so hard for me, and it's just so stressful."
She managed to keep the secret, and Neutrogena didn't even share who we'd be Zooming with before it happened. Fortunately, Condor's smiling face is the best kind of surprise, and she radiates at a check-your-monitor-settings level.
"I think because of quarantine, and because I've had the time to take care of my skin, it's kind of poppin' right now," she said about her glowing skin. And since she admittedly can't keep a secret, she was more than happy to spill all her best skin care and beauty tips:
Wear Sunscreen
"Incorporate using sunscreen every day, even if you're not outside," Condor said. "My mom says, 'If you see light, you should be wearing sunscreen.'" (Condor's mom is diligent about SPF after a skin cancer scare.) "You don't want to go through this, and you don't want to see your loved ones go through this. Just wear your sunscreen now, while you're young and you still haven't had the damage. Hopefully you haven't had the damage already."
Condor loves Neutrogena Ultra Sheer Face Mist Sunscreen SPF 55 ($12.97) and says it would be her desert island beauty pick. ("And I feel like I could use the bottle for something else once I'm finished.")
Use Sheet Masks
"Maskne is a real thing," Condor said about breakouts caused by fabric face masks. "Masks are obviously amazing, we need masks, we must wear masks — but we also must wear sheet masks. If you have maskne, take off your mask when you're at home, and wear a sheet mask."
Healthy Skin Starts With a Healthy Mind
"Your self-talk or the way you live inside your head does affect your skin," Condor said. "It does affect the luminosity, whether you're stressed. The biggest thing for me during quarantine has been focusing on making sure my brain is happy and healthy and I feel safe in my brain, 'cause it's all I got. I'm stuck in there. So I'm definitely spending the extra time to check in with myself. I think that's the biggest beauty thing I've learned through quarantine."
Take Off Your Makeup
"I used to be a dancer, and so we wear a lot of stage makeup, and my mom told me about the importance of taking off your makeup," she says. "And she taught it to me with the [Neutrogena Makeup Remover Towelettes ($7.60)], which are a staple . . . I've been using the wipes forever."
Drink Water
"It's very simple, but it's true. I've been pounding water; I keep getting up to go pee," she said with a laugh.