Laverne Cox on Bad Hair Movie, Empowering Black Women
Laverne Cox on White Beauty Standards: "We Should Be Able to Wear Our Hair Any Kind of Way"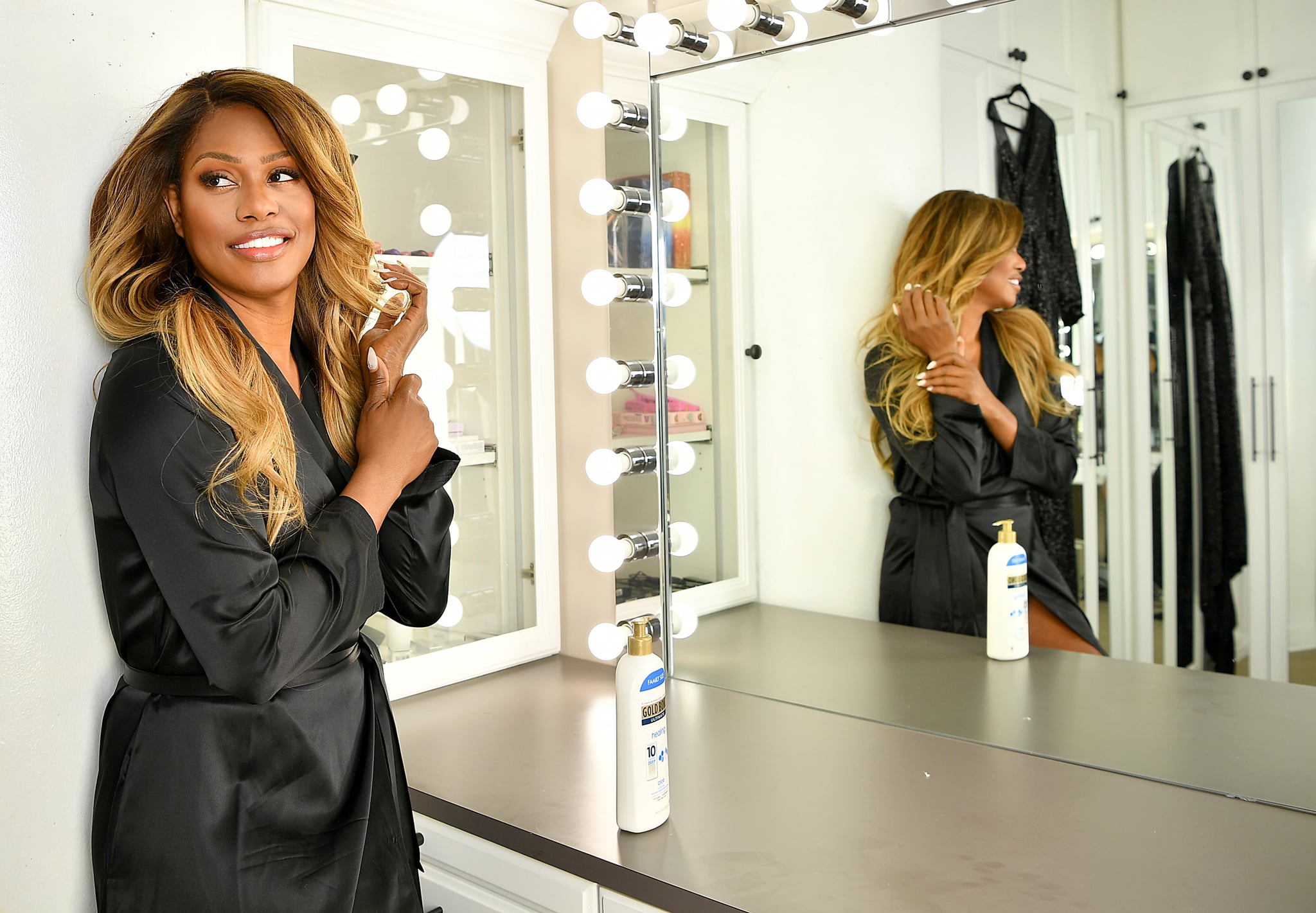 Image Source: Gold Bond
As an award-winning actress and producer, Laverne Cox has known a thing or two about breaking down boundaries since becoming the first trans person to be nominated for a Primetime Emmy Award in 2014. Since then, she has taken on dozens of roles that have made her a beloved household name.
We had a chance to chat with Cox on the significance behind her latest project on Hulu, what she's doing to keep things manageable right now, and how she's staying inspired amid all the chaos.
On Feeling Comfortable in Her Own Skin
Although it may seem like Cox's confidence hasn't wavered since day one — we have her role as Sophia Burset on Orange Is the New Black to thank for that — she shared that being her authentic self has come with its own challenges.
"I believe it's all a process," she told POPSUGAR. "I've had moments throughout my life where I felt amazing and awesome in my skin and other moments when I haven't. For me, the work is daily; every day reigniting that space to championing and feeling good in my own skin. There was certainly when I confessed to myself that I'm trans 22 years ago and started the medical transition — that was an important time for me."
Her experience is also why she teamed up with Gold Bond for its #ChampionYourSkin campaign and partnership Trans Wellness Center — to inspire other transgender and non-binary people to feel confident just as they are.
How She's Practicing Self-Care
The small silver lining of 2020 for Cox? Giving her skin a much-needed break. "Honestly, I don't wear makeup a lot because I'm at home and I don't see people," she said. "Everything's kind of simple around my beauty regimen, but sometimes if I have a Zoom call I'll put on a little makeup here and there. But for me, it's an inside job."
Of course, the actress knows she needs to stay busy, and well, sane. For her, that means creating inspiring dance videos and sharing them on social media or keeping them for herself. The bottom line: Cox simply wants to feel empowered.
"I've made a lot of videos in quarantine. I'm known for these dance videos that I make on TikTok and Instagram and stuff, but I've also made some and not posted them," said Cox. "Those are literally just for me; no one else has seen them. I'll put on a little makeup and slather myself with Gold Bond, but to be real, it's not even about the makeup. [The videos are] about feeling good in my skin and embracing what's going on."
"Sometimes it's hard for me to see myself as I am, even when I'm just looking in a mirror."
The clips also allow her to see a deeper layer of herself. "Sometimes it's hard for me to see myself as I am, even when I'm just looking in a mirror. So when I'm making the videos and [watching them back], I'm like 'Oh she's cute. Oh she's awesome.' I'm not able to do that in the mirror," she explained. "The videos for me are like, OK, I've done that. I can get it. Because we're not in contact with people, we ignore ourselves in relationship to other people. I find myself doing these videos for myself, not for the world, and not for the makeup or glam but to celebrate being myself."
On Healing in a Time of Crisis
Because the world has slowed down to a near standstill this year, Cox has had time to take stock of what really matters. After some self-reflection, she's realized that having creative outlets is key.
"I'm thinking a lot about what healing looks like," said Cox. "In the context of this crazy world, I've been thinking a lot about art. I've been thinking a lot about the things that soothe us and make us feel better. Art, music, dancing, performing — it's the creative things that have always made me feel better in my skin. So I've been thinking a lot about things that are positive and uplifting, and leaning into those right now. And then also thinking about, particularly today, how this is really an opportunity to grow. How all of these challenges that we're having right now."
According to Cox, 2020 has taught us that we need to flip the script and do things differently. "This year is suggesting that we can't go on doing things the same way that we've been doing them," said Cox, noting that we have to take a harder look at what needs to change. "I've been thinking about what that looks like for me personally. The world is crazy right now. It's a crazy world. There [are] definitely parts of me that want to be grandiose and change the world at large, but it has to start with me. It has to start with us as individuals."
She continued: "I hope everyone will vote. I hope people fill out their census. I hope people are doing the little things. And then also with the people in our lives, too. What can we do to make the lives of the people that we don't see every day — because we don't see much of anyone right now but on Zoom — better? Check in with people: are they OK right now? For me, it's about keeping things very, very simple and manageable because everything else is so crazy that it's overwhelming."
On the Significance of Her New Hulu Movie, Bad Hair
Taking on the role as Virgie in Bad Hair — which hits Hulu in October — Cox explained that she's been wanting to work with the Justin Simien, the movie's writer and director, since she saw Dear White People for the first time.
"I love that it focuses on hair and Black women and all of the horror trauma around that."
"Justin is a genius," she explained. "The second I saw Dear White People I was like, 'Why am I not working with this director?' He's someone that I manifested and low-key stalked for a while. The film itself is set in 1989 at a music television show, and it follows this young woman Anna who wants to make it in music television. Her boss says, 'You need to do something about your hair,' and so she gets a hair weave and then soon discovers that the hair has a mind of its own."
While the movie is a horror-satire, Cox notes that the central theme goes much deeper than that: "I love that it focuses on hair and Black women and all of the horror trauma around that," said Cox. "It's about the horror of white supremacy and what we, particularly Black women, are asked to do in terms of shape-shifting to fit in a Western culture, and the toll that takes on them. I'm reading the script and literally at the first page of the script, I was bawling. I was just so insanely moved by the work and I'm so excited about the conversations around beauty standards that we still need to have."
Cox says the entire film resonates with her, particularly as a Black woman who has struggled with her hair in the past. "A lot of Black women have had we call 'creamy crack' with relaxers and straightening our hair, there [have] been disasters," said Cox. "I had disasters around hair straightening where I lost hair and I had bald spots from bleaching my hair. There's just a lot of trauma associated with, for a lot of us, around caring for our own hair. And then with our hair there is the desire to be seen as our authentic self and what does that mean when we have weaves on."
Although the film is set in 1989, Cox is extremely aware that many of the choices she makes today are often rooted in white beauty standards. "For example, I'm sitting here now with a beautiful blond lace wig on, which is one of my favorite things to wear. It's a choice that I made but I'm aware that I have not made this choice in a vacuum," said Cox. "I think I look great blond. I love it, but still it's not lost on me that I've made this choice in the context of white supremacy."
For Cox, empowering Black women to choose what suits them is what's important. "I've made the choice with the historical standing of what blond hair signifies and how that shift and changes based on who you are," she said. "There's the concept of assimilation that we could talk about around hairstyles. It should be about choice and we should be able to wear our hair any kind of way and not have that affect us professionally or have that affect our viability culturally, but that's not really the case."