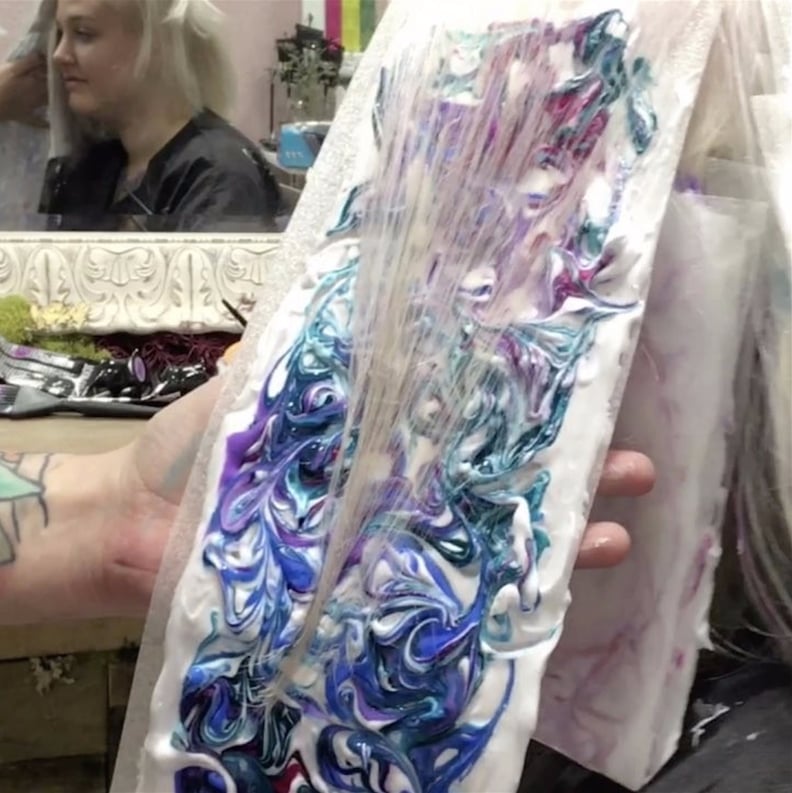 We thought we'd seen it all from marble beauty trends after marble lip art, marble nail art, and even Valentine's Day marble nail art, but the latest marble style proves this melting trend isn't going anywhere. Hair marbling is the new hair dyeing technique that creates beautiful tie-dye shades, but it's the way the formula is created that's so mesmerizing.
First spotted by Allure, hairstylist Ash Fortis has made hair marbling her signature style after wanting to bring the popular nail art trend to hair. What makes marbled hair so special is that the results are unique every single time.
To create the dye formula, Fortis explained that she starts with putting a layer of shaving cream onto foam mesh strips. Using Pulp Riot dye, she spreads different bright colored dyes on top of the cream and uses the back of her color brush to create marbled, swirled designs on the strip. When the design is ready, she separates the hair and presses a small section of the hair onto the strip with the dye and places a clear strip on top. She does this for multiple sections of hair. The result is a beautiful, multicolored design.
Keep reading to see more of Fortis's mesmerizing technique and the stunning results of her clients.