Marvel's "Werewolf by Night" Brings Old Hollywood Glam to the Forefront
As the Marvel Cinematic Universe continues to grow and expand, creators are finding new ways to bring beloved comic-book characters to life. In honor of spooky season, the franchise is reimagining classic horror films with "Werewolf by Night," a 53-minute special now streaming on Disney+ just in time for Halloween. Based on the Marvel comics featuring the character of the same name, "Werewolf by Night" centers around a group of monster hunters from all over the globe who, following the death of their leader, compete to see who will take over the throne.
In an homage to 1930s and '40s horror movies, the film is depicted in black and white, which posed a unique challenge for makeup department head Ellen Arden — especially because at the time of shooting, it wasn't yet confirmed whether it would be aired in color or in black and white.
"We knew we had to choose colors that would perform well in both arenas," Arden tells POPSUGAR. "For example, we often chose colors that would read more toward middle gray, recognizing a set of scenarios that could happen in post." However, the team also wanted to make sure the makeup color palette would be visually striking in the event that the special was released in full color.
Arden also had to be mindful of the makeup finishes. "We steered away from ultramatte finishes and setting powders and opted for products to aid in amplifying luminosity to add that 'glow from within' look often seen in the silent-film era," she says. "Skin prep and product selection are super important for that aesthetic, especially when working with Ultra HD."
Ahead, we're breaking down more behind-the-scenes details about the makeup in "Werewolf by Night" — from Gael García Bernal's Day of the Dead-inspired makeup as Jack to Laura Donnelly's surprising lip color as Elsa.
How Elsa Embodied Classic 1930s Glamour
Being that she's the only traditional-looking character, all of the retro glamour was channeled into Donnelly's look as Elsa Bloodstone, the daughter of the deceased leader Ulysses Bloodstone.
"I wanted her to look super classic and to have that polished look, but she's also very edgy and kind of doe-eyed," Arden says. "She's not really there to participate like the rest of them. They're all highly designed, with ritualistic face paint . . . she's just there to get down to business to get the Bloodstone back, and she doesn't want anything to do with all of their antics."
To keep her looking fresh and luminous on camera, Arden used the 111Skin Y Theorem Repair Serum ($350) followed by Clarins Beauty Flash Balm ($49) mixed with Charlotte Tilbury Flawless Filter ($46) on the high points of her face. The makeup artist also applied Chantecaille Future Skin Gel Foundation ($82) in shades Alabaster and Vanilla, opting to go without powder to maintain a radiant look that would translate well in black and white.
For a rosy flush, Arden applied It Cosmetics Vitality Cream Blush in Naturally Pretty (this product is currently unavailable, but the brand's Bye Bye Pores Blush is a nice powder alternative). Elsa's natural eye look was created using the Viseart Neutral Mattes Palette ($80), Lancôme Hypnôse Drama Mascara in Black ($29), and Anastasia Beverly Hills Brow Wiz in Dark Brown ($25).
It may look like Elsa is wearing a vampy red lip, but Arden says it's actually her natural lip color. "She's gifted," she says, adding that she did amp things up with a tinted balm (opting for a classic in Carmex), as well as the Charlotte Tilbury Matte Revolution Lipstick in M.I. Kiss ($34), which Arden calls a "spot-on match" for Donnelly's natural lip color.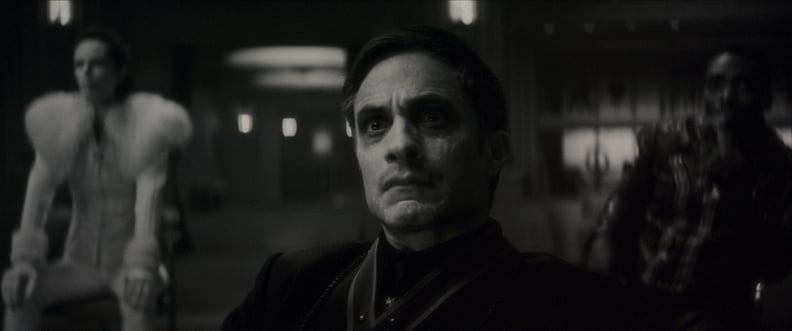 How Gael García Bernal's Culture Influenced His Makeup as Jack Russell
The character of Jack Russell (who is also Werewolf by Night) has seen a few iterations in comic books, but this is his first appearance in the MCU — and his first time being portrayed as Latino. Arden says that director Michael Giacchino wanted the character's makeup to be a nod to García Bernal's Mexican heritage.
"Michael really wanted something [inspired by] Day of the Dead but at the same time wanted to steer away from overcommercialized makeup that we would see around this time of the year on Instagram or something," Arden says.
To ensure the makeup would be authentic to Day of the Dead (or Día de los Muertos), the production hired Rosanna Esparza Ahrens, a designer who also worked on Disney's 2017 animated film "Coco." "She did a two-dimensional design, and then it was up to us to translate into what was going to work best for us in a three-dimensional realm."
The end result is a series of white dots and dashes on García Bernal's face, reminiscent of the skull face paint that's used in the celebration of the Mexican holiday. "There's kind of like a push and pull with the makeup and the lighting, which I kind of like because it kind of takes on its own role and evolves with him," Arden says. "We wanted it to look organic. I don't think that makeup is a part of Jack necessarily; I think it was something that he was wearing to show up to this to honor his ancestors to stand."
Arden created Jack's face markings and sunken shadows using Skin Illustrator Palette in Necromania ($100) and Ben Nye Media Pro Eye Definer in Black ($10).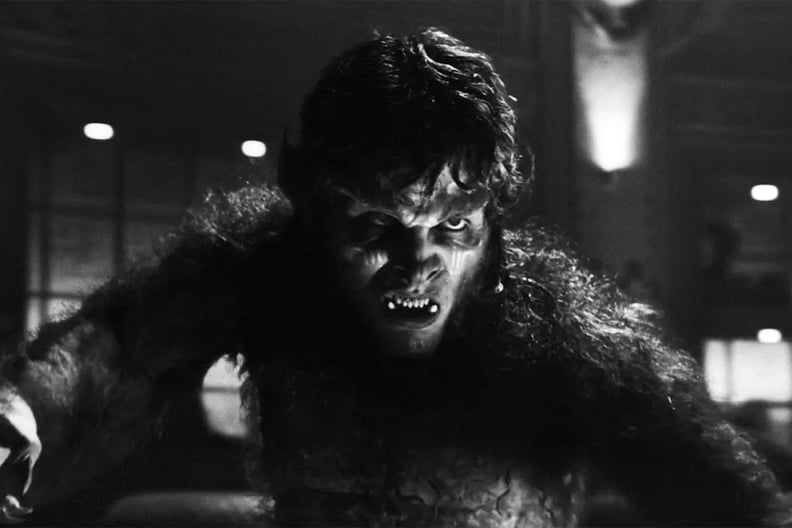 Gael García Bernal's 4-Hour Transformation Into Werewolf by Night
While the werewolf costume was created by a special-effects team, Jack's Day of the Dead makeup was integrated into the design. "We had to establish that makeup first, and then [the effects] team took the design and then married those two things together, which I think looks really cool on the werewolf, too," Arden says.
The artist explains that the makeup was airbrushed onto the werewolf costume on García Bernal's face, then set so it wouldn't move. "We had to come up with a formula of sealers and airbrushing makeup," she says. "We also wanted it to be transparent; we didn't want it to be super white or cartoony."
To ensure continuity, Arden says she created stencils that made it easier for the makeup team to apply and keep track of the werewolf's face markings.
The total time it took to transform García Bernal into the werewolf, costume and all? Around four hours, Arden says. But, she adds, "I think that they may have gotten it down to two."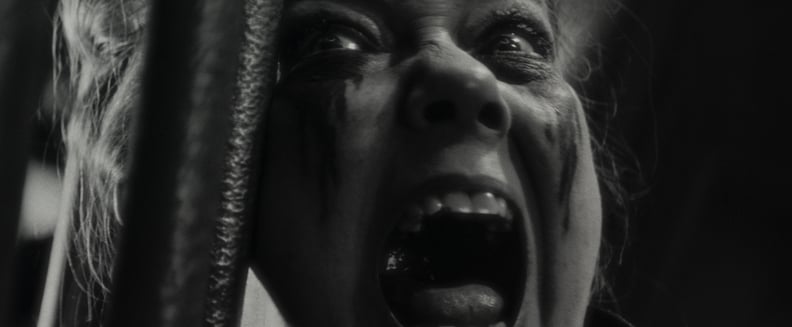 Behind Verussa's "Old Money" Twist on the Evil-Stepmother Trope
Played by Harriet Sansom Harris, Verussa is Ulysses Bloodstone's widow and Elsa's stepmother. "When we first meet her, she's widowed. She's sad," Arden says. "She looks like old money, which was like a direction that we specifically got for her character."
As the battle for the Bloodstone unfolds, Verussa goes from polished and buttoned-up to crazed and angry. The most notable element of her transformation is the dramatic streaks below her eyes, which Arden says were created using a mixture of red pigments, including Kryolan Aquacolor in #079 ($16) with Wolfe Face Paint in Red ($13, originally $14) and Dyanessa Myricks Color Fix in Primary Red ($18) as lash paint.
"No one product is gonna give us the watercolor-type texture that we wanted," Arden says. "We wanted there to be definition in it, so like really sharp edges, but we also wanted there to be feathery texture in that, so it looked like she had been crying."
Arden also says that she customized the specific red shade so that it would look dimensional in black and white. "By choosing a primary red color, then layering that red with a deeper, slightly more violet color, it helped to create depth and dimension rather than losing tonal values once it was converted into black and white," she explains.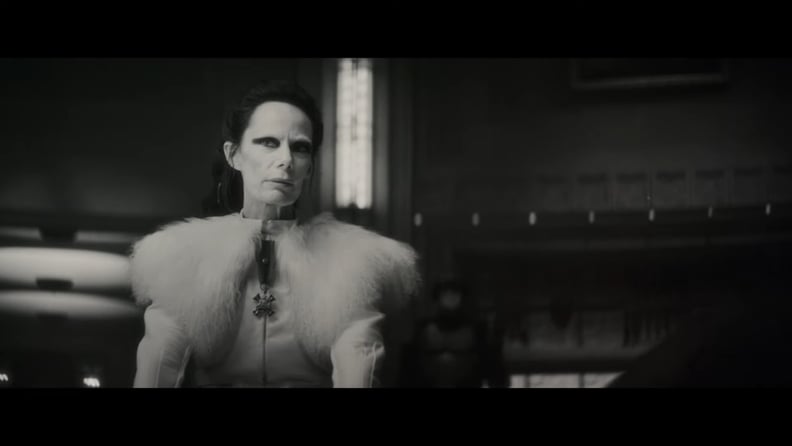 Azarel's Runway-Inspired Beauty Look
Azarel's bleached eyebrows and bold eye makeup look seem like they could have come straight off of a high-fashion runway — and that was the entire point. Eugenie Bondurant, who plays the monster hunter, is also a model who frequently works with Balenciaga.
"[Eugenie] came from [a] Balenciaga show and she was showing us all this stuff, and then I was like, 'Well, here's the thing, I really want to bleach your eyebrows because I think it's gonna make her look so fierce,' Arden recalls.
Along with the bleached brows, Arden created black, "almost face-mask-type" eye makeup and purposefully shaped her face to appear gaunt. "I think it really came through because she looks so crazy and badass," the makeup artist says. "It was a very much runway-inspired look for her."
To create the dramatic eye look, Arden used MAC Gel Liner in Blacktrack ($19) all over the lid, followed by MAC Matte Eyeshadow in Carbon ($21) and Make Up For Ever Artist Color Shadow in Gunmetal ($17).