What Is a Medical Pedicure?
Is a Medical Pedicure Your Answer to Sandal-Ready Feet?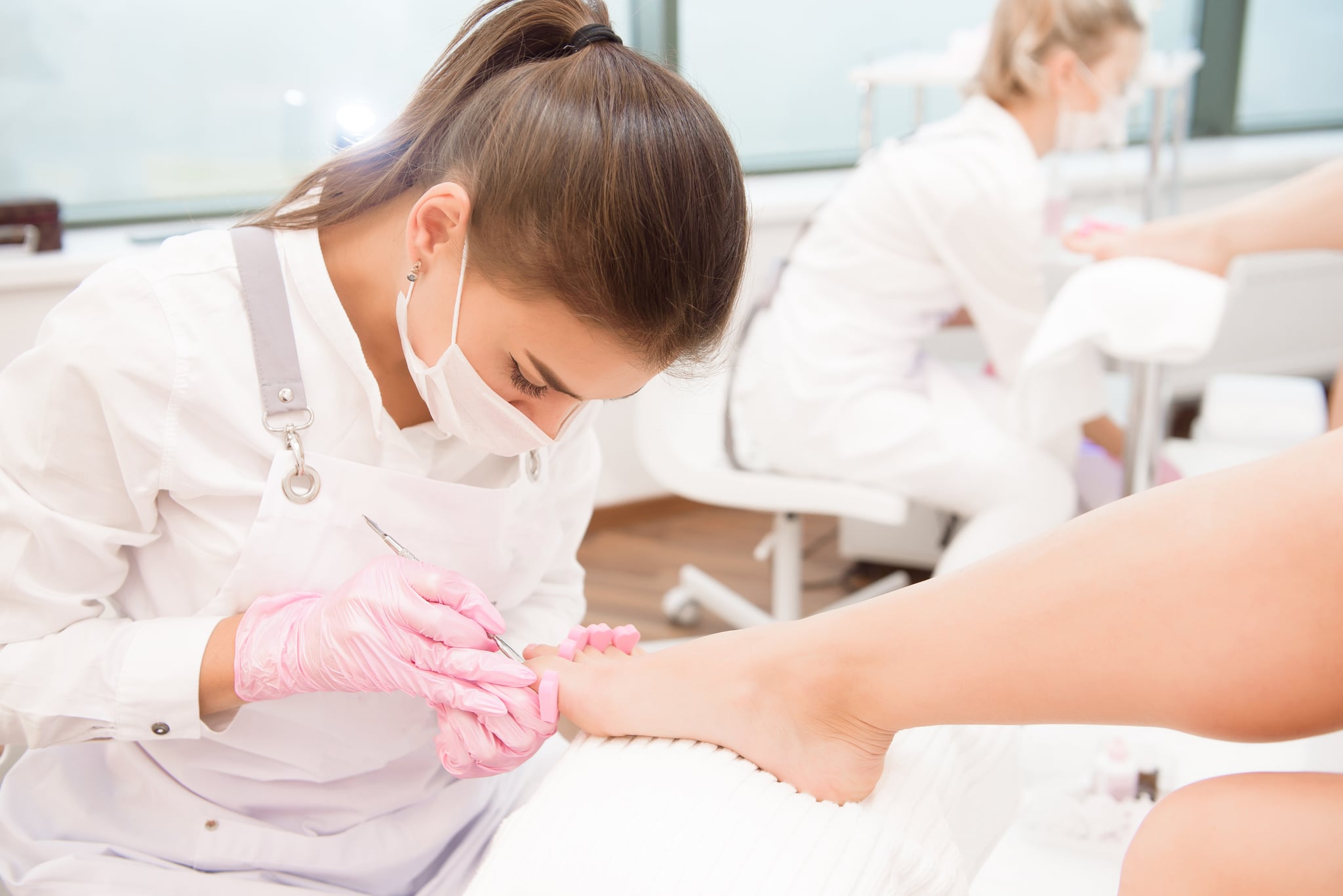 A medical pedicure is a service that bridges podiatry and basic nail care.
Medical pedicures focus on the health of your feet rather than aesthetics.
Medical pedicures can treat cracked heels, calluses, broken nails, and more.
Chances are you've gotten — or at least heard of — a regular pedicure, a spa pedicure, and even a gel pedicure, but what about a medical pedicure? Just as there are a ton of different manicure styles out there, there are many variations of pedicures available to get your feet in tip-top shape, and a medical pedicure is one of them.
Medical pedicures fall between podiatry, which is the branch of medicine that focuses on the feet and ankles, and basic nail care. To learn more about medical pedicures, the benefits of the service, and who the right candidate is for one, keep reading.
What Is a Medical Pedicure?
"Medical pedicures provide a one-of-a-kind foot care experience," Marcela Correa — medical nail technician and founder and owner of Medi Pedi NYC — tells POPSUGAR. During a medical pedicure, professional, sterile equipment is used to perform a variety of treatments. "It addresses and treats noninvasive ailments such as cracked heels, corns, calluses, thick nails, ingrown nails, athlete's foot, nail fungus, and more."
The service is noninvasive with zero downtime (meaning you can walk in and walk right back out) and done by certified medical nail technicians. "These technicians are trained to detect and recommend you to see a doctor if they see something abnormal," Correa says.
A Medical Pedicure vs. a Salon Pedicure
Medical and salon pedicures differ drastically. To start, a medical pedicure is not about aesthetics — it's more focused on the health of your feet. You won't leave a medical pedicure with fresh toe nail polish or a soothing foot massage. Medical pedicures are also waterless. "We eliminate the use of water to avoid cross-contamination," Correa says. "Water can make conditions like nail fungus and athlete's foot worse."
Instead, you'll undergo a thorough dry cleaning, then your nails will be filed, cut, and buffed. Dry and dead skin will be addressed by buffing the feet and cracked heels will be mended. If blisters, corns, or calluses are present, they will be removed. Also if needed, your technician will restore the natural color of your toenails.
As a whole, medical pedicures are a useful corrective- or preventative-care tool. "By simply incorporating these treatments into your health and wellness routine, you prevent problems that can lead to invasive correction such as bunions, hammertoes, recurring ingrown nails, and more." Anyone can benefit from getting one, but it's especially useful for athletes or those who live an active lifestyle and are constantly on their feet.
Similar to a pedicure that you'd get at the nail salon, medical pedicures can take around 45 minutes to an hour. However, they're done one on one in a private, sterile room just like when you visit a podiatrist.
How Much Is a Medical Pedicure?
The price of a medical pedicure varies by location, but the service typically costs around $200 and can go up from there. It's more expensive than a cosmetic pedicure, but the treatment is a bit more thorough.
How Long Will Medical Pedicure Results Last?
There's no one-size-fits-all guide for how frequently you should get a medical pedicure, and it's largely based on the existing condition of your feet. The nail shaping and dead skin removal, however, should last around four to six weeks.