Merit Signature Lip Lightweight Lipstick Review
Merit's New Hydrating Lipstick Replaced My Lipstick, Lip Gloss, and Lip Balm
As POPSUGAR editors, we independently select and write about stuff we love and think you'll like too. If you buy a product we have recommended, we may receive affiliate commission, which in turn supports our work.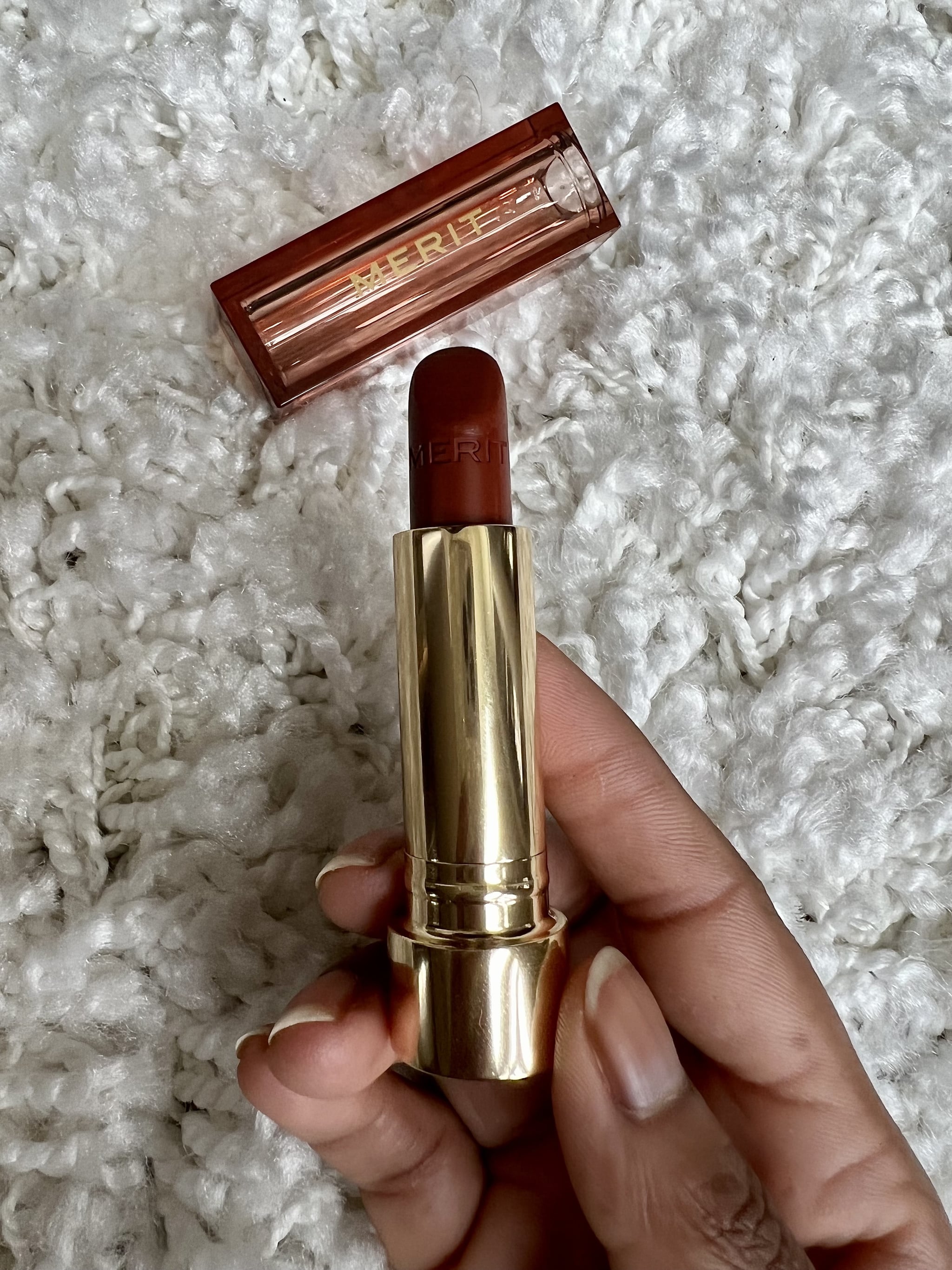 If there's one thing that instantly makes me feel glamorous, it's a bold statement lip. A striking matte lip has that pigmented look that steals the show, but it dries out my lips and feels uncomfortable. Although I love a good lip gloss for a high-shine plumped look, sometimes I want to go for something a little more subtle. I came across Merit's Signature Lip Lightweight Lipstick ($26) and saw countless reviews raving about the product. From the lip balm-like texture to the versatile and buildable color payoff, I had to see if this lipstick lives up to the hype, especially since I have stubbornly dry lips.
The Signature Lip Lightweight Lipstick is supposed to have the benefits of a lip balm but the color payoff of a lipstick. It has a buttery soft, moisturizing texture — it feels very similar to the Vaseline lip therapy lip balm. It contains moisturizing and hydrating ingredients like squalane, sunflower seed oil, castor oil, and raspberry oil. It also has papaya fruit extract that helps soothe lips and smooth texture. The lipstick has comfortable wear that is lightweight and flexible on the lips. With traditional matte lipsticks, you can see the cracks and separation of the product as you move your lips. Merit's Signature Lip Lightweight Lipstick moves with your lips as you talk and laugh for a seamless wash of color. The hydration lasts for quite some time, but I have pretty dry lips to begin with, so I mainly had to reapply the lipstick to top up my moisture post-dining.
The Merit Signature Lip Lightweight Lipstick comes in eight shades ranging from neutrals and browns to pinks, reds, and corals. It has a sheer color payoff, but it's quite buildable for a more pigmented look. It has a satin-shine finish that can replace a gloss. Starting from the left, I wore the shades tiger, a brick red, 1990, a deep brown, and l'avenue, a berry-brown. I'm not wearing a lip balm or lip liner underneath or a gloss on top. The color does fade a little bit as you are eating and drinking, however, it does leave a stain if you have a more pigmented application. If you're going for a more "my lips but better" natural look, I suggest only using around two to three swipes for a wash of color. However, if you want something bolder and more pigmented, keep building and adding more layers. For me, four to five swipes gave me that statement lip look.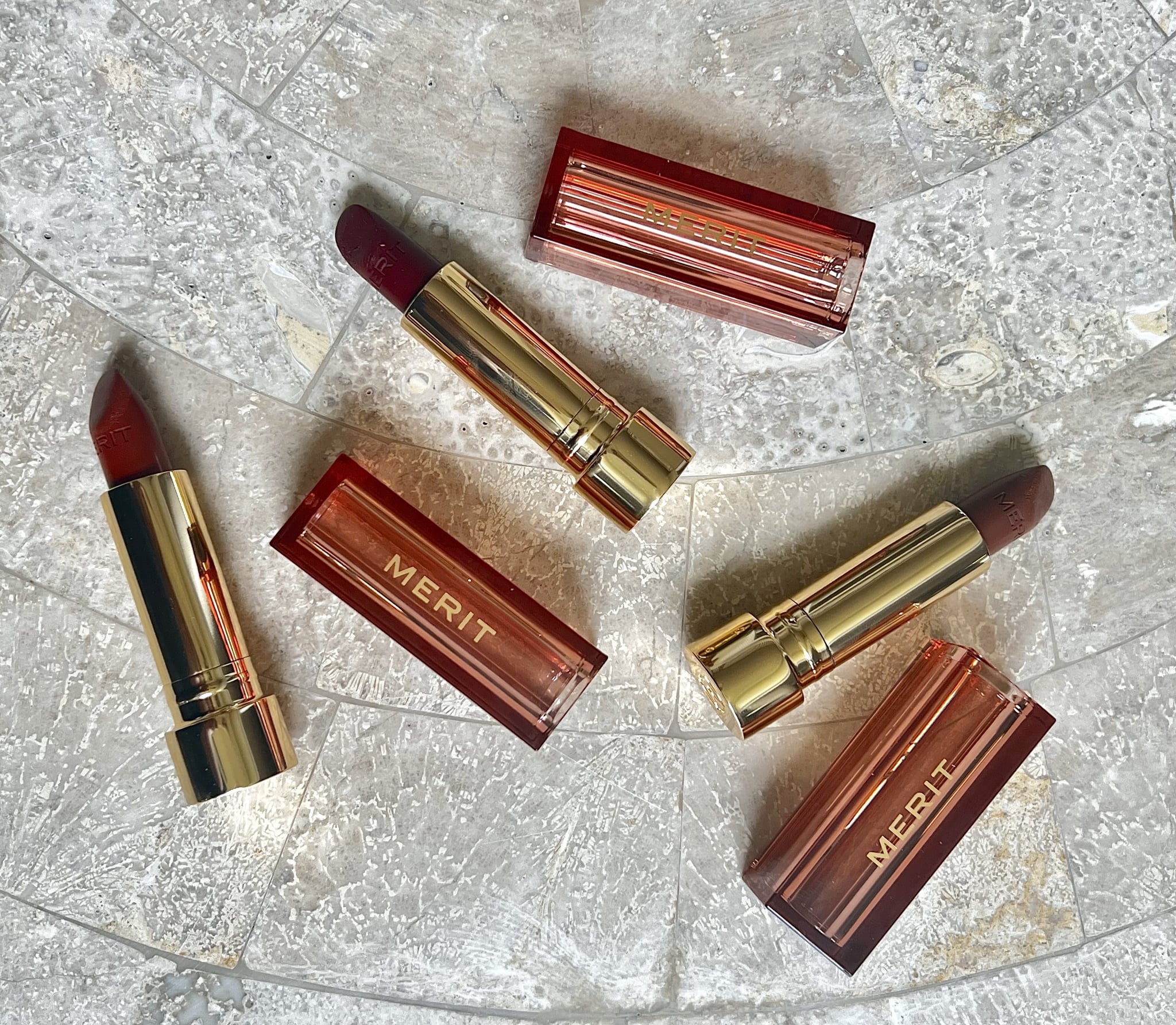 Merit's Signature Lip Lightweight Lipstick is perfect for a night out and everyday use. This one product can replace your lip balm, lip gloss, and lipstick in your handbag. It has a lovely and elegant feel on the lips that feels hydrating and lightweight. The lipstick has a color payoff that lasts for quite some time, and it keeps my lips feeling conditioned. I highly recommend this to anyone looking for a new go-to lipstick that can do it all and streamline your routine (and handbag). It's one of my favorite lipsticks for those with dry lips.
Rating:

Image Source: POPSUGAR Photography / Anvita Reddy