A Look at Miley Cyrus's Wildest, Most Over-the-Top Beauty Looks From the VMAs
Miley Cyrus has never shied away from an out-there beauty look — especially when it comes to the MTV Video Music Awards. While the multi-hyphenate star has been attending the VMAs since her Hannah Montana days in 2008, she's gotten more and more bold with her hair, makeup, and accessories over the years, from her infamous "Blurred Lines" performance with Robin Thicke in 2013 to the epic "Slide Away" performance in 2019.
Lucky for us, we'll get to see see her again in 2020 at this year's show on Sunday, Aug. 30. To get you excited for whatever lies ahead, allow us to take you on a walk down VMAs memory lane with Cyrus's wildest beauty looks through the years.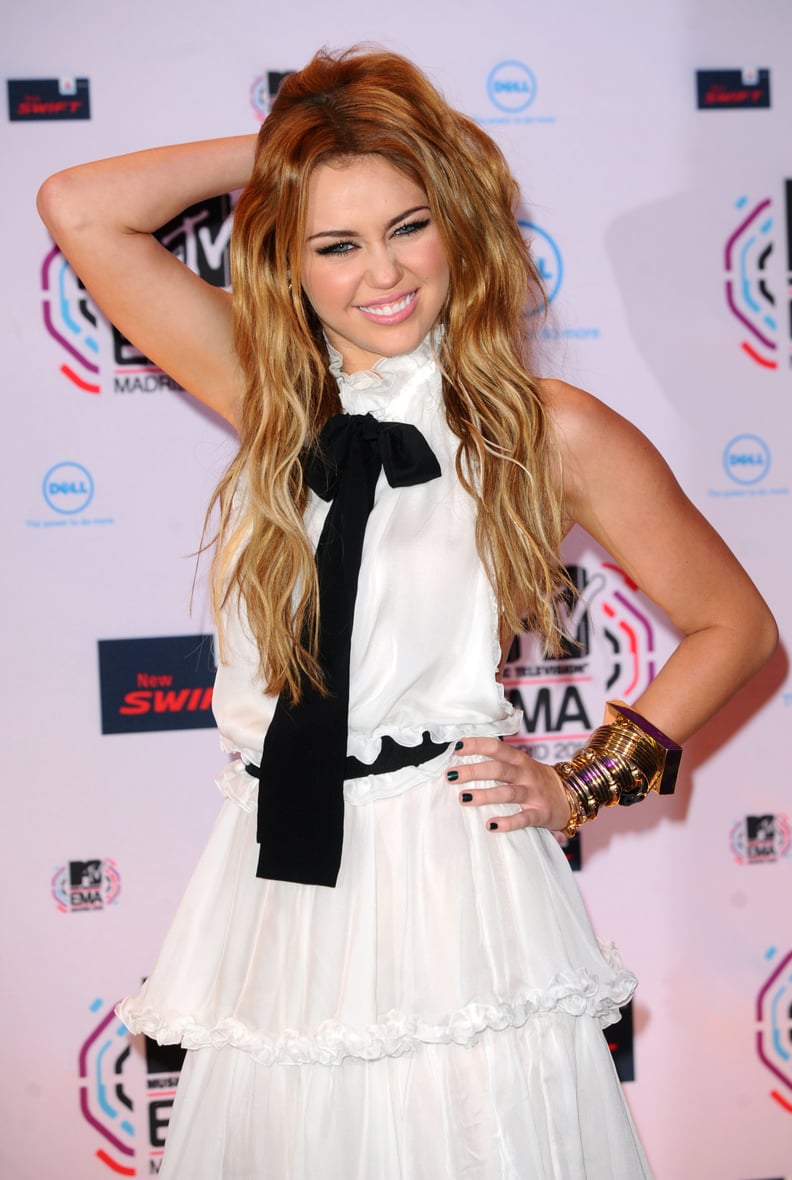 Miley Cyrus at the 2010 VMAs
While it wasn't her first VMAs red carpet, Cyrus started to show off a more punk-rock beauty look with her black nail polish and bold eyeliner in 2010.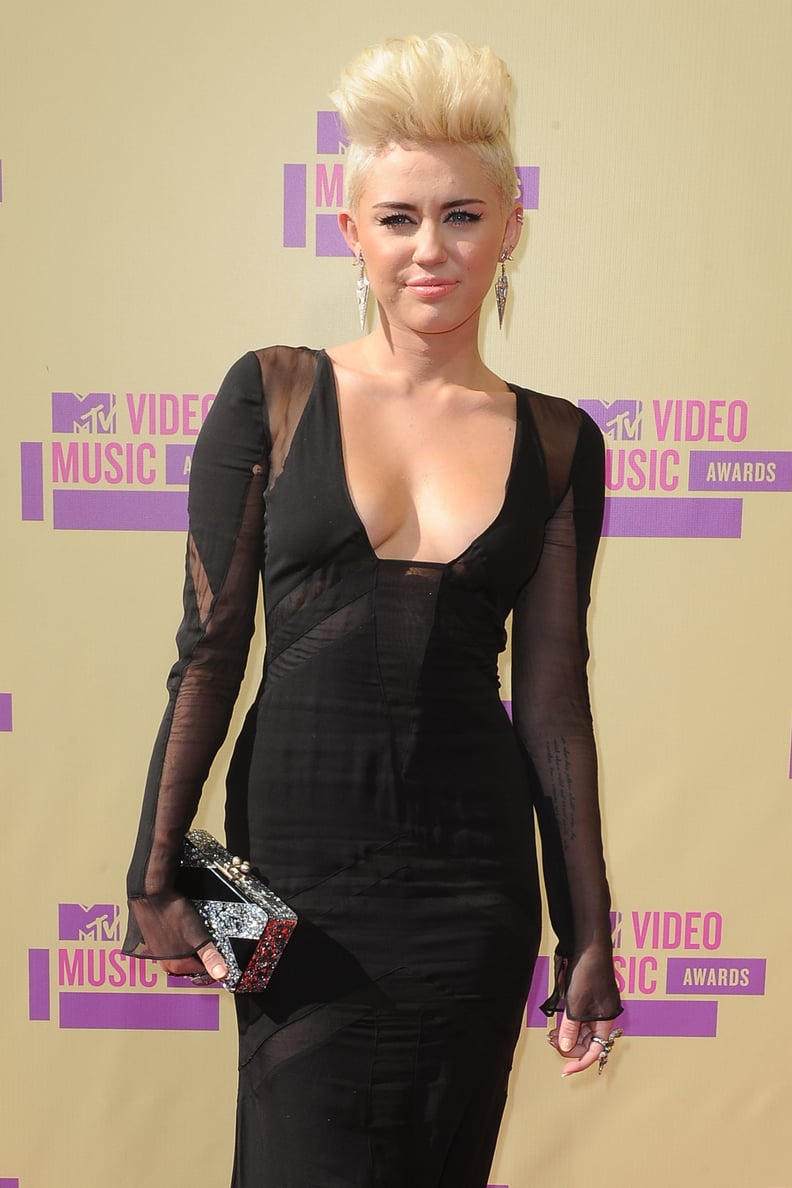 Miley Cyrus at the 2012 VMAs
Cyrus took the mohawk hairstyle to new heights — quite literally — with her bleached blond look in 2012.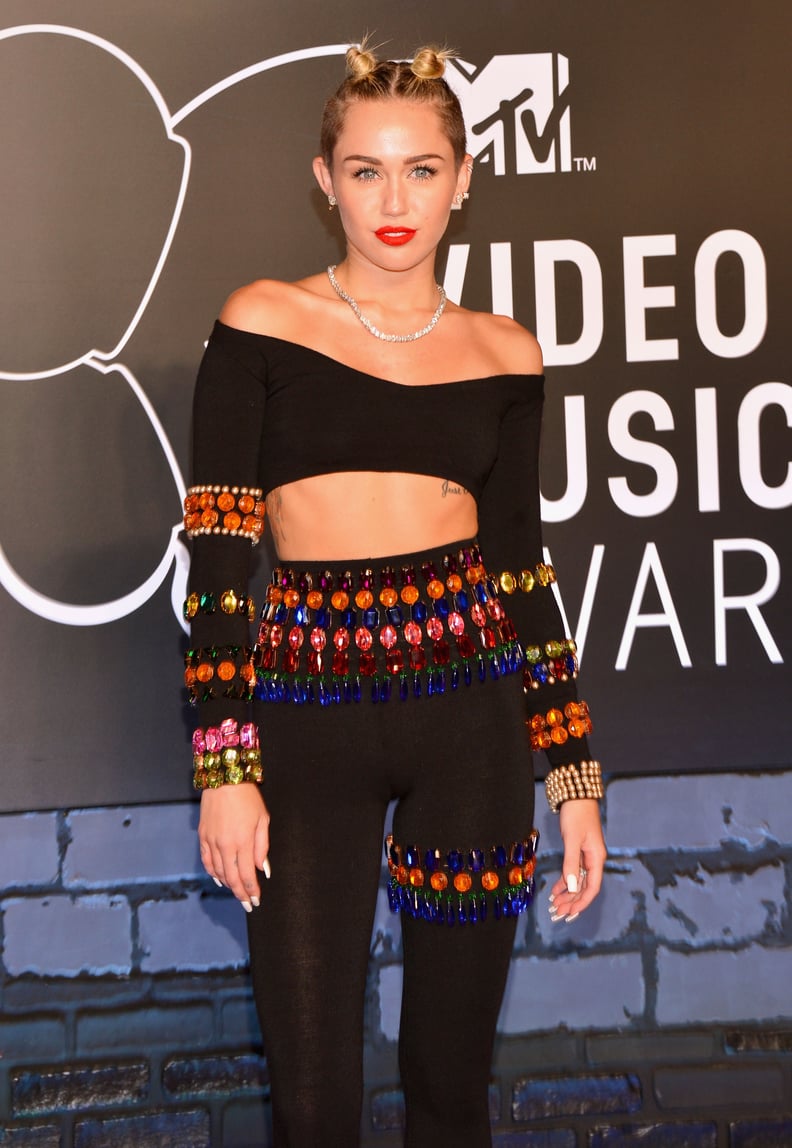 Miley Cyrus at the 2013 VMAs
In 2013, Cyrus stepped out with perhaps her wildest look to date with two mini space buns, a bright red lip, and white acrylic nails.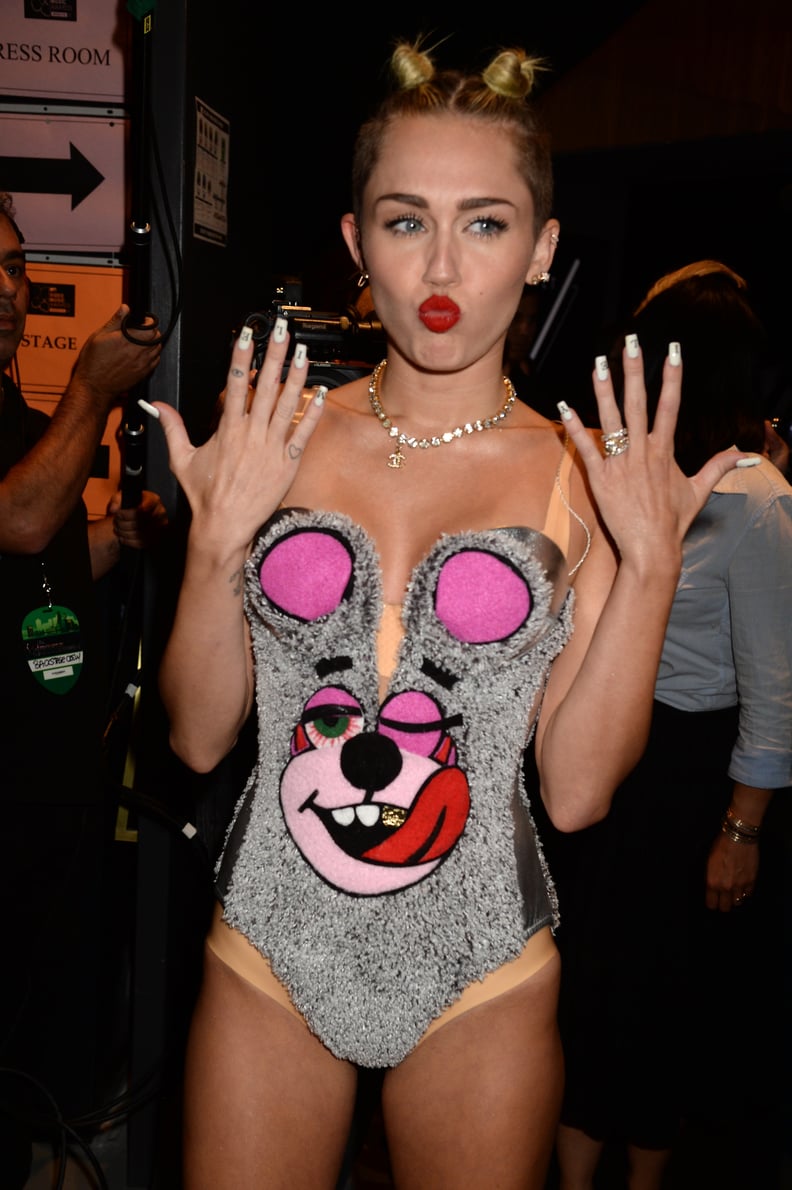 Miley Cyrus at the 2013 VMAs
Cyrus carried that beauty look onto her infamous VMAs performance with Robin Thicke, letting her mouse outfit (and foam finger) take the stage.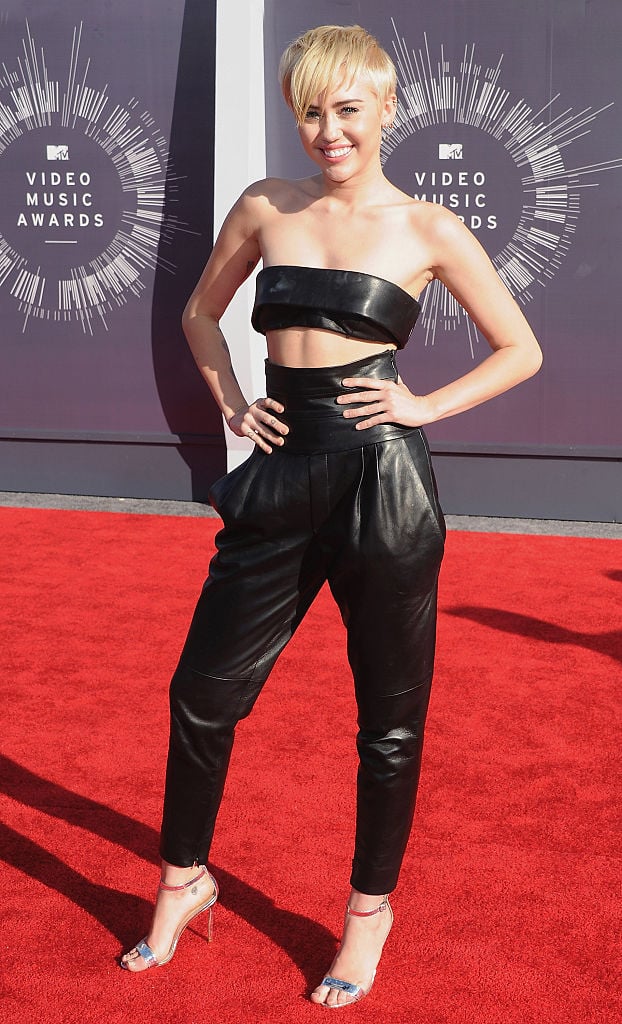 Miley Cyrus at the 2014 VMAs
Cyrus's short platinum hair and pink lip paired perfectly with this sleek black leather matching set on the 2014 VMAs.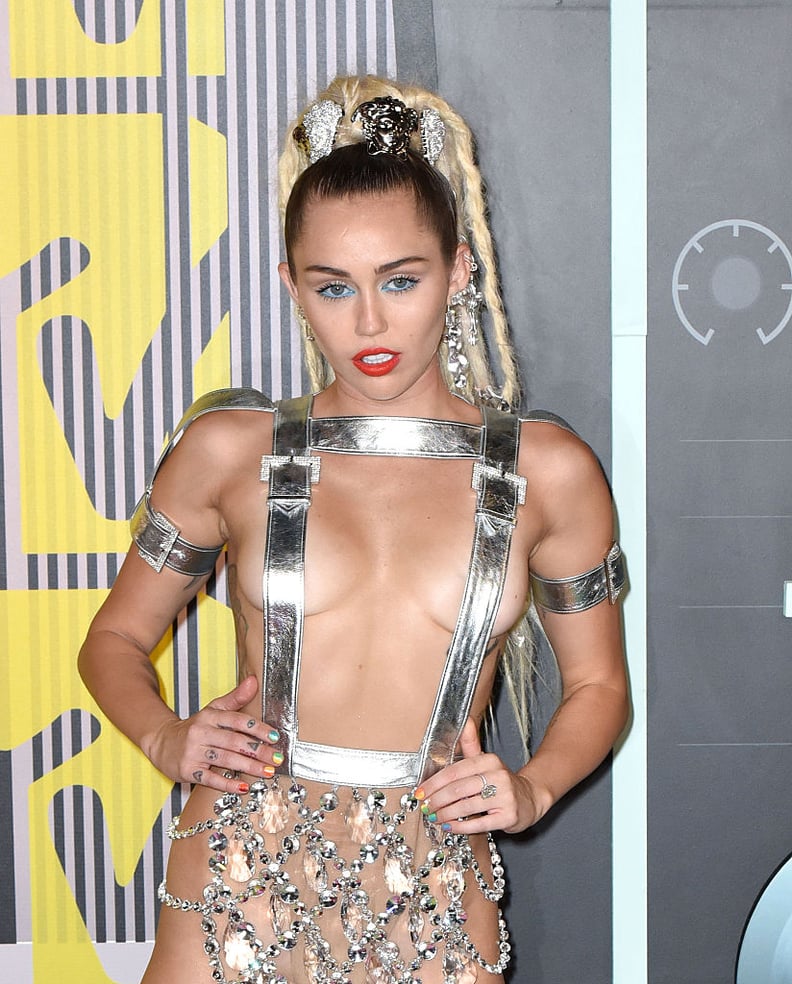 Miley Cyrus at the 2015 VMAs
This Versace outfit was perfect for Cyrus's role as VMA host in 2015. From her twisted ponytail and diamond accessories to her bright blue eyeliner and red lip, Cyrus shined in this look.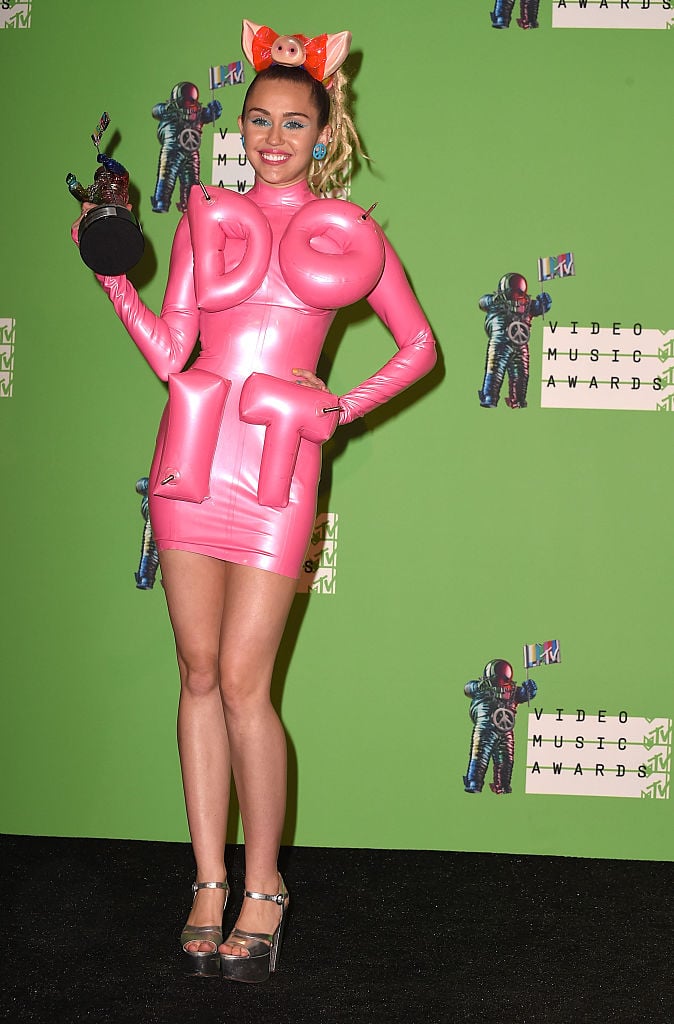 Miley Cyrus at the 2015 VMAs
That same year, Cyrus stunned in this pink spandex suit while simultaneously promoting her single "Do It." Her bright blue peace sign earrings are an attention grabber, as is her pig ear headband.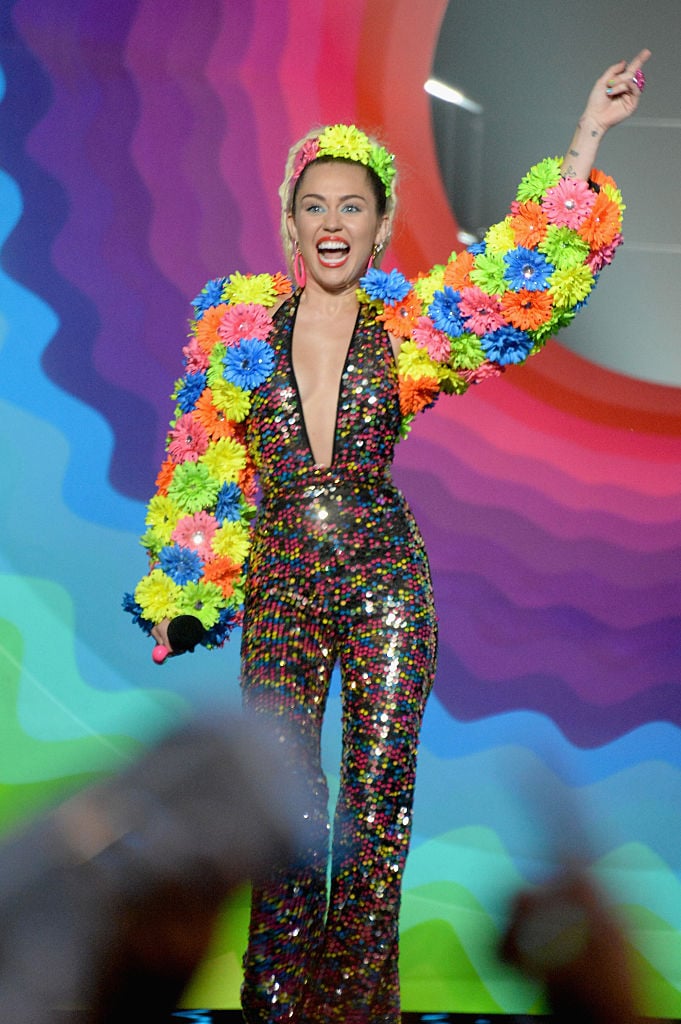 Miley Cyrus at the 2015 VMAs
As the host of the 2015 Video Music Awards, Cyrus did not disappoint with her staple high-pony and floral headband that complemented her wild outfit.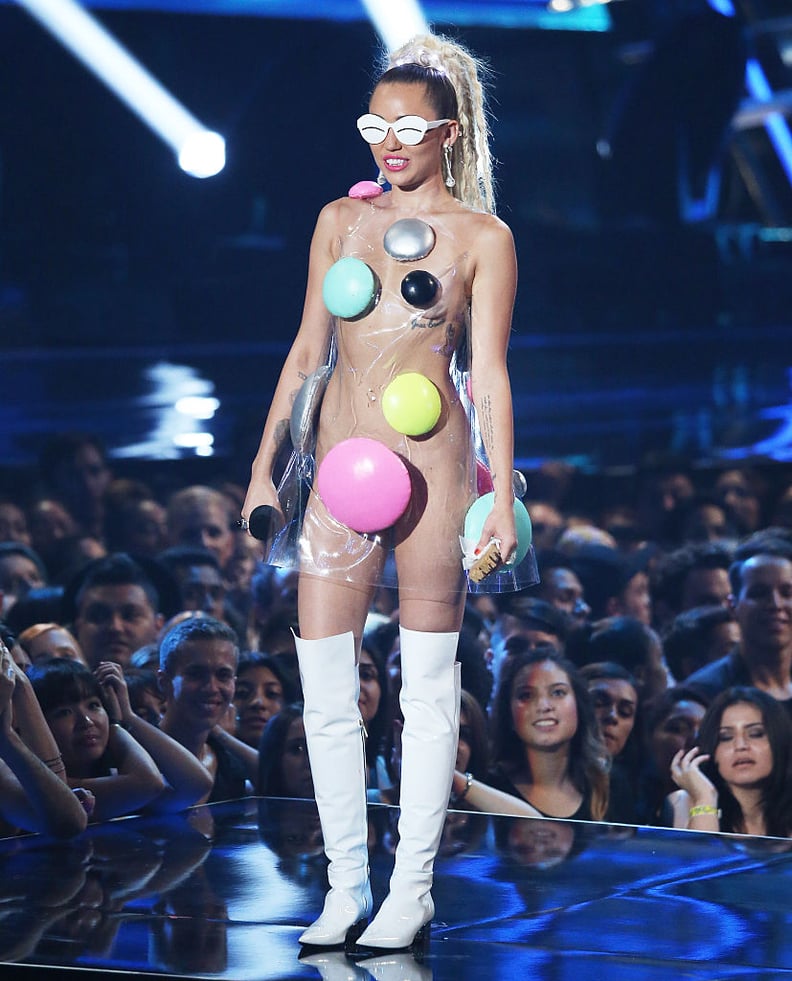 Miley Cyrus at the 2015 VMAs
One of Cyrus's wilder looks was this plastic, dot-covered dress, which she paired with a bright pink lip (of course).
Miley Cyrus at the 2017 VMAs
The only thing better than Cyrus's Elvis Presley ensemble at the 2017 VMAs? Her french twist updo and bouffant bangs.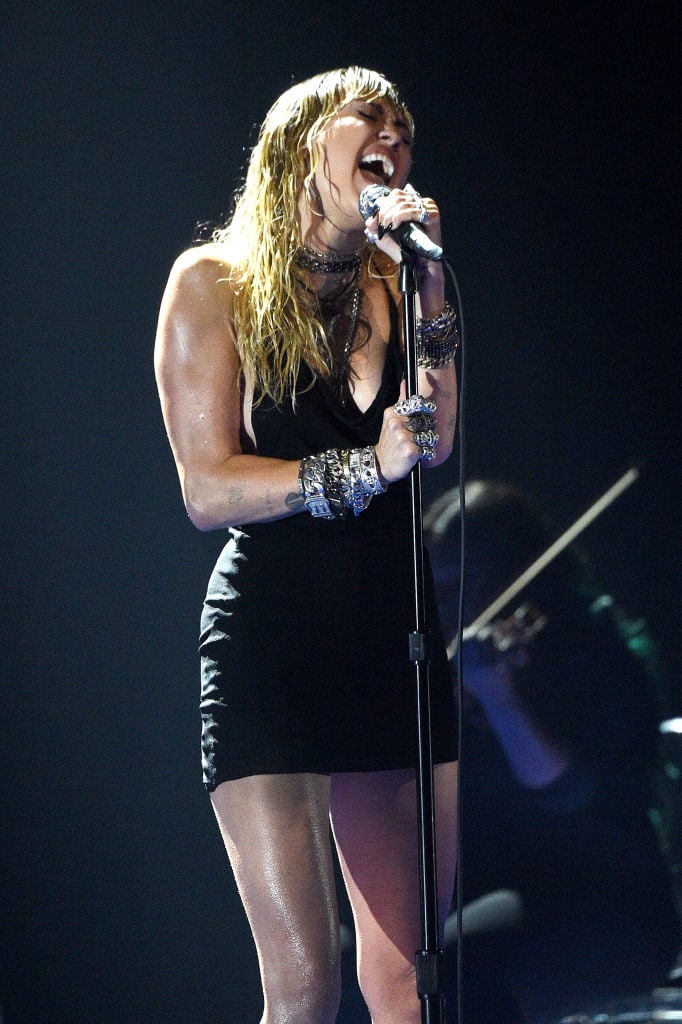 Miley Cyrus at the 2019 VMAs
Cyrus's simple black dress and beachy waves were perfect for her performance of her "Slide Away" in 2019. Let's just say we can not wait to see what comes next in 2020.