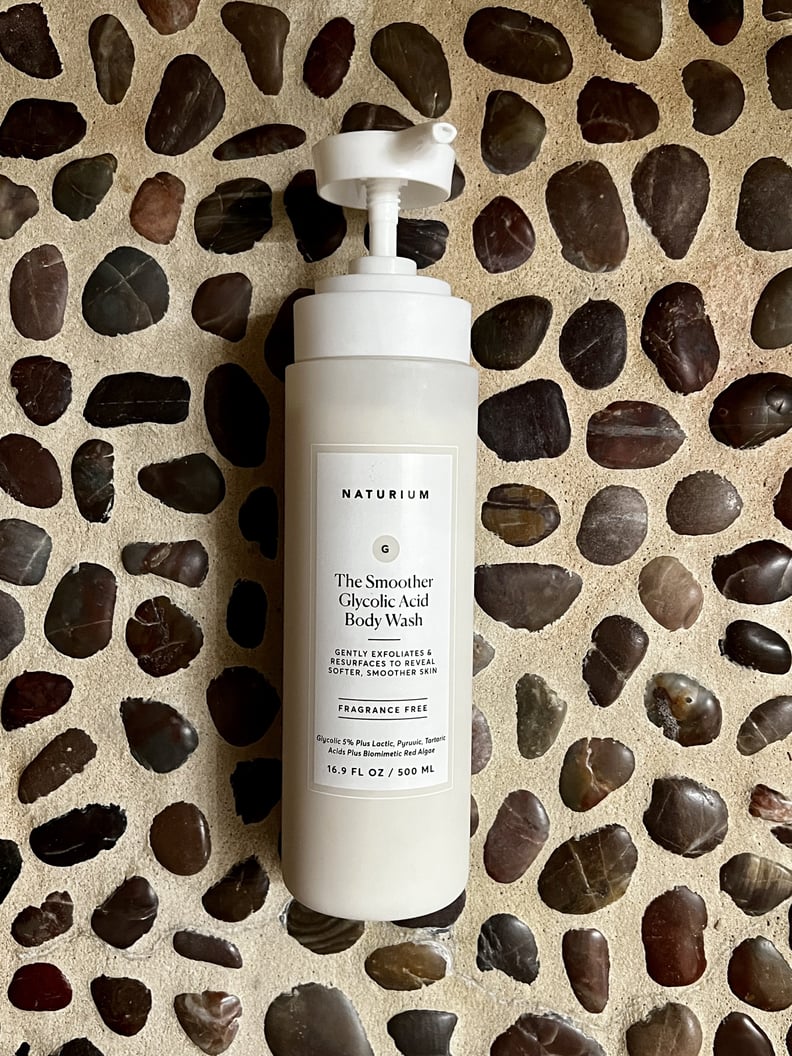 POPSUGAR Photography | Anvita Reddy
POPSUGAR Photography | Anvita Reddy
As POPSUGAR editors, we independently select and write about stuff we love and think you'll like too. If you buy a product we have recommended, we may receive affiliate commission, which in turn supports our work.
Waxing, shaving, epilating, and lasering galore — I'm all too familiar with the body-hair-removal process. As a result, I'm prone to ingrown hairs, accidental cuts from shaving, body acne, bumpy texture, and overall roughness. Full-body exfoliation is a necessity to maintain smoother and softer skin with a radiant, even-toned appearance. I incorporate exfoliation tactics throughout my body-care routine, from dry brushing to using loofas and exfoliation gloves. But I knew I needed something more. When Naturium, one of my favorite skin-care brands, came out with a whole line of body-care products, I was beyond excited to try them out. With my concerns, I opted to try out Naturium's The Smoother Glycolic Acid Exfoliating Body Wash ($16).
Naturium's The Smoother Glycolic Acid Exfoliating Body Wash is a gentle, fragrance-free exfoliating formula that aims to reveal softer and smoother skin. It contains 5 percent glycolic acid and an AHA blend of lactic acid, pyruvic acid, and tartaric acid. The formula also contains biomimetic red algae, which the brand claims helps to retain moisture for supple-looking skin. It's the perfect blend of exfoliation with hydration. The body wash is great for all skin types, including those with sensitive skin. It's even gentle enough to use as a facial cleanser, which was a small convenience I appreciated since I didn't have to bring my face cleanser from my sink to my shower.
I use around two to three pumps of the body wash for my whole body. At first, it has a creamy consistency, but then it turns into a foamy, sudsy, dense lather that's gentle yet deeply cleansing. I like to work the cleanser into my skin and let it sit on my body for a longer time, kind of like a mask, so that I can get as much of the exfoliation benefits as possible. After using this, my skin felt hydrated rather than that tight, squeaky-clean feel.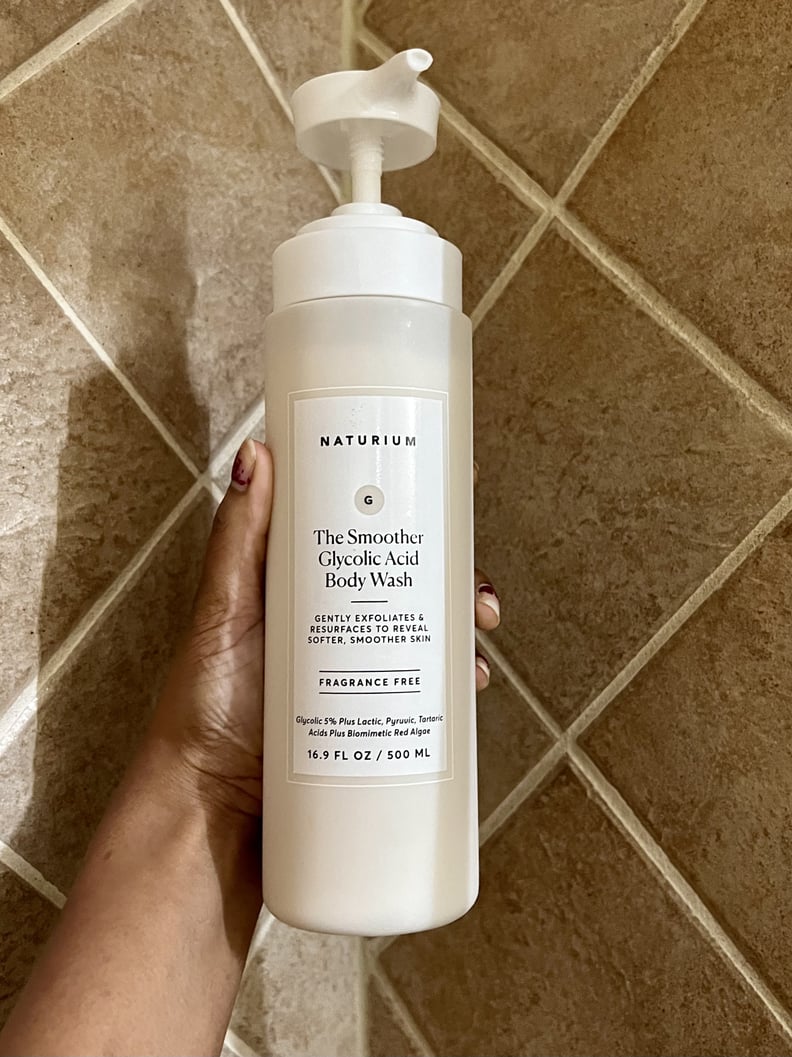 The true beauty of this body wash is in the little things it does for you on a daily basis. With consistent use, my skin felt and looked smoother as it diminished and prevented ingrown hairs, body acne, and other bumps and roughness. The glycolic-acid-based body wash also helped even out my skin tone by fading dark spots and hyperpigmentation over time. It's something you realize makes a difference in your shower or body-care routine when you stop using it frequently. I noticed a slight change in my skin's texture and softness when I relied on hotel soaps and body washes while traveling. My skin wasn't as smooth or radiant, and the roughness and bumpy texture returned.
Naturium's The Smoother Glycolic Acid Exfoliating Body Wash has become a permanent fixture in my daily shower routine. It's the perfect maintenance product to reveal brighter and smoother skin while making it feel so soft and silky smooth. I'm talking as soft as a baby's butt, silkiness comparable to a Slip pillowcase or plush velvet robe. In the words of BTS, "smooth like butter" soft. The body wash is a gentle enough exfoliator that I can use every day without irritating my skin. In fact, I'm pretty sure my skin needs that daily form of gentle exfoliation to prevent skin irritation and slough off dead skin cells that are clogging my pores. This body wash may not seem like it's doing much at first, but consistency is key. I highly recommend this to anyone who wants smoother and softer skin, especially those prone to body acne or ingrown hairs.
Rating:
★★★★