As POPSUGAR editors, we independently select and write about stuff we love and think you'll like too. If you buy a product we have recommended, we may receive affiliate commission, which in turn supports our work.
For some of us, reliving our senior year of high school is the dream, but for Stephanie Conway (played first by Angourie Rice, then Rebel Wilson) in Netflix's new movie "Senior Year," it's a reality — that is, after being in a coma for the last 20 years.
After a horrible cheerleading accident, popular cheer captain Stephanie is forced to miss her prom — and chances at the prom queen crown. It's not until she wakes up two decades later that she finally gets to have her big night, except going to sleep in 2002 and waking up in 2022 poses some challenges.
"Senior Year" is unique in that we get to see two very popular eras — the early '00s and the 2020s — intersect. And as you can imagine, that makes for some fun hair, makeup, and fashion moments. It's as if a "Clueless" teenager suddenly got dropped into the halls of "Euphoria" high.
To learn more about the fun beauty moments in "Senior Year," including the '90s pop-star that inspired many of the looks, keep reading.
How Britney Spears Inspired "Senior Year"'s Main Character
"Senior Year" takes place during the late 1990s and early 2000s, so the hair and makeup team took a lot of inspiration from famous pop and movie stars of the time. "We kept coming back to celebrities like Christina Aguilera, and Kirsten Dunst, and certainly Britney Spears," Melanie Hughes-Weaver, makeup department head of the movie, tells POPSUGAR.
Stephanie even had a poster of Spears on her wall, signifying just how influential the singer was on the character. But that's not where the Spears references end. "We had a flashback of "Crazy" where we're going back to Britney Spears at that time," says Cheryl Marks, the movie's hair department head. "That's one of my favorite scenes."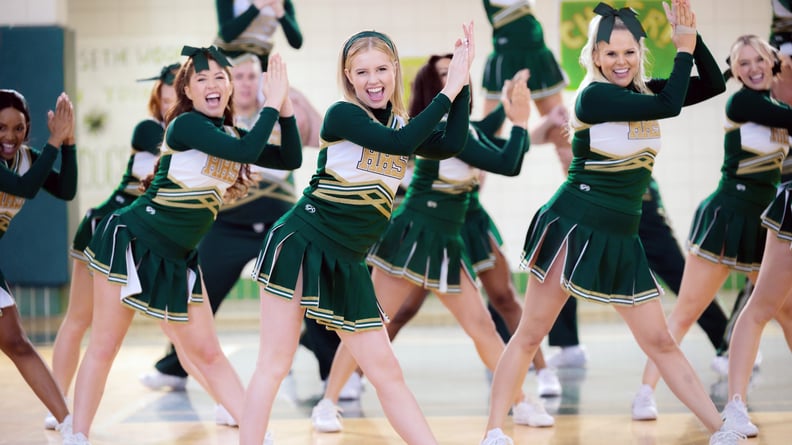 The Iconic 2000s Cheer Movie That Made an Impact
If you got "Bring It On" vibes from the big dance number scenes, that was kind of the point. "'Bring It On' was definitely one of my favorite movies, which really attracted me to do this movie," says Marks. "For me, it's a cult classic." There are small nods to that 2000s film throughout, from the cheerleader beef between Stephanie and rival Tiffany Blanchette (played by Zoë Chao) down to the green and gold uniforms.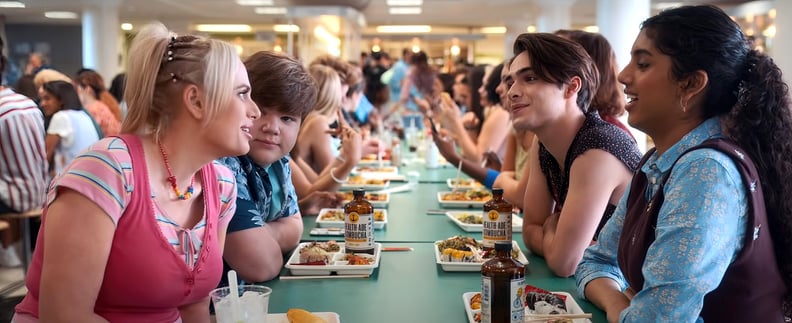 Y2K Beauty Trends That Made It
"Senior Year" is ripe with '90s and early 2000s beauty trends. To get ideas, "we looked at old pictures of Rebel, a ton of them," says Marks.
"There was certainly a lot of shimmer and quite a bit of glitter, with glossy eyes and lips," says Hughes-Weaver. And lots, and lots of pink tones. For hair, Marks knew that she had to bring back one staple hair accessory: butterfly clips. Stephanie's hairstyle features "four or five on each side with twists," which she says "brought everybody back to that era really quickly."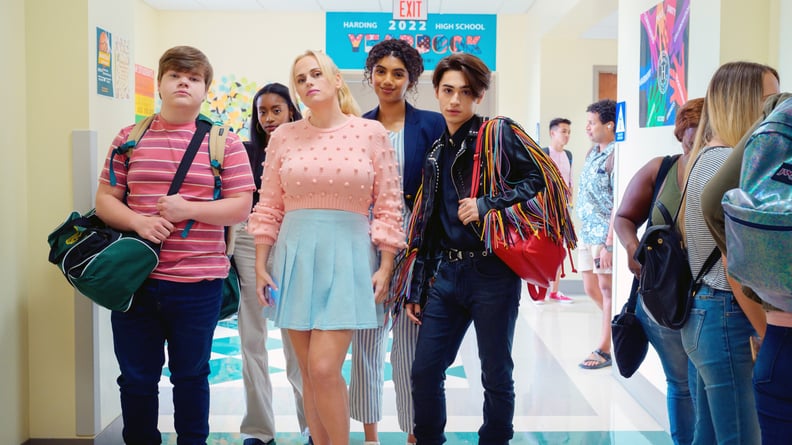 Bringing the Early Aughts Into 2022
Fusing Y2K with Gen Z is actually pretty common right now. Everything old is new again, but for "Senior Year," it was a little different. "[Stephanie] didn't progress mentally in all those years [while in a coma], so I was still creating that 2002 look, even though we're in 2022," says Marks. Hughes-Weaver adds: "She's trying to find beauty again, and going back to what she thought was beautiful 20 years ago."
For the prom scene, though, the movie sheds all references to past decades with everyone firmly planted in 2022. "Present-day prom is very Instagram-inspired," says Marks.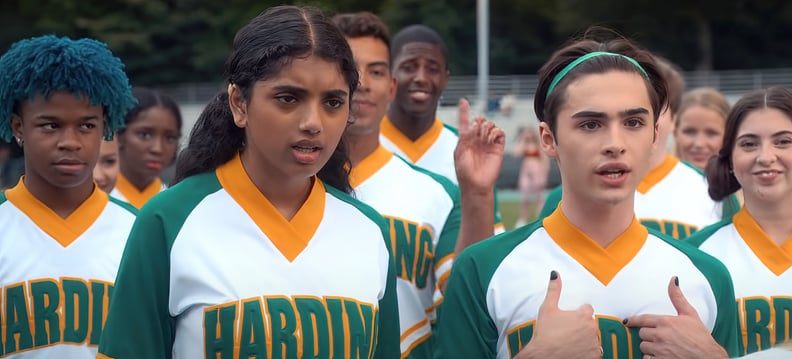 How "Senior Year" Shows the Progression of Beauty Standards
Despite Stephanie being stuck in the early aughts for most of the movie, "Senior Year" shows the progression of beauty standards and how far we've come in 2022. When the movie begins, we're presented with the stereotypical idea of beauty: a cheerleader with straight, blond hair and clear skin, and doning all of the hottest fashion trends. But when we fast forward to the 2020s, we see a much more diverse idea of beauty and what's cool.
"In the 20-year difference, Joshua Colley's character who was Yaz, has black glossy liner, and lavender eyeshadow, and nail polish," says Hughes-Weaver. "Defining beauty — it can be anything that you want — it's truly not gender bias, it's just tailored to the individual."
Staple Beauty Products Used in "Senior Year"