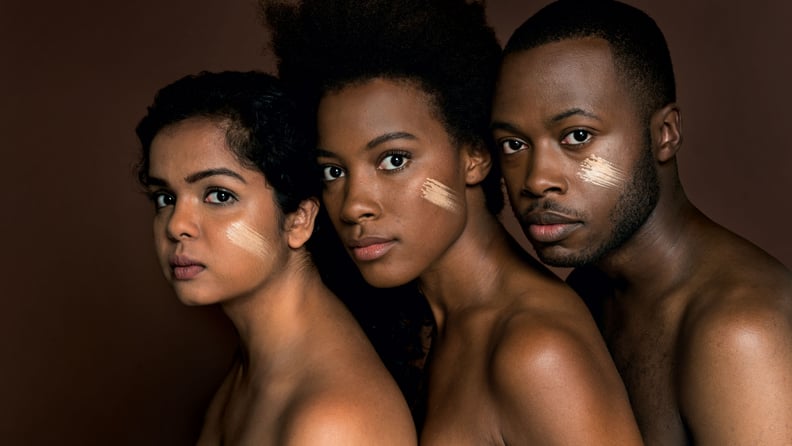 AnRong Xu
How many times have you described a lipstick as "nude" without really thinking? In the beauty world, pinkish-beige has come to be interchangeable with "nude," but the reality is that nude does not mean the same thing for everyone. Beige may match fair skin, but someone with deeper skin wouldn't get that same subtle enhancement a "nude" product is meant to achieve. That's why a group of creatives in the advertising world decided to launch Nude Against Nude, a visually striking campaign that demonstrates how everyday so-called nude beauty and fashion products are not inclusive of all skin tones. The aim is to shed light on the inherent colorism present in these industries and, eventually, get major companies to change their ways.
The photos, featured in posters around New York City and online, feature people of different skin tones modeling "nude" items like makeup, swatches, shoes, lingerie, and pantyhose. The contrast between those items and the models' skin displays the project's message loud and clear.
"I'm a mixed-race person, so representation and diversity to me is very important," Jackie Jinse Moran, the project's art director, told POPSUGAR. "One of my biggest passions is makeup and beauty, so of course it's not hard to notice the lack of diversity in the beauty world. It started to irk me. I felt like I had to do something about it."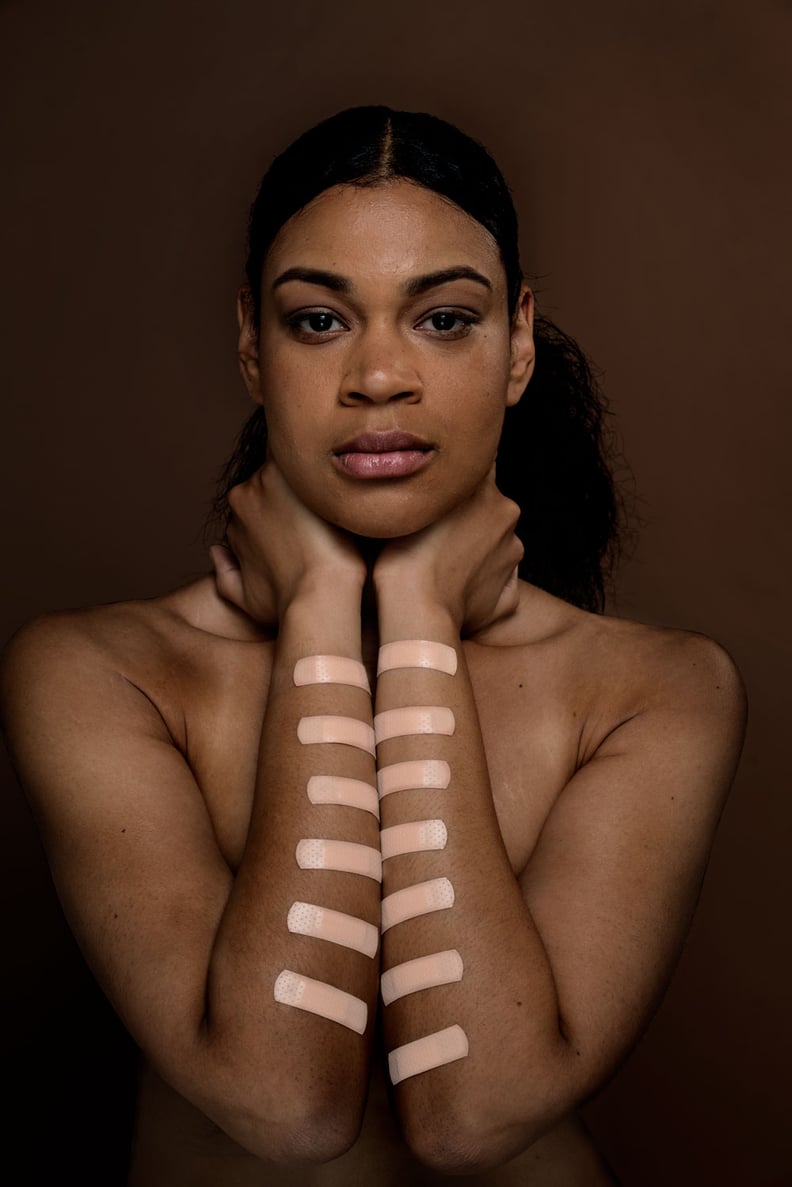 "If they're saying 'nude' is this one shade and you don't match it, you're kind of being told you're not part of this. You can't buy this product. It's not for you."
She enlisted her friends from advertising — copywriters Chandani Karnik and Ben Brown, photographer AnRong Xu, makeup artist Gary Wong, and website developer Simen Husmo — to come together for the cause. The whole project took a little over 10 weeks to complete from start to finish. The people behind the project also modeled and used their own "nude" products for the portraits.
"Since we are creatives, we just knew we wanted to use our talents for something good," Moran told us. "We just wanted to get these brands to notice and really understand — if they're saying 'nude' is this one shade and you don't match it, you're kind of being told you're not part of this. You can't buy this product. It's not for you."
Aside from the stunning photo series, the centerpiece of Nude Against Nude is the petition it also launched asking big parent brands like Estée Lauder, L'Oréal, and Johnson & Johnson to stop using the word "nude" interchangeably with beige or cream in product descriptions, campaigns, and beyond.
"I understand this is hard for people to [understand] if you don't experience it — that's a part of white privilege, not noticing it. It's not a part of their world," Moran said. "You use the term 'white privilege' and a lot of people get turned off. That's why Nude Against Nude is showing people the contrast between the color you call 'nude' and the ranges of skin tones out there. You can understand at one glance." See what she's talking about for yourself ahead.