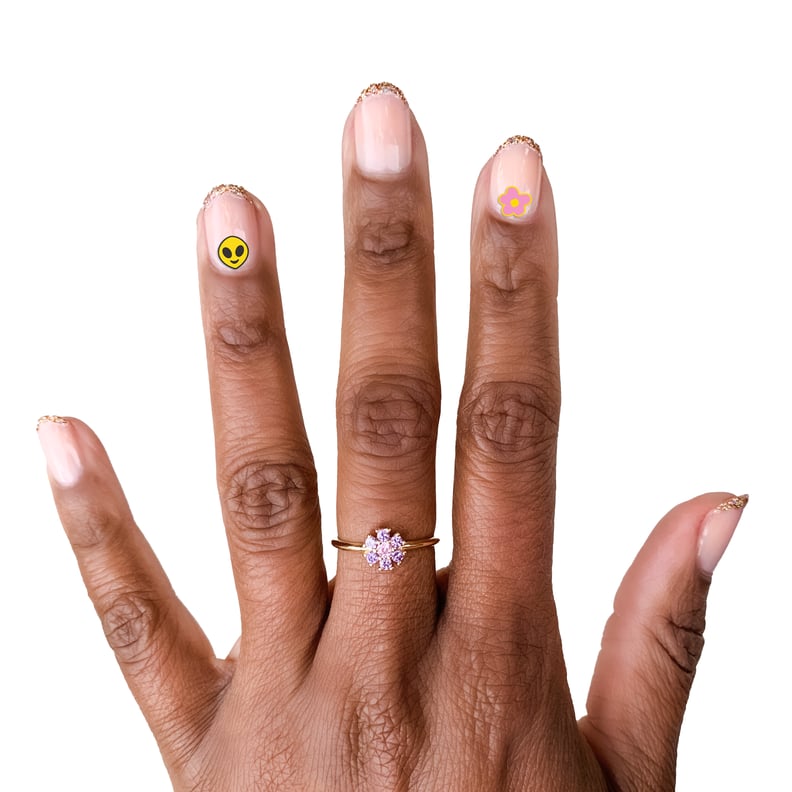 Olive & June
Olive & June
As POPSUGAR editors, we independently select and write about stuff we love and think you'll like too. If you buy a product we have recommended, we may receive affiliate commission, which in turn supports our work.
In our heaven, manicures are free, nails never break, and our nail polish changes to fit the latest trends with a snap of our fingers. In the real world, though, switching up your manicure weekly, or even biweekly, can get expensive, so until we come up with that finger-snapping-nail-polish-changing formula, we're constantly on the hunt for DIY alternatives for getting salon-quality manis at home. Enter: Olive & June and its new collaboration with Frasier Sterling.
Just in time for Valentine's Day, Olive & June is launching a limited-edition Groovy Bouquet Mani and Ring Set with Frasier Sterling (which, for anyone who doesn't know, is basically your one stop shop for all things '90s accessories). The bundle includes two limited-edition nail polish shades, one rainbow glitter and one baby pink hue, a topcoat, a nail stick pack full of nostalgia-inducing designs, and a gold flower ring that you can only get in this set. Whether you're looking to treat yourself or a friend, you can't go wrong with a nail stick pack full of tiny alien heads, smiley faces, and butterflies. You just can't.
To achieve the mismatched nail-art trend that's all over Instagram at home, give each finger a theme and apply multiple different colors of the same sticker to the fingernail. Or, if you're more of a minimalist, stick to just two or three stickers. "My current crushes are the little aliens and cosmic flowers," Sarah Gibson Tuttle, founder and CEO of Olive & June, told POPSUGAR. "Then, gently apply to any nail — my go-to's are the pinky or ring finger." You'll be left with a funky mani that will make your heart sing.
The Olive & June x Frasier Sterling Groovy Bouquet Mani and Ring Set ($42) launches Jan. 22 at OliveandJune.com and FrasierSterling.com.