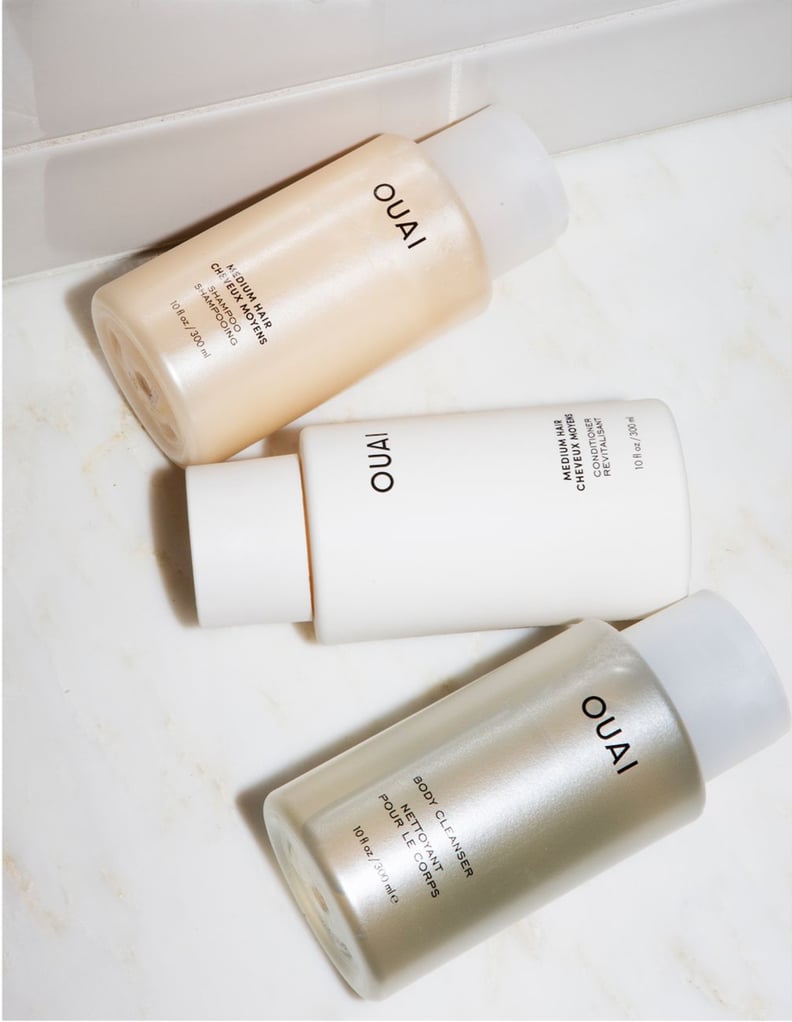 Ouai
Ouai
As POPSUGAR editors, we independently select and write about stuff we love and think you'll like too. If you buy a product we have recommended, we may receive affiliate commission, which in turn supports our work.
In an attempt to stay positive, I'm looking at being in lockdown as an opportunity for those of us who need it to give our hair a much-needed break. I'm not worried about getting it cut, but rather leaving it the heck alone and not touching a hot tool. I've convinced my mom to use the time to go through the seriously awkward stages of growing out a 20-year-old pixie cut. I've told friends to spend the day with their hair covered in a nourishing treatment mask to treat fried ends. Well, celebrity hairstylist Jen Atkin has some good news for any of us looking to pamper our hair and provide it with some much-needed TLC right now: she's completely redone her Daily Care range of shampoos and conditioners. And they promise to do wonders for your hair.
"We'd been doing a lot of research since we first launched the range four years ago, and we found that it felt really confusing when you go to buy shampoo and conditioner because everyone has multiple needs to address," Atkin told POPSUGAR. "Before, we had five different types of shampoo and conditioner — one for colour, for volume, etc. — and I was feeling like I had to recommend two shampoos to people because they had multiple different needs."
The goal was to simplify things. So, taking what they learned from crowdsourcing their community, Atkin and her team whittled it down to three different shampoo and conditioner formulations: Fine, Medium, and Thick. "And again, we did research into each of those categories as to what everyone's needs are to make it really easy to navigate," she explained.
To figure out your hair type — which Atkin admits is a question people DM her a lot — the Ouai team set up a quiz on the brand website. "Basically, if you pick up a strand of hair, we say if you don't feel anything, then you have fine hair; if you feel a little something, it's medium; and if you can play tug of war with the hair strand, it's thick."
Another factor behind the relaunch? "There was all this new technology that had come out since we launched four years ago," Atkin explained. Now, the Fine Hair Shampoo and Conditioner both contain biotin (for strengthening), hemp seed extract (to prevent moisture loss), and chia seed oil (to make the hair look fuller and more voluminous), followed by hydrolyzed keratin — an ingredient found in each of the new formulas — which fills in the missing keratin along the hair follicle to smooth strands and reduce frizz.
The Medium Shampoo and Conditioner (in addition to hydrolyzed keratin), contains kumquat fruit extract (high in vitamins A, B, and C, so it's good to keep the hair shiny), babassu oil (a lightweight-but-powerful moisturizer derived from palm fruit), and coconut oil (to strengthen and reduce breakage). The Thick Hair Shampoo and Conditioner see marshmallow root (to detangle and prevent the hair from coiling around itself), shea butter, and avocado oil (to prevent breakage) added into the mix, making it a rich, intensely hydrating formula that Atkin explains is great for curly, coily textures. All of the new formulas are safe for color-treated hair, and are sulphate-free, phthalate-free, and gluten-free.
But the newness doesn't stop with the formulas. Gone are the different-size bottles that were a bit hard to squeeze, and in their place is the same chic, cylindrical packaging that houses the Ouai Body Cleanser. And they're meant to be refillable. "Obviously, our carbon footprint is top of mind right now, so we wanted to not only figure out a way to do these revamped bottle that we love, but also how to make these refillable pouches that fill up the bottle three times," explained Atkin. The new initiative will help Ouai reduce 30 percent of its carbon footprint (plus, it also saves you money because you get three for the price of two).
In addition to new formulas, new ingredients, and new sustainable packaging, Atkin also switched up how they smell. Before, each formula featured a different Ouai scent. Now, they all smell like her Mercer Street fragrance: a creamy, green floral scent with notes of orange and peony, magnolia and jasmine, musk, and orris. It smells so freakin' sexy, it'll make you excited to wash and condition your hair just so you can get a whiff of it all day long.
Keep reading to check out and shop all of the new formulas.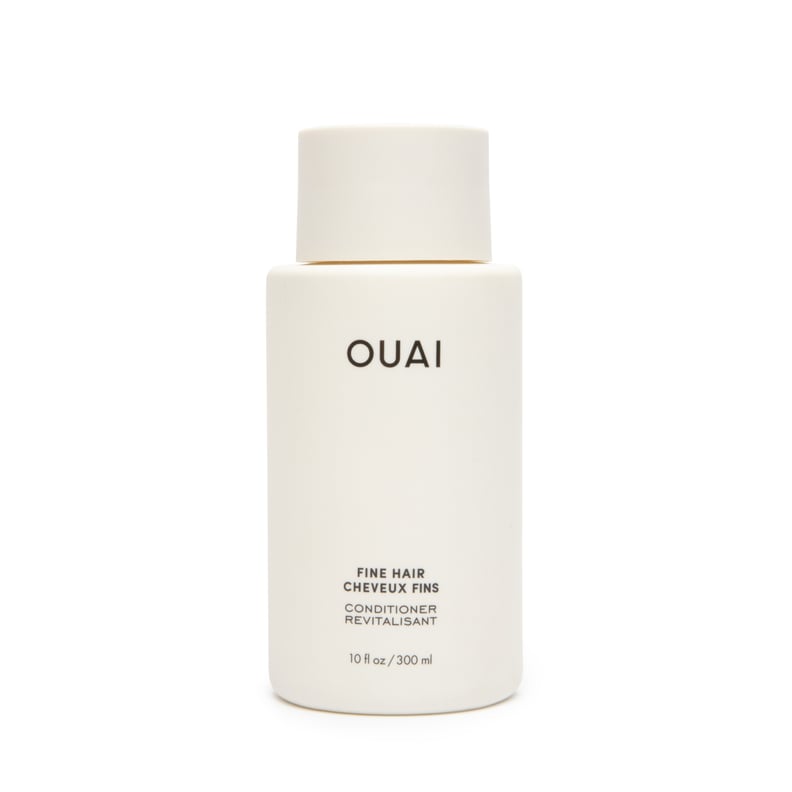 Ouai Fine Hair Conditioner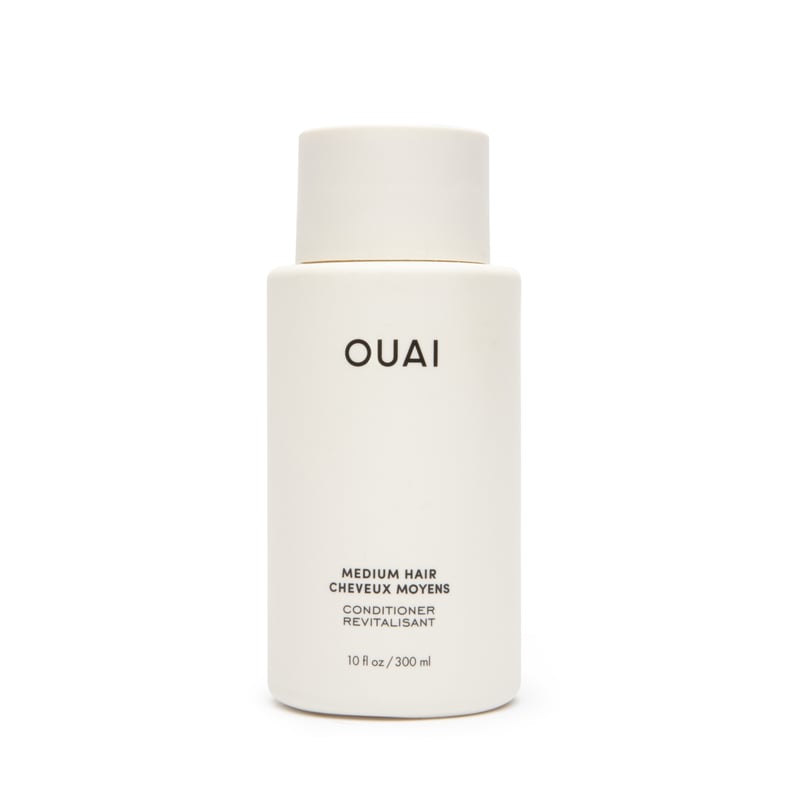 Ouai Medium Hair Conditioner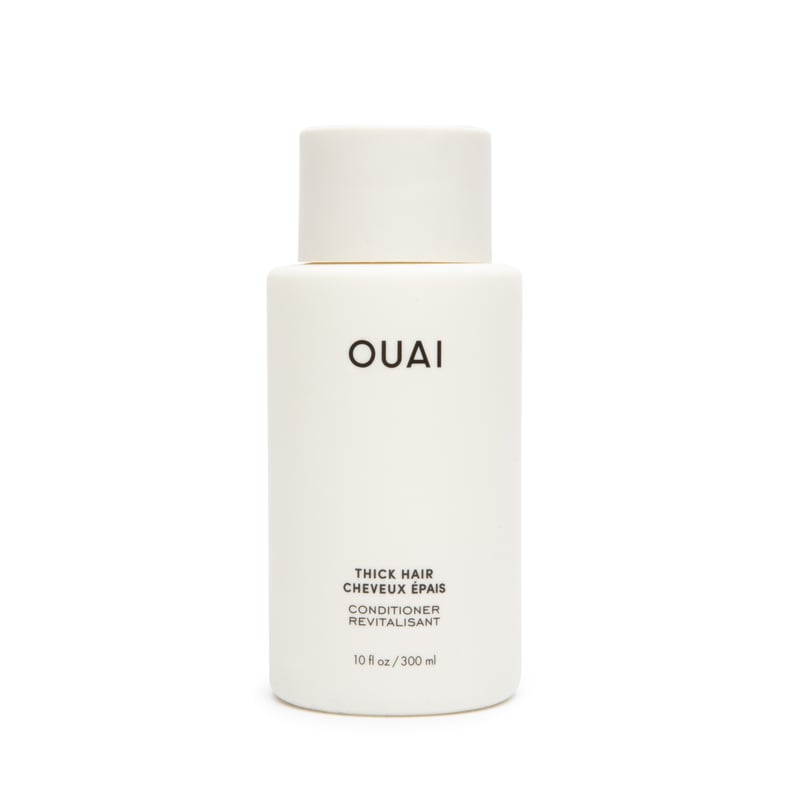 Ouai Thick Hair Conditioner