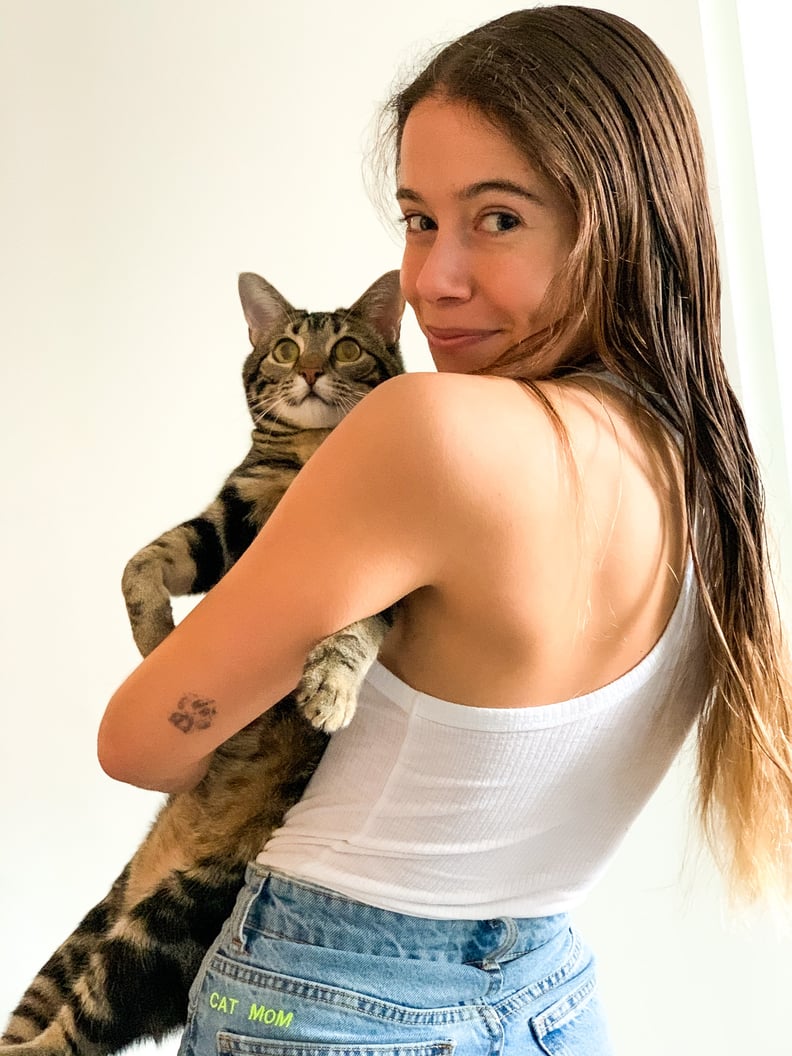 POPSUGAR Photography | Sarah Wasilak
POPSUGAR Photography | Sarah Wasilak
Do you already think I'm crazy? You probably won't even give me the benefit of the doubt now that I've told you I have a tattoo of my cat's paw print. But maybe if you have a cat, or any pet for that matter, you'll hear me out. Trish the Tabby came into my life at a time when I was suffering from severe anxiety and debilitating panic attacks that disrupted entire days at a time. When my future husband adopted her as a surprise gift, plopping her in my lap on Christmas morning (I'm sure he was trying to think of anything that would distract me from my own all-consuming thoughts), we became inseparable. A little more than three years later, I was DMing Trudy Lines, who's an extremely talented artist at Bang Bang in New York City, begging her to ink Trish's paw print onto my arm.
I love tattoos, but tattoos are art, so everyone has their own opinion about what looks nice. Maybe for some people, paw prints are not tattoo material. Personally, I like to think long and hard before settling on a new design to add to my growing collection, and this one was a no-brainer for me — as were the meaningful tattoos I've gotten for my sister.
Why am I trying so hard to convince you that my relationship with my cat is solid enough to justify a permanent paw print on my arm? I know it is!
I have a book called When You Love a Cat that I read often, and there's a line that reads, "When you love a cat, you speak a language of little sounds and gestures (It's a secret language, but you both know what it means)." Every time I read those words, I tear up. Because that's me and my cat, and probably you and your cat, too, if you're still reading this. Every time I turn around, Trish is right at my heels, sometimes clawing at them, but never hard, trying to get me to play with her. No matter what I'm doing; whatever project of the day I'm hyperfocused on, I always stop to give her my full attention — and I'm a Type A person, so that's saying a lot.
But why am I trying so hard to convince you that my relationship with my cat is solid enough to justify a permanent paw print on my arm? I know it is! So when Trudy agreed to tattoo me, I took all the necessary precautions and booked an exclusive appointment with her. While I promise I'll dive into the details and share plenty of close-ups ahead, you may be wondering — just out of curiosity, or for a personal tattoo of your own down the line — how Trudy drew up such a realistic portrait of Trish's paw. You probably want to know how she matched each and every detail, every little line and marking, to my cat's actual paw pads.
So, I'm breaking it down and outlining the steps I took to make sure my tattoo wasn't just any old paw, but Trish's paw. Spoiler: you only need two things to start the process, and that's a scanner and a cat (or dog!) who is so damn loved, they don't even know what hit them.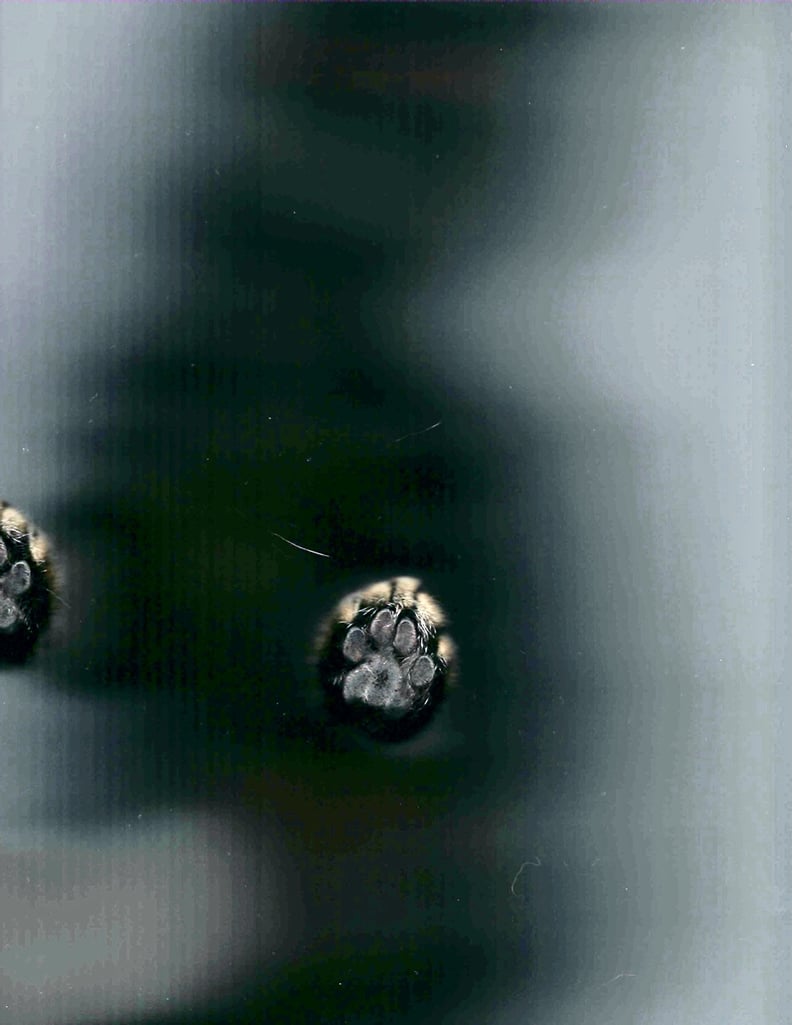 Step 1: Photocopy Your Cat's Paw
If you have an anxious cat, like I do, you may have to tempt them to stand up on the printer platform with a treat, but it doesn't take longer than five seconds for the scanner to receive the adorable image. You can print the photocopy to save, but I sent the digital version right over to Trudy.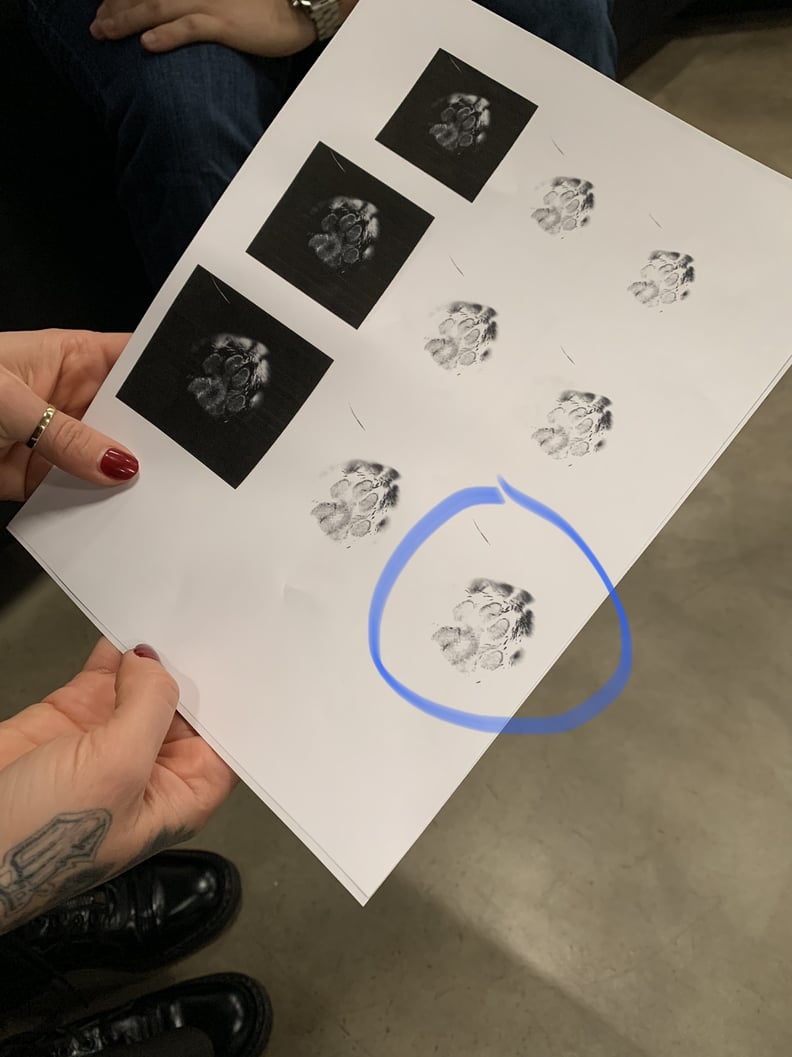 Step 2: Pick a Paw
When I met with Trudy, she explained that she inverted my photocopy of Trish's paw so we could see what it'd look like in black ink. We decided together that we wanted to go for a more realistic paw, rather than something quirky or cartoon-like. "Whenever I know I'm going to be tattooing something new, I look on Pinterest to decide what I'd like to do and what I definitely don't want to do," Trudy told me, suggesting that we add some softer markings around the edges of the paw pads but steer clear of the darker shaded fur you see at the top, which isn't really part of the actual print.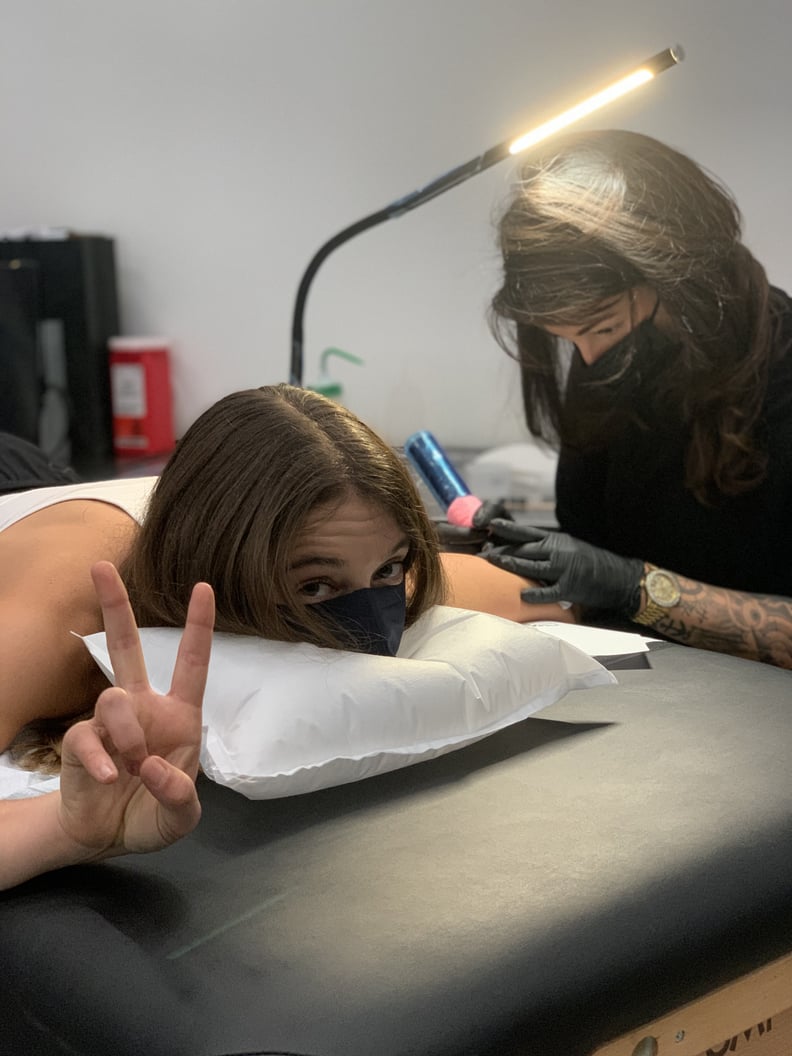 Step 3: Wait It Meowt
Trudy and I decided on a realistic design that looked as if Trish had stepped in ink then gently tapped my arm with her paw. As for the placement, I knew I wanted the tattoo on the back of my arm, instead of on my bicep or forearm, because Trish is always following me. Every time I turn around, she's right behind me. Is getting a tattoo of a paw print a more enjoyable experience than getting something edgy and hardcore? No, it feels exactly the same, and still pretty uncomfortable. But seeing the end result, well, that was heartwarming.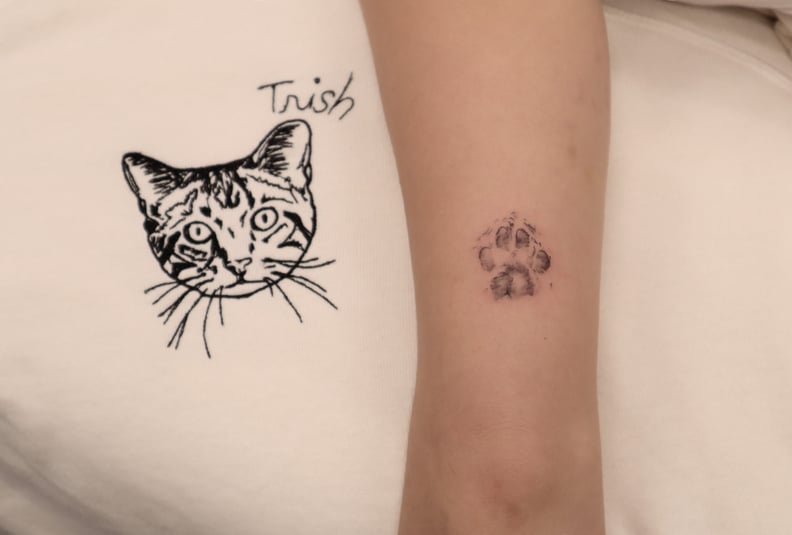 Step 4: Hold Back Your Tears
You and your cat have become one. You are her and she is you, and you wouldn't have it any other way. Trudy did such an excellent job with making Trish's paw print look soft and natural. For reference, the tattoo measures one inch by half an inch, which is pretty close to the actual size of a cat's paw, and it took a little over an hour to complete. I obviously brought my Staud sweatshirt with Trish's face stitched onto it, so we could capture Trudy's work in the best light.
Next comes the healing process, which involves a few days of limiting workouts and applying thin layers of Aquaphor (for a smaller print) followed by weeks of lotion to keep the skin healthy and moist.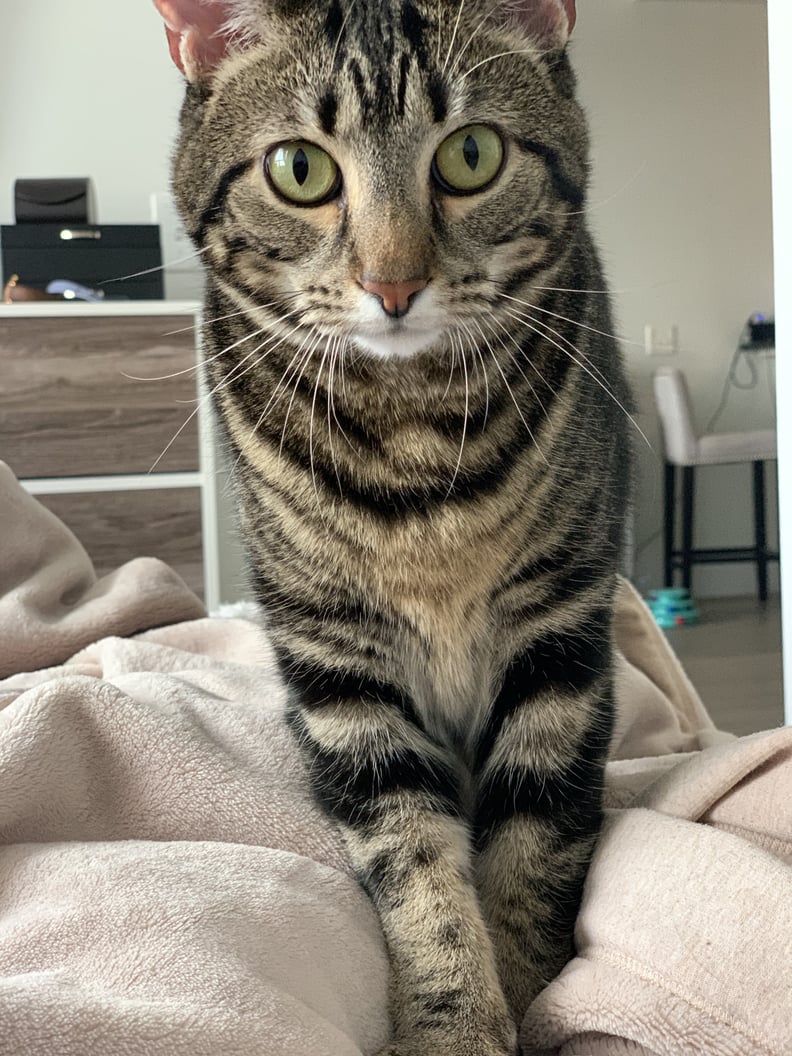 Step 5: Show Your Cat
Does this look like the face of a cat who doesn't know her paw has been stamped onto her human's body? No, it does not. Yes, of course I showed Trish the tattoo, and the consequence is this face that says, "I know you're frickin' obsessed with me, now come feed me my nummies."