Phoebe Bridgers's Collection of Tattoos Is Expertly Hidden
Phoebe Bridgers has an ever-growing collection of tattoos, but you wouldn't know it by just looking at her. The singer has a handful of designs expertly hidden along her arms, fingers, and torso. It's hard to catch a glimpse of the ink when she's on the red carpet unless she's wearing something strapless and sleeveless, but occasionally, she'll share an up-close snap on Instagram or show them off while performing on stage.
Many of Bridgers's designs are '90s inspired and showcase her unique personality. In January 2021, she got a statement piece of a sword stabbing a piece of paper. She explained on Instagram that she got the design after a fan gifted her the object and someone else got a tattoo inspired by it. In May 2022, the singer signed off on the old school, '90s barbed wire tattoo trend by getting a bicep tattoo from celebrity tattooist Dr. Woo. Her delicate, fine line barbed-wire design wraps around her upper arm, just above a few of her other designs. More recently, in June 2023, she got a hip tattoo of what appears to be veining or a spiderweb — she hasn't shared the meaning behind the design.
And that's only just the beginning. Keep reading to learn more about Bridgers's tattoo collection.
Phoebe Bridgers's Sternum Tattoo
On June 13, 2023, Bridgers shared a carousel of photos on Instagram, simultaneously showing off extensive tattoo collection. In the fourth photo, through a cutout in her top, a new sternum tattoo can be seen. Though it's hard to make out exactly what the design is, it appears to include trees or fire, and other elements of nature.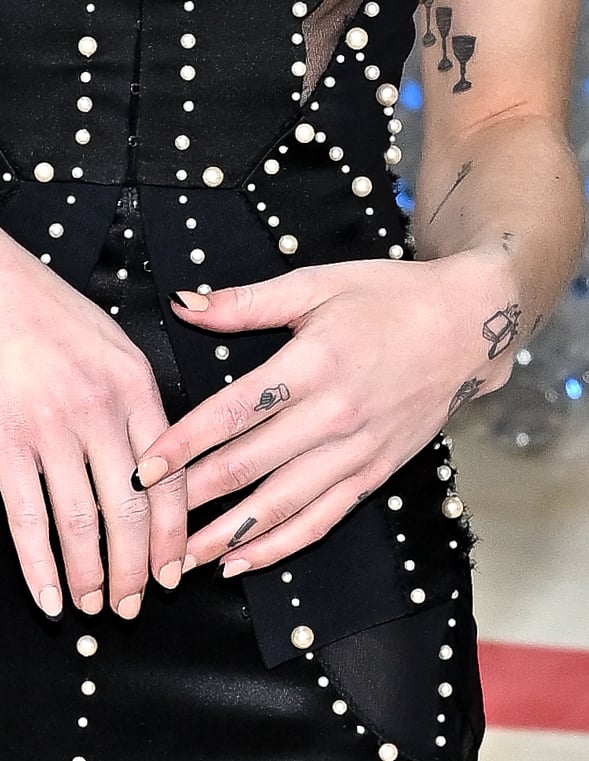 Phoebe Bridgers's Finger Tattoos
Bridgers is a big fan of finger tattoos, as evidenced by her left hand. On her pointer finger, she has a cartoon hand pointing up; on her ring finger, she has what appears to be a shooting star; and on the outside of her pinky, she has a tiny vine tattoo.
Phoebe Bridgers's Hip Tattoo
Jinnie, an Atlanta, GA-based tattoo artist, shared a snap of Bridgers's new hip tattoo on June 11, 2023. The veiny design loosely resembles vines with a spiderweb.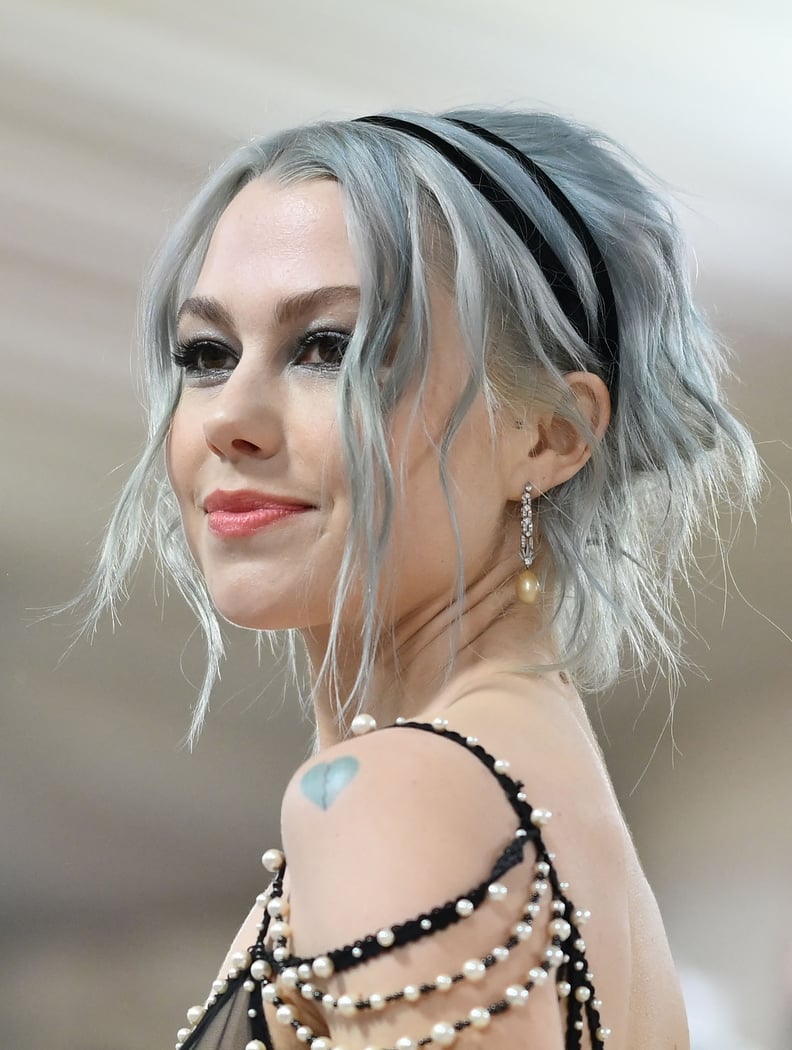 Phoebe Bridgers's Broken Heart Shoulder Tattoo
On her left shoulder, Bridgers has a faded green tattoo of a broken heart. The design is one of her only colored pieces of ink.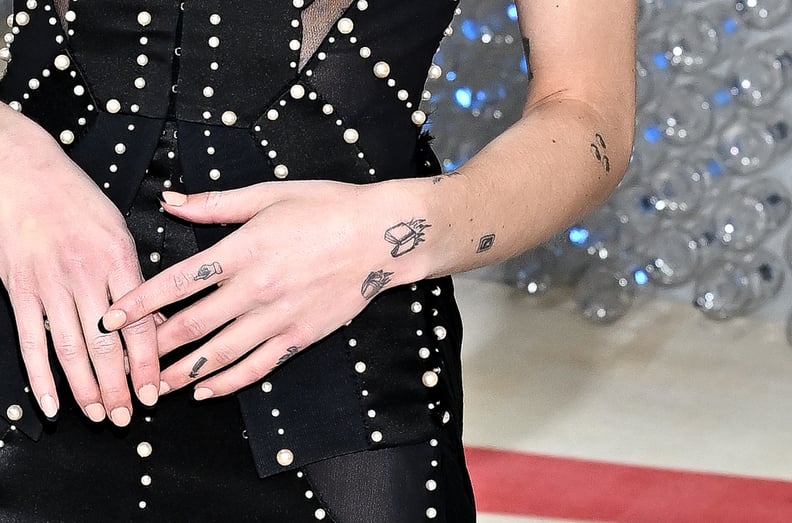 Phoebe Bridgers's Books Wrist Tattoos
On her wrist, located by her finger tattoos, Bridgers has a black-ink tattoo of two books that appear to be in the air and on fire.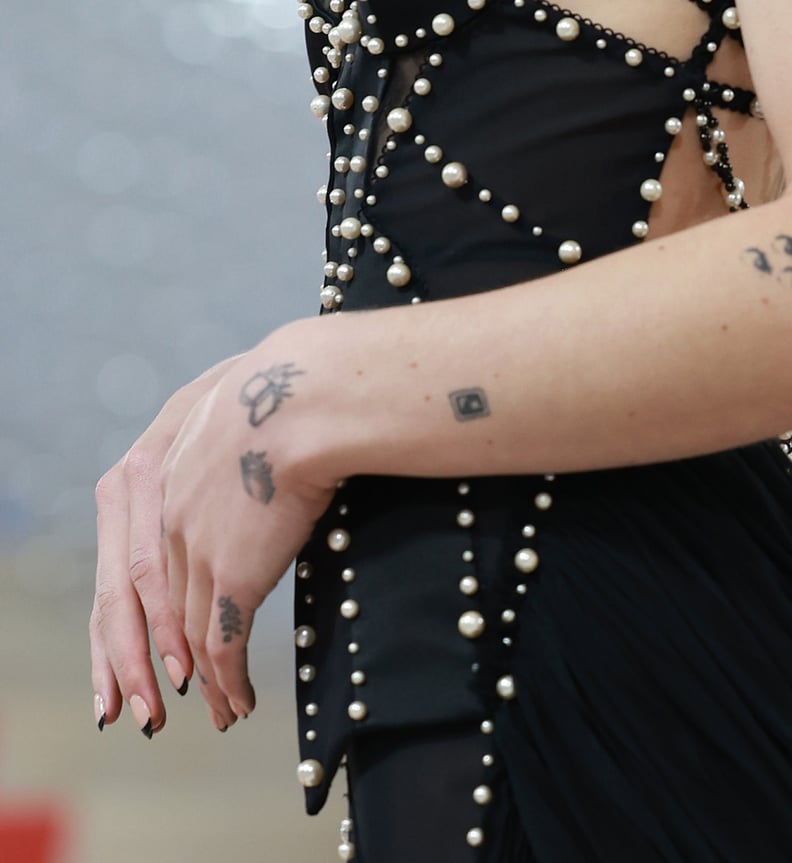 Phoebe Bridgers's Picture Frame Wrist Tattoo
On her arm, situated near her book tattoo, Bridgers has a tiny rectangular design. It could be a picture frame or a window — it's unclear exactly.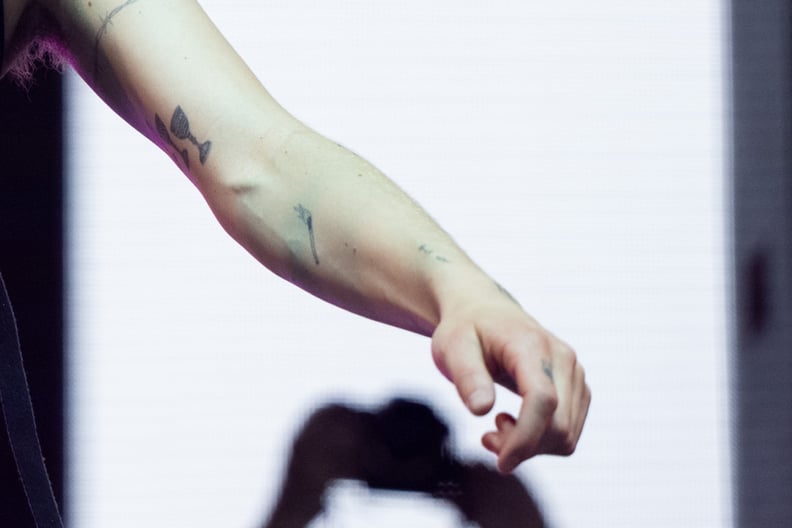 Phoebe Bridgers's "Drink Water" Wrist Tattoo
Bridgers has the phrase "drink water" tattooed on the inside of her wrist. It's likely a reminder to the singer to stay hydrated.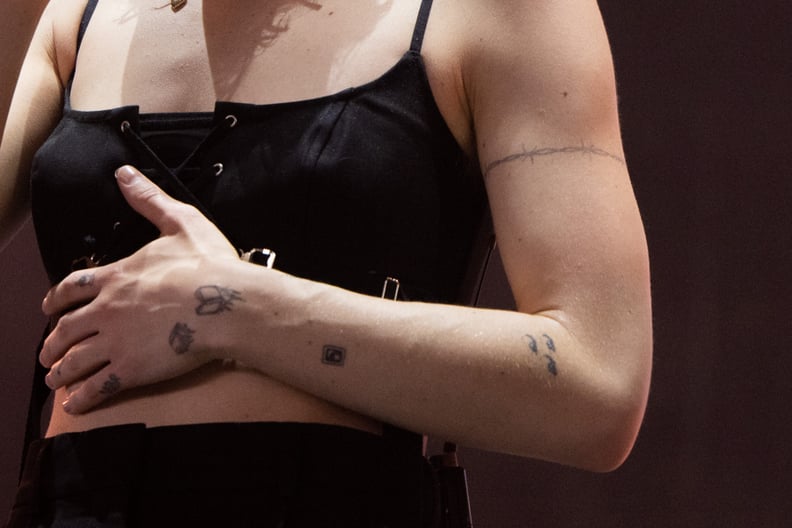 Phoebe Bridgers's Eyes Arm Tattoo
A tattoo of three eyeballs looking to the side is located near the singer's elbow.
Phoebe Bridgers's Cups Inner Bicep Tattoo
Bridgers has a tattoo on her inner bicep of three goblet-style cups of different sizes in black ink. While she's yet to share its meaning, chalice cups can often represent freedom.
Phoebe Bridgers's "Max" Heart Tattoo
On the back of Bridgers's arm, she has a tattoo of a heart with the name of her late dog "Max" etched along the ribbon. She got the design in March 2019 by tattoo artist Hannah Uribe.
Phoebe Bridgers's Tooth Wrist Tattoo
In April 2019, Bridgers got a tooth tattoo on her inner wrist with two other friends. The design is by Nashville-based tattoo artist Evan Davis. She has not explained its significance.
Phoebe Bridgers's Sword Forearm Tattoo
In January 2021, Bridgers got a tattoo of a sword piercing a piece of paper on her forearm. She wrote on Instagram, "A fan brought me a note with a sword stabbed into it after a show and someone else got a tattoo of it so I did too." The ink is by Dr. Woo.
Phoebe Bridgers's Barbed-Wire Bicep Tattoo
Bridgers's barbed-wire bicep tattoo — which often represents strength, resilience, and courage — was added to her collection in May 2022. She visited Dr. Woo for the minimal design.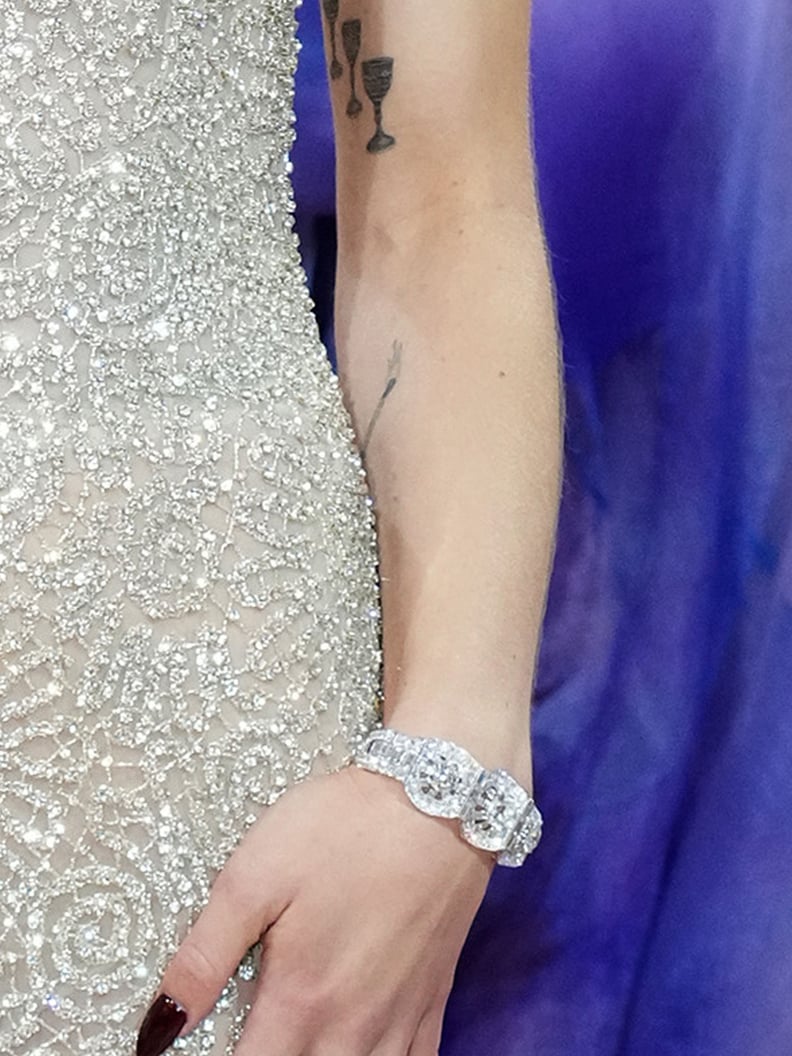 Phoebe Bridgers's Match Tattoo
On the inside of Bridgers's arm, directly under her chalice tattoos, is a design of what looks to be a light match. She has not shared its meaning.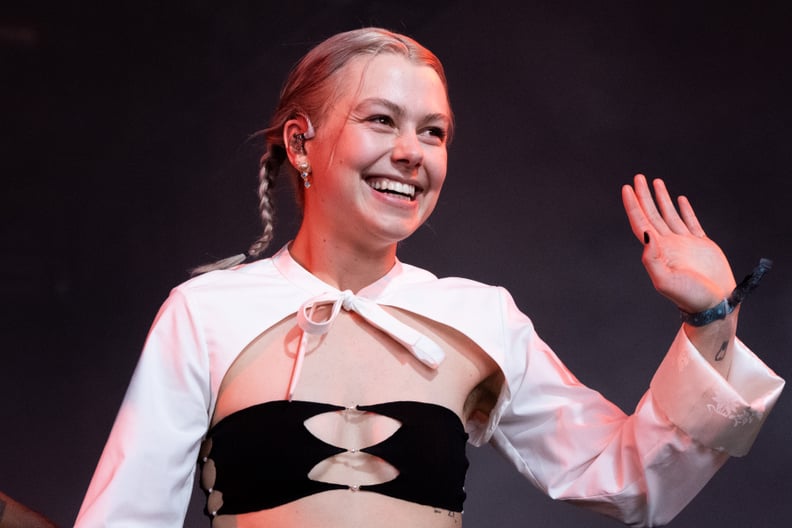 Phoebe Bridgers's Rib Tattoo
Hidden on Bridgers's ribs is a design in black ink that's hard to make out. It's unknown exactly what the tattoo is of.