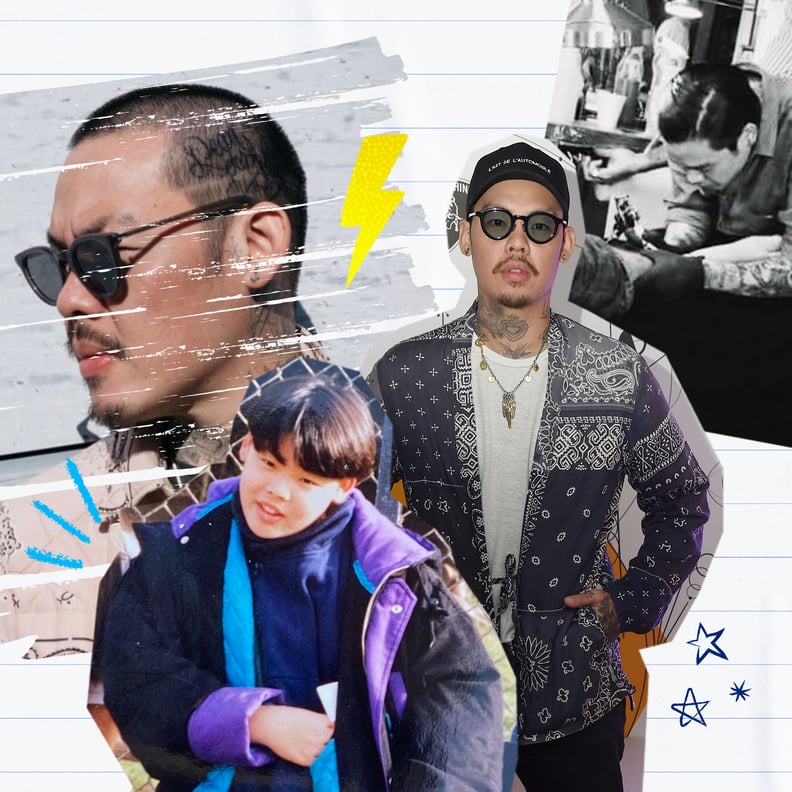 Photos courtesy of Dr. Woo | Getty Images / Illustrations by Becky Jiras
Photos courtesy of Dr. Woo | Getty Images / Illustrations by Becky Jiras
As POPSUGAR editors, we independently select and write about stuff we love and think you'll like too. If you buy a product we have recommended, we may receive affiliate commission, which in turn supports our work.
Welcome to Big Break, where some of the most influential figures in the beauty industry reflect on the beauty moments that made them — from the good to the bad, and everything in between. Here, tattoo artist Dr. Woo shares how he created a creative empire that nearly every A-list celebrity wants in on.
Brian "Dr. Woo" was 14 years old when he got his first formal tattoo — a dragon on his left ankle, if you omit the impromptu stick-and-poke smiley face him and his friends DIYed at age 11 — but it was a decade before he even considered going into that line of work. It wasn't for lack of interest, or even curiosity, as much as it was a preconceived notion of its plausibility.
"I was a tattoo collector from a very young age, but the deeper I got into that world, the further away being a tattoo artist seemed," he told POPSUGAR. "Being at the shop regularly, I got to see the pedigree some of these guys had reached. It's such a subversive culture, and I was intimidated. I was just some first-generation kid trying to find my own way."
Today, Dr. Woo is one of the most sought-after tattooists, with the biggest names in Hollywood (think: Hailey Bieber, Drake, and Kendall Jenner, to name a few) all clamoring for a coveted appointment. But earlier on, he was working as a buyer for a high-end fashion boutique. Then came his first big break: legendary tattooist Mark Mahoney, from which Dr. Woo had gotten many a tattoo, offered him a rare apprenticeship at his parlor — one of the most esteemed in LA at the time.
"I was put up against people telling me I wasn't going to make it, and everyone around me were the best in the business. It was good because it gave me something to look up to, but, at the same time, it was a harsh measuring system."
"It was three years of watching 10 tattooers at the top of their game, and it was great, but I was at the bottom of the totem pole. I did everything from sweeping to cleaning the toilets to ordering their food to bandaging their clients. Any problems that trickled down, I was at the bottom catching all of it."
That, he says, was the true test: "I was put up against so many people telling me I wasn't going to make it, and everyone around me were the best in the business. It was good because it gave me something to look up to, but, at the same time, it was a harsh measuring system. You rate yourself against these titans. I was insecure about my own abilities, and there wasn't a lot of encouragement. But then I figured, like everything else, I'm just going to do what I can to the best of my capabilities, and have faith that if I attack a job without slacking, it'll pay off for me."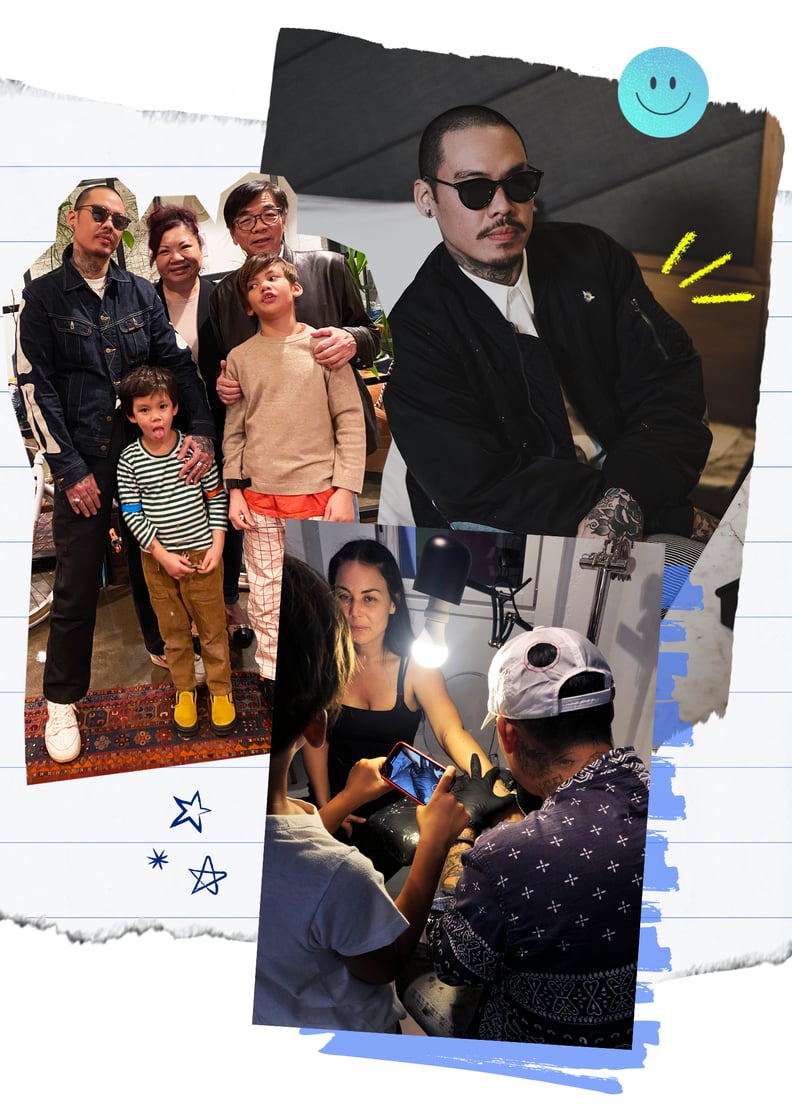 Soon, it would. Two years into his apprenticeship, he inked his first tattoo as a professional artist: a shamrock — one of the promotional designs from a line sheet the shop offered for free on Saint Patrick's Day. "I was overconfident. I thought it would just come to me, and then it was a different story when I actually sat down with the pen in my hand. It was the most intimidating, technical thing to have to try to do, and there were so many people watching, because it was a big deal. This was my first real tattoo."
Slowly and steadily, Dr. Woo built a reputation for himself, both within the industry and among clients. In the span of a year after his first — and with "social media starting to boom around the same time" — word began to spread that there was a "new" kid in town offering a fresh twist on fine-line tattoos.
This newfound acclaim was met with booked appointments months in advance, but was perhaps the most evident when, one day, after allowing walk-ins on a first come, first served basis, he showed up at work to find a line of people waiting around the block to snag a seat in his chair. "That's when it sunk in for me, like, 'Wow, something might be happening here,'" he said.
Well, there was that . . . and his ever-growing roster of A-list clientele to help spread the word. Back then, the shop was known for famous walk-ins, but Dr. Woo lives by the celebrity code of "even if you ask I won't tell" all these years later, indoctrinated from his earliest days of tattooing. Still, there's one exception that stands out: "One of my first celebrity clients who actually introduced me to a lot of people was Zoë Kravitz," he said. "She's one of my oldest clients and friends because she used to come in with her dad [Lenny], and he would get tattooed by Mark."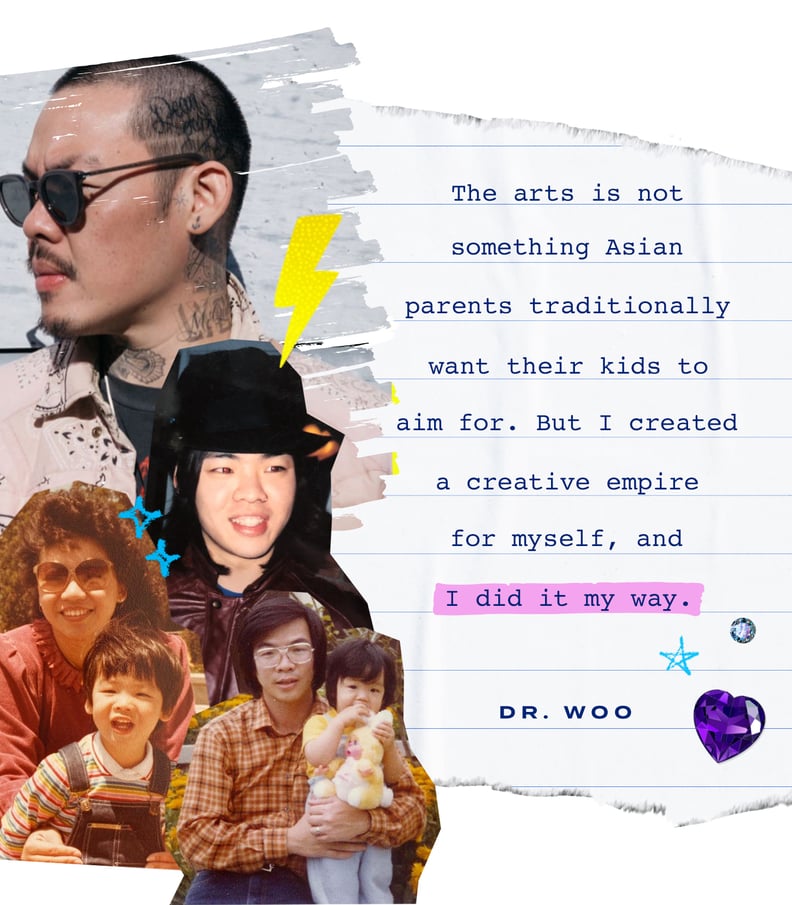 Fast forward to today, and Dr. Woo's star is ever-climbing, with tens of thousands of tattoos, nearly 2 million Instagram followers, and a line of after-care products from his eponymous skin-care brand under his belt. What he hopes people take away from his work, however, goes beyond whom he's inked or what he's achieved.
"I want to set an example that it doesn't matter what category you're put in from birth, you can do it your way," he said. "I was told my whole life that I could only be one of two things, not only by society, but my parents as well. They immigrated here and worked their butts off to give me a great life, but that came with a pressure to be something I'm not — a doctor or lawyer or professional violin player. The arts is not something that Asian parents traditionally want their kids to aim for, so it was hard to make my own way, but I did. I created a creative empire for myself, and I did it my way."
Dr. Woo serves as proof that carving your own path to success doesn't come with a one-size-fits-all manual, or even require loads of money or encouragement. Rather, it's what you make of it, and what you give back to those around you.
"Happiness and being comfortable, or having a lot of money, isn't necessarily contingent on success. Success in the home and inspiring others to be better people — that's what's going to change the world."