Topshop Chameleon Glow Eye Shadow Review
Yes, You Can Wear Ultra-Iridescent Eye Shadow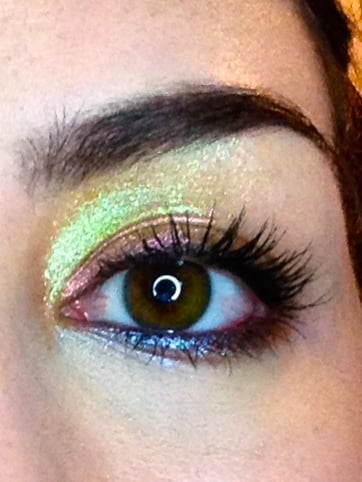 I applied all three shades to my eye to demonstrate what they look like when actually worn. Butterfly wings, non?! It's definitely an evening look, but I think it's totally stunning nonetheless. Here, I placed the melon-pink Shuffle the Cards on the lid, gold-green U-Turn from the inner crease to the inner brow, and orchid-blue Wax + Wane along the lower lash line. I recommend pressing the pigments onto your eye instead of sweeping them across the skin to get a holographic effect that's so shimmery it almost looks glossy.
In reality, I've been sticking to wearing just one shade in my everyday life and have been trying each one out on its own for the past week. The verdict? Friends are grabbing me by the shoulders as soon as they see me to get a closer look at those rays of color near my eyes. They turn my head back and forth to see the shadow bounce in the light then can't stop staring into my baby browns as we chat.
Talk about hypnotizing, indeed! Now if only I can get them to do things at my command. "You're getting sleepy. Veeerry sleepy . . . now go buy me a pack of shiny sequins, please."