Beauty Products to Help With All Your 2020 Resolutions
30 Sephora Products to Help Even Non-Beauty-Related Resolutions Stay on Track
As POPSUGAR editors, we independently select and write about stuff we love and think you'll like too. POPSUGAR has affiliate and advertising partnerships so we get revenue from sharing this content and from your purchase.
1
Indie Lee I-Recover Mind and Body Gel
Resolution: I will be more active.
If your 2020 resolution involves fitness, be it working out more or signing up for a race, chances are you can expect some sore muscles once you get started. Even if it's not specifically something you're striving for in 2020, treating your body well after you hit the gym just feels great.
For example, this Indie Lee I-Recover Mind and Body Gel ($48) offers a warming-cooling sensation when rubbed on your muscles and joints after (or before) you workout, thanks to the eucalyptus and menthol inside.
Or, massage this Ren Clean Skincare Atlantic Kelp and Magnesium Salt Anti-Fatigue Exfoliating Body Scrub ($49) onto your dry skin (which helps with circulation to relieve muscle fatigue). Then get into a warm bath — as ingredients like Atlantic kelp extract and micro-algae oil melt away, you're left in a soothing magnesium soak.
And, much like the magic it does with high heels, the Lord Jones High CBD Formula Body Oil 100mg ($65) with antioxidant vitamin E can be tucked into a gym bag to soothe any sore spots on your body post-workout, too.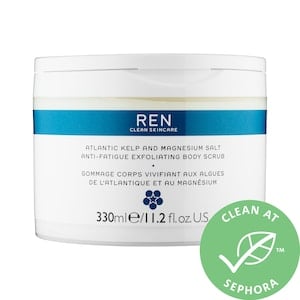 Ren Clean Skincare Atlantic Kelp and Magnesium Salt Anti-Fatigue Exfoliating
Buy Now