Netflix has a new original miniseries premiering on Oct. 23: The Queen's Gambit, starring Anya Taylor-Joy. The show follows the life of Beth Harmon, a young chess prodigy, and takes place during the Cold War era. Given the time period of the seven-episode series, you can expect the set design, costumes, and hair and makeup to transport you back to the 1940s through the 1960s.
Daniel Parker, the hair and makeup designer for The Queen's Gambit, took great pride in making Beth's character feel as real and authentic to the time as possible. "You're dealing with [the time] from the '40s all the way till the mid-late '60s, so it really is a period piece that spans several decades in its look," Parker told POPSUGAR. "There was a lot of research and a lot of hunting around to get the look."
Ahead, Parker talks about Beth's many wig changes, the one liberty he allowed himself with the makeup, and the Old Hollywood starlets that influenced her beauty looks most.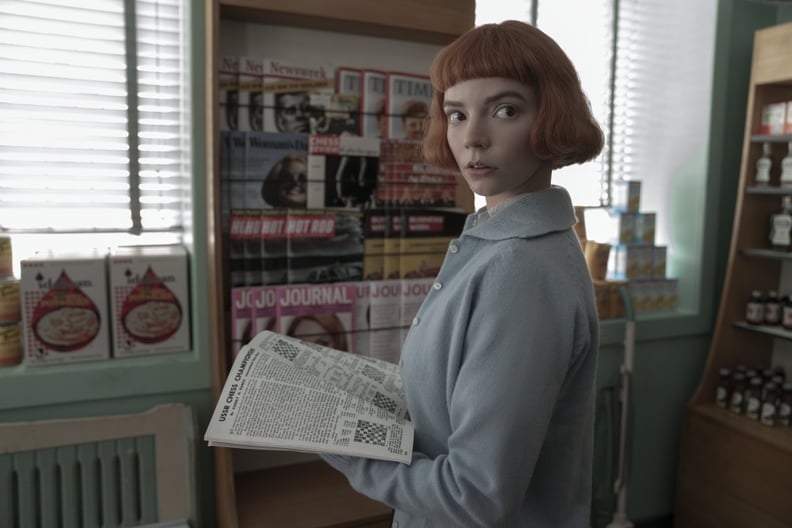 On Beth's Many Hairstyles and Wigs
Because the miniseries follows Beth from age eight to 22, three actresses were used to play her at different stages of her life. To convey this character progression, Parker had to create three very distinct but cohesive looks.
"For the orphanage stage, I wanted to create an almost uncaring look — which I actually think is quite cute — with these very short fringes," said Parker.
All of the hair looks were done with wigs; it would have been impossible to do it any other way, said Parker. Taylor-Joy alone had four. "Sometimes you were changing into three different looks in one day — there's no way that you can do [that] without wigs," he said. Taylor-Joy also has long blond hair in real life, whereas Beth had red hair. "Right at the beginning I decided that she should be a redhead," said Parker. "I didn't have any doubts about that and then funny enough, both Scott Frank (the director) and Anya individually said, 'She's a redhead,' so all three of us actually decided that she was a redhead quite independently."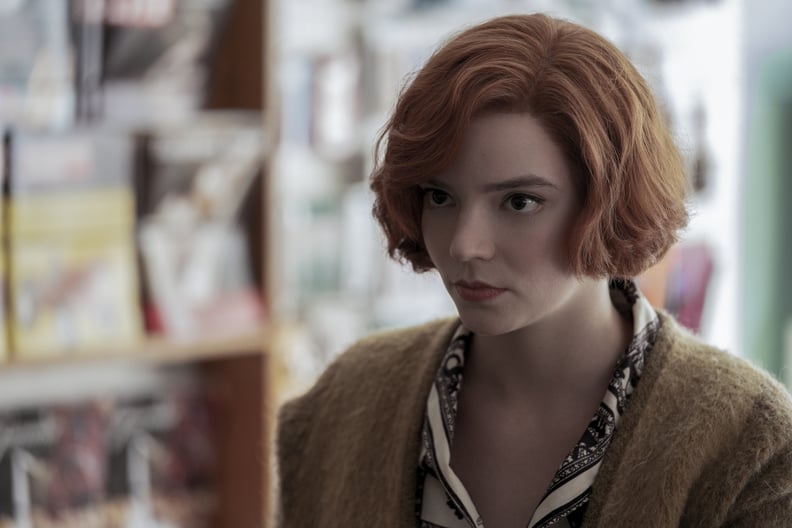 On the Progression of Beth's Makeup Throughout the Film
Aside from the hair, makeup was Parker's best tool for showing Beth's maturity as the series went on. At the start, a very clean, simple, no-makeup look was used. "Then we just slowly keep adding onto that in order to start aging the person and bring them into maturity," said Parker. "I wanted to go from that poor little orphan girl to really high glam."
All of the makeup looks stayed true to the period with winged liner, red lips, and rosy cheeks — Beth even rocked a Twiggy-inspired graphic liner look at one point. Parker didn't want to modernize Beth's look in any way. "The only thing that I used [that was] sort of our own era was these wonderful eyelashes that I adore, from Shu Uemura," said Parker. "There are three lashes to each one and they're different lengths. I can put them in wherever I want them to actually change the character."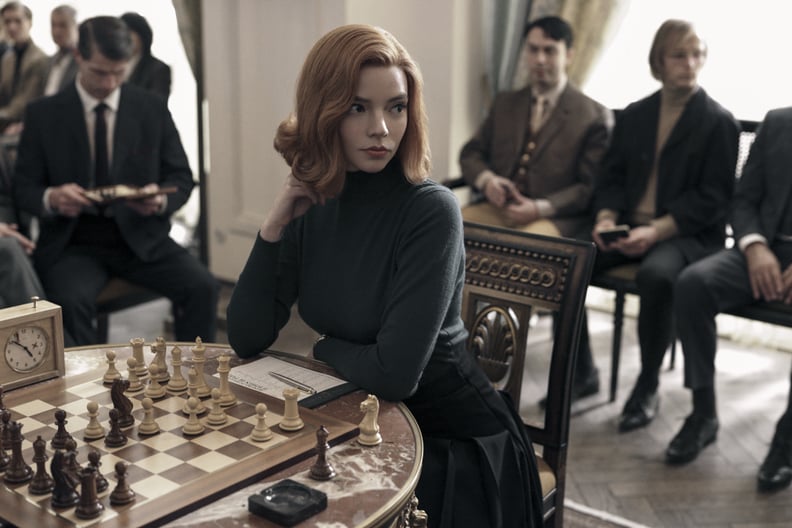 On Playing Up Beth's Femininity In a "Men's World"
As Beth competes to become the grandmaster in chess, it's clear that the industry was predominantly male. That influenced her character more than anything else.
"The whole point about the character is that she is very feminine and she's very glamorous," said Parker. "You're talking the '50s, '60s — it's a glamorous period. You're talking Marilyn Monroe and all these amazing images of that period." But while Monroe helped influenced Beth's overall glam vibe and Grace Kelly influenced her hair, neither were the main muse — actress Natalie Wood was.
There's not one single beauty look for Beth that stands out in Parker's mind over the rest because there's simply too many to choose from. "I mean, every time she walks into the room you see her in a new kind of look — it's a moment."