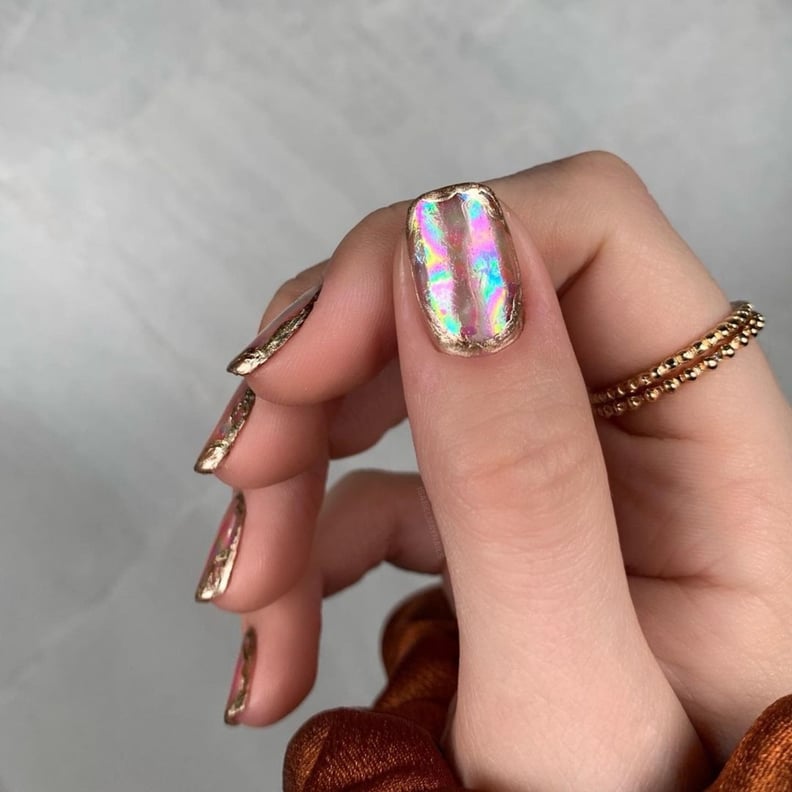 If scrolling through Instagram for nail-art inspiration has become your go-to move till you can get back into the salon, we found one of the most mesmerizing manicures to hold you over. Introducing rainbow opal nails — a dreamy, multifaceted design that's as trippy as it is colorful.
Isabel May — nail artist, YouTuber, and content creator based in East Grinstead — is the brains behind the multidimensional nail art. As it turns out, this opal design was created how most good ideas are: by playing around with different products and not fully knowing what the result was going to be beforehand. "I love texture and was just playing around with different products and layering them together to create different effects," May told POPSUGAR. This was the epic result.
The process is surprisingly less complicated than it looks, but that doesn't make it any less intricate. "The design is created by applying a colored gel base layer and then layering two different nail foils together to create the iridescent oyster shell effect," she explained. Nail foils are a great way to achieve different effects that can't be created by hand painting. Plus, you can use nail foils on regular nail polish, which is a win for at-home experimenting.
Since May used professional gel nail products, you won't be able to get your hands on the exact tools she used without being qualified. That means, if you want to have fun and try re-creating the look using regular polishes at home, then go right ahead; but if you want a set that looks as perfect as May's, "you'll just have to count down the days you can see your nail tech again," she said. If you are a professional tech looking to re-create this design, then you're in luck because May is holding an online course covering this design, which is available to book from mid-February.
If you can't get enough of this design, read on to see more angles of the rainbow opal effect, plus some of May's best opal manicures to save for your next trip to the nail salon.