I Tried Rodan + Fields's New "Reverse" Regimen, and My Skin Is Noticeably Brighter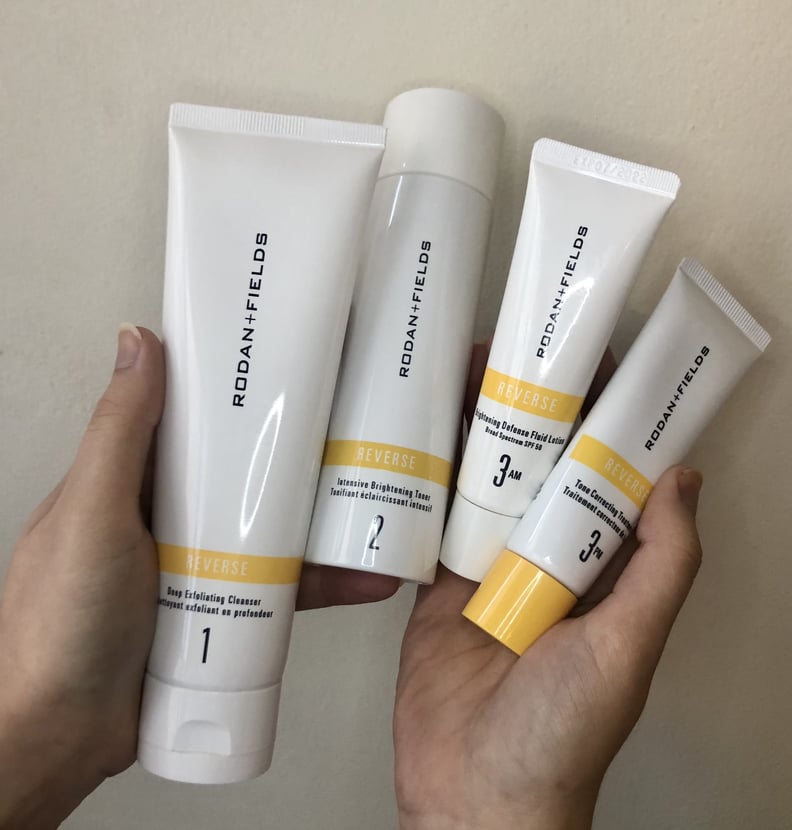 POPSUGAR Photography | Jessica Harrington
POPSUGAR Photography | Jessica Harrington
As POPSUGAR editors, we independently select and write about stuff we love and think you'll like too. If you buy a product we have recommended, we may receive affiliate commission, which in turn supports our work.
On my list of skin-care goals, brightening is always number one. While I'm pretty diligent with my routine now, I wasn't always the best with my sun protection. I rarely wore sunscreen on my face because I liked to tan (I still do, but I know better and rely on fake tanning options now). Those bad sun habits, combined with a period of hormonal acne in my early 20s, left me with some discoloration and acne marks on my face that I'm still trying to fade. Luckily, I was able to get my hands on the newly reformulated Rodan + Fields Reverse Regimen early, which is intended to visibly correct and target those concerns.
The new three-step regimen is formulated to address dark spots from aging, blemishes, and the environment, like sun exposure. It features an exfoliating cleanser, toner, SPF 50 face lotion, and a nighttime correcting treatment. The products are infused with powerful brightening ingredients, like 10 percent vitamin C to address dullness and niacinamide to protect against future damage caused by environmental aggressors. The PM treatment in the line also contains retinol and kojic acid to increase cellular turnover and smooth skin's tone.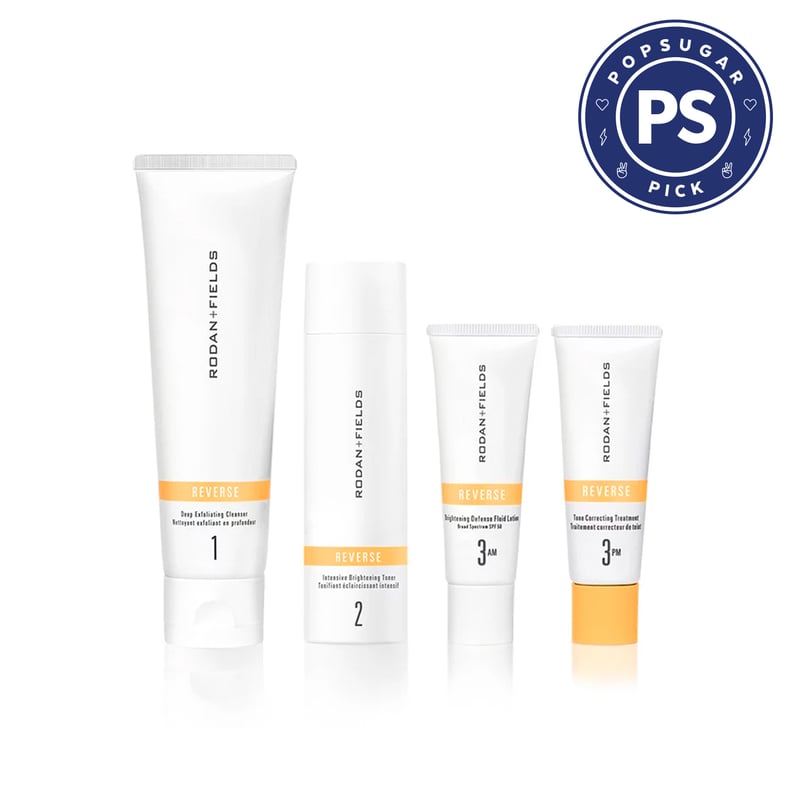 The retinol in the PM Tone Correcting Treatment was developed in house by the brand. "Both of these ingredients have been supercharged by the scientists in our Rodan + Fields lab," cofounder of the brand Dr. Kathy Fields told POPSUGAR. "Not all retinoids or vitamin Cs are created the same, and blending them together can be difficult due to stability."
The Reverse regimen helps restore luminosity in the skin by also incorporating gentle physical exfoliation. "[Dull skin] impacts how light is reflected of the skin's surface," said cofounder Dr. Katie Rodan. "Slow cell turnover and discolorations that are hidden beneath the surface absorb rather than reflect light."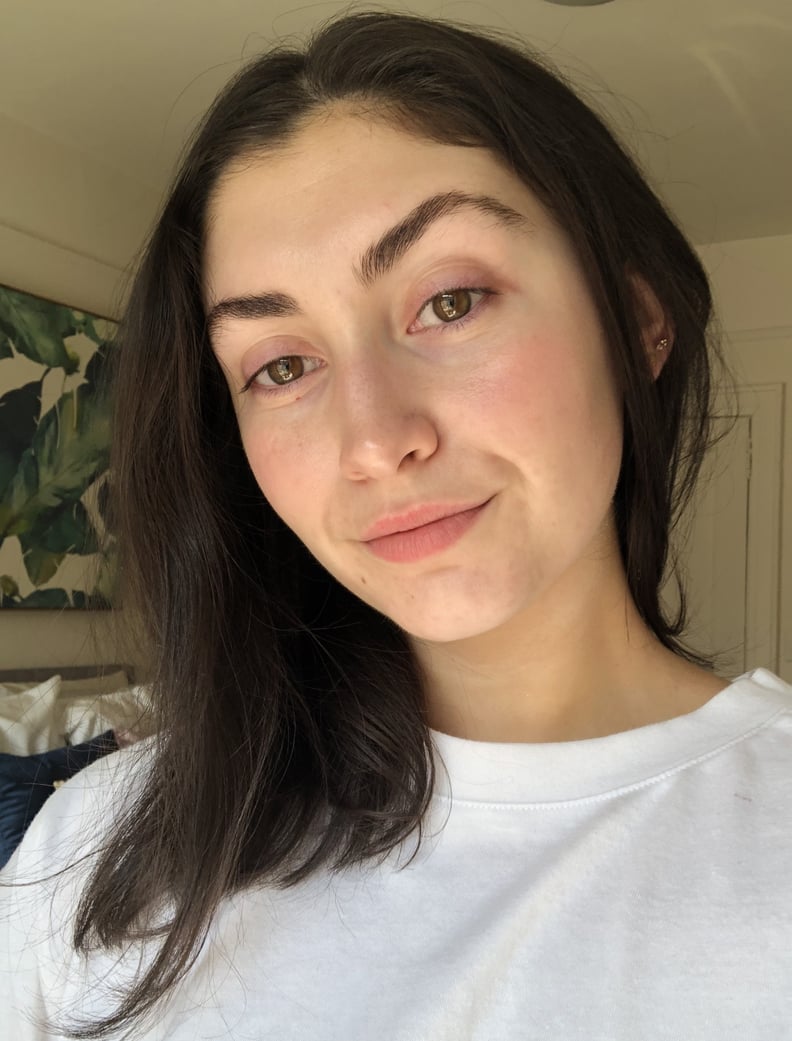 I tried the entire new Reverse line for a week and loved how it made my skin look. The first step is the Deep Exfoliating Cleanser ($45), which contains both chemical and physical exfoliants. Glycolic and lactic acid give your skin a smoother appearance, while jojoba esters buff away dead skin. The cleanser has a light yellow hue to it and a creamy texture. You can instantly feel the grit of the exfoliating jojoba esters, so it's important to use gentle, circular motions when applying it.
Step two involves the Intensive Brightening Toner ($50), a lightweight toning liquid that you apply to a cotton pad and swipe over your skin. It has niacinamide to help promote clear skin and licorice extract to calm irritation.
Step three in the morning involves the Brightening Defense Fluid Lotion SPF 50 ($40). It's a thin, fast-absorbing chemical face sunscreen that also contains licorice extract. Despite being very white when it first comes out of the tube, it blends really well onto the skin. The high level of SPF helps prevent future discoloration, and your skin is safe from increased sun sensitivity due to the powerful exfoliating ingredients.
Step three in the nighttime routine uses the Tone Correcting Treatment ($110), which is formulated with the special blend of vitamin C and retinol and kojic acid. The treatment has a thick, silky texture that feels smooth when you apply it. It's not drying or irritating, but if you need the extra hydration like I do, you'll want to follow up with a hydrating moisturizer.
You can shop the Reverse regimen together for $195 or buy each product separately. It launches in March and is available at RodanandFields.com or through independent consultants of the brand.