I Tried the New Selfless by Hyram Products Ahead of the Launch — and I'm Very Impressed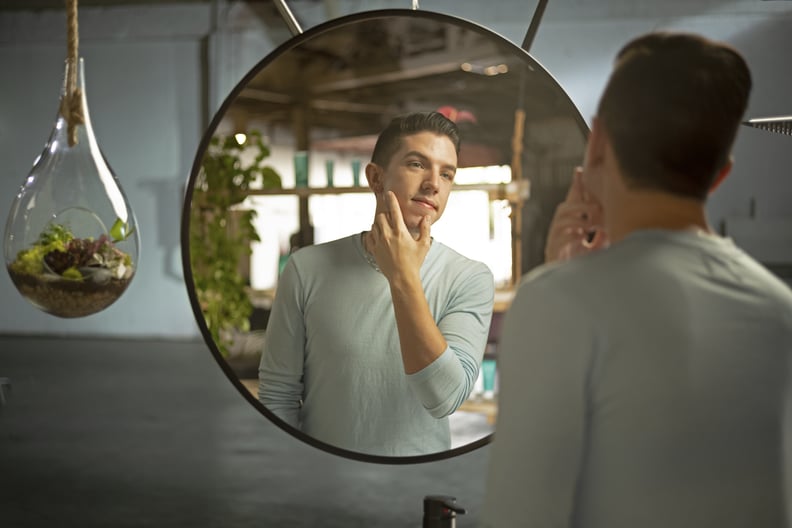 Selfless by Hyram
As POPSUGAR editors, we independently select and write about stuff we love and think you'll like too. If you buy a product we have recommended, we may receive affiliate commission, which in turn supports our work.
Last month, Hyram Yarbro — self-taught skin-care expert and influencer with 12 million followers on TikTok — announced the launch of his new skin-care brand, Selfless by Hyram. In partnership with The Inkey List, the aim of Selfless by Hyram is to positively impact challenges currently being faced by people and the planet — all while delivering incredible skin-care results. As of this week, the products have officially hit Sephora stores.
"Through Selfless by Hyram I want to connect the beauty industry with social change," Yarbro said. "My goal is to help people by not only creating high quality skin care with incredible formulations, but to also give people an opportunity to empower others around the world who are impacted by some of the biggest global issues known to our generation. I want to help people change the world just by doing their skin-care routine."
While watching the brand create a positive impact when it comes to social issues will take time, I can vouch for the skin-care results after just a few weeks of testing out the products. From ingredients to packaging, Yarbro has nailed it.
As for the packaging, the brand has been transparent in that no beauty product packaging is perfect when it comes to its environmental impact; however, they "consider many things in order to try and make the best choices possible." The tubes are made from sugarcane farmed sustainably in Brazil, and the outer cartons are made from 100 percent recyclable FSC sources. Aside from the obvious effort taken from all involved to use packaging that's as environmentally conscious as possible, I particularly liked how easy it was to dispense the correct amount of product with its nozzle applicators. On top of that, all of the five products currently available are vegan and cruelty- and palm oil-free. The price point is midrange and definitely more expensive when compared with The Inkey List.
I got my hands on all five of the Selfless by Hyram products ahead of the launch, so read on to see what I thought of each product in the lineup. Spoiler: they're all pretty great.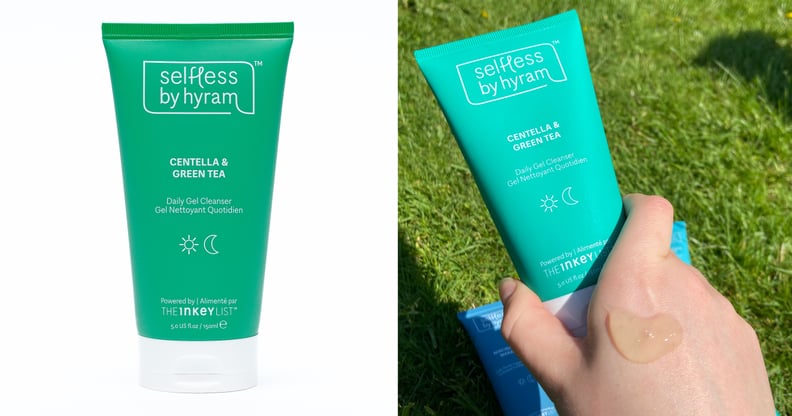 Selfless by Hyram Centella & Green Tea Daily Gel Cleanser
The Selfless by Hyram Centella & Green Tea Daily Gel Cleanser ($20) is the kind of fuss-free but effective cleanser I personally look for. It has a gel texture that when combined with water, lathers really nicely without being too foamy. It gently removes all traces of makeup and grime, and unlike a lot of cleansers for sensitive skin, it doesn't leave any residue or greasy film feeling after washing off.
The key ingredients included in the Centella & Green Tea Daily Gel Cleanser are three percent centella, which helps to soothe skin; green tea, which similarly helps to calm the skin and reduce redness; and glycerin, which is well-known for being ultra-hydrating. Because this product is especially created for sensitive skin types, it's formulated without any fragrance, which can cause some irritation.
After only a few weeks of testing, I just know that this will be one of those cleansers that I keep coming back to when I want something super gentle yet hardworking to remove every scrap of sunscreen and makeup.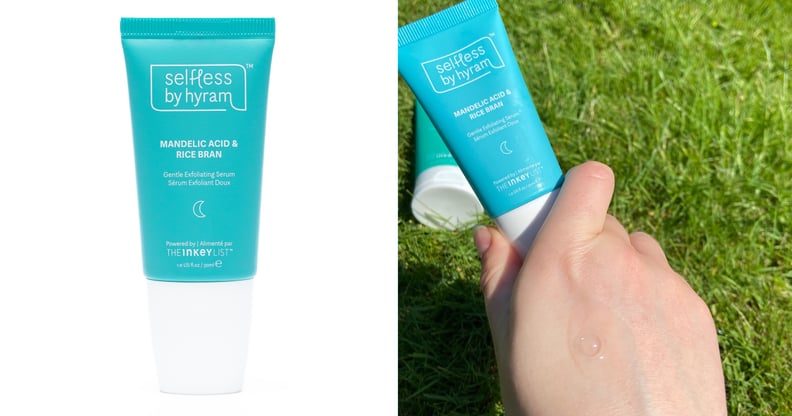 Selfless by Hyram Mandelic Acid & Rice Bran Gentle Exfoliating Serum
Next up is the Selfless by Hyram Mandelic Acid & Rice Bran Gentle Exfoliating Serum ($24). Now, I'll be honest, any product that claims to exfoliate has me instantly worrying about my rosacea-prone skin. But of course, this is Yarbro we're talking about, so there's nothing harsh or scary about this product (or any of the others!). He called it the "don't over exfoliate exfoliator," which I'm absolutely here for.
The stars of the show are mandelic acid, an alpha hydroxy acid that is one of the best for sensitive skin, which is all down to having a larger molecule than other AHAs, and rice bran (also known as phytic acid), which is a gentle AHA with antioxidant properties working to neutralize free radical damage to the skin. These two powerhouses are combined with polyhydroxy acids, the most gentle acid exfoliators out there — due to an even larger molecule and thus causing less irritation — working to unclog pores by dissolving dead skin cells. All of these ingredients work together to slough away dead skin cells, leaving a brighter, smoother complexion.
The best part is that it's super easy to use. Simply apply a couple of drops after cleansing and before moisturizing. Though it's gentle, this product shouldn't be combined with lots of other strong acids in your routine — we don't want to be overexfoliating and ruining our skin barrier.
In a nutshell: it's an impressive, hardworking, yet gentle acid exfoliator that's super easy to slot into a skin-care routine.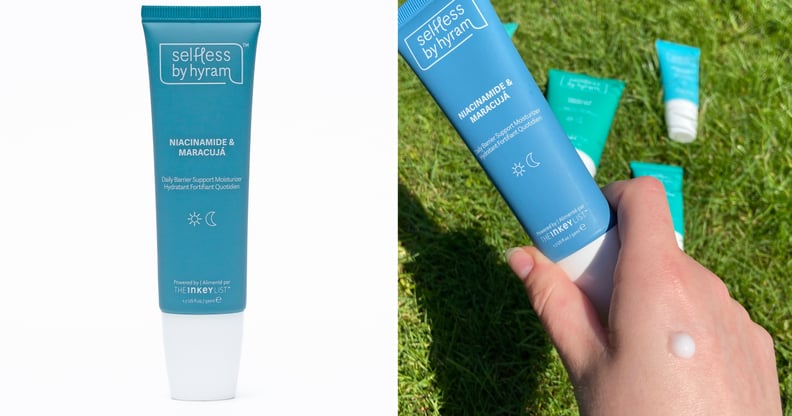 Selfless by Hyram Niacinamide & Maracuja Daily Support Moisturizer
Barrier-repair moisturizers are popular right now, but they are often catered toward dry skin types and come in thicker textures. The first thing I noticed about the Selfless by Hyram Niacinamide & Maracuja Daily Support Moisturizer ($26) is how lightweight it is thanks to its gel-cream texture, which makes it perfect for oily and dry skin.
This everyday moisturizer contains niacinamide, a form of vitamin B3 known as somewhat of a do-it-all ingredient because it helps with reducing inflammation and redness, decreasing oil production, and hydrating skin. Yarbro has combined this with maracuja oil, which promotes skin healing and supports the skin barrier, and madecassoside, an emerging ingredient with skin-soothing benefits that's perfect for sensitive skin.
In my opinion, you can't go wrong with this moisturizer. It sits well under makeup, feels ultra lightweight, and isn't irritating in the slightest.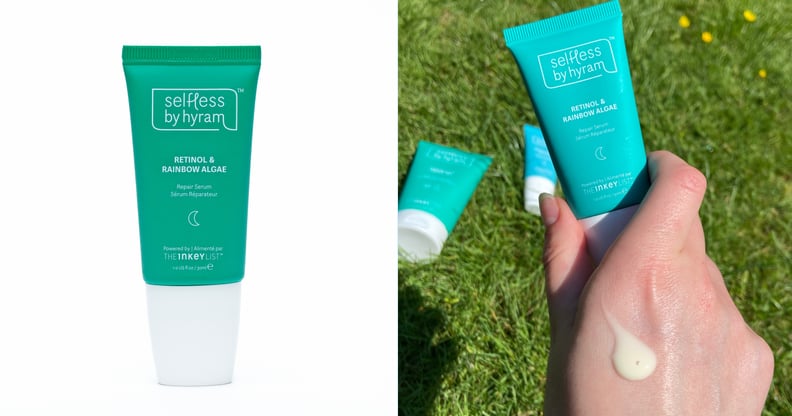 Selfless by Hyram Retinol & Rainbow Algae Repair Serum
I can't be the only one sold on the Selfless by Hyram Retinol & Rainbow Algae Repair Serum ($30) for the name of it alone. Aside from having an enticing name, the contents of this product are also pretty impressive.
With two percent encapsulated retinol, rainbow algae, tranexamic acid, and squalane, this product helps to even skin tone, reduce the appearance of hyperpigmentation, and hydrate the skin all in one nifty product.
The texture is incredibly lightweight, soaking into skin instantly. It layers well under moisturizer, making it easy to incorporate into your routine, especially if you've previously been unsure about trying a retinol product. Remember to wear SPF in the daytime (even if it's cloudy outside) when using any retinol product.
Selfless by Hyram Salicylic Acid & Sea Kelp Pore Clearing and Oil Control Serum
If you have got oily or acne-prone skin and are looking to give your skin a deep clean, the Selfless by Hyram Salicylic Acid & Sea Kelp Pore Clearing and Oil Control Serum ($24) is most definitely for you. It's formulated with salicylic acid, niacinamide, sea kelp, and succinic acid (the star of The Inkey List's most recent spot treatment).
The combination of ingredients makes sure that you get a deep clean without any irritation. The texture is incredibly thin and watery and is supposed to be used in the morning before moisturizer, SPF, and makeup. As with the other products, the texture means that it sits nicely under products. It can either be applied all over or used as a spot treatment for targeted areas.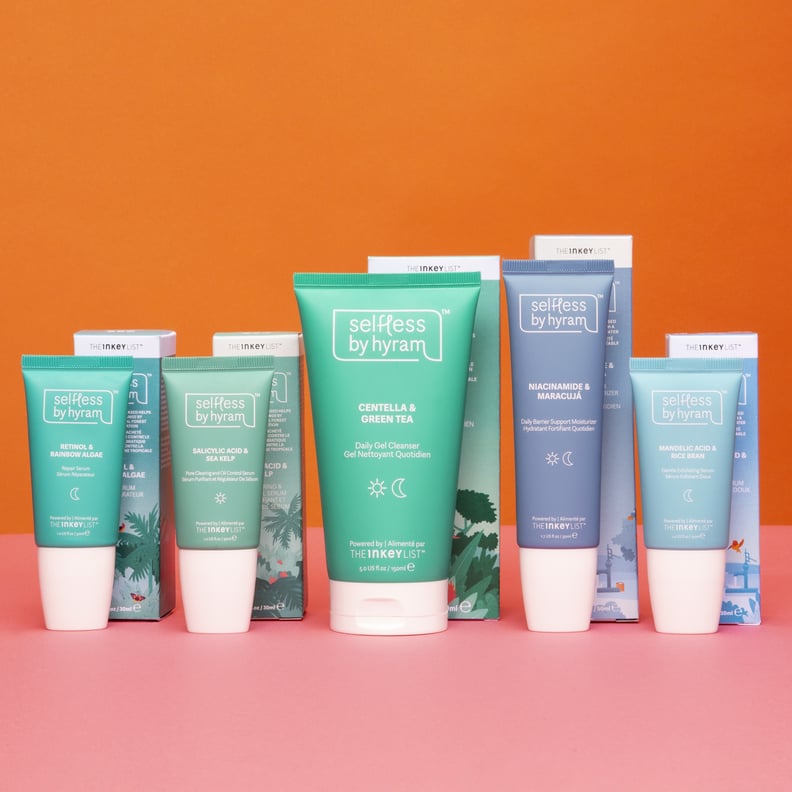 Selfless by Hyram Full Collection