Why Sephora's Exclusive Skin Wonderland Set Is the Best Gift
Here's How We'd Use All 15 Products in Sephora's Exclusive Skin Wonderland Set
As POPSUGAR editors, we independently select and write about stuff we love and think you'll like too. If you buy a product we have recommended, we may receive affiliate commission, which in turn supports our work.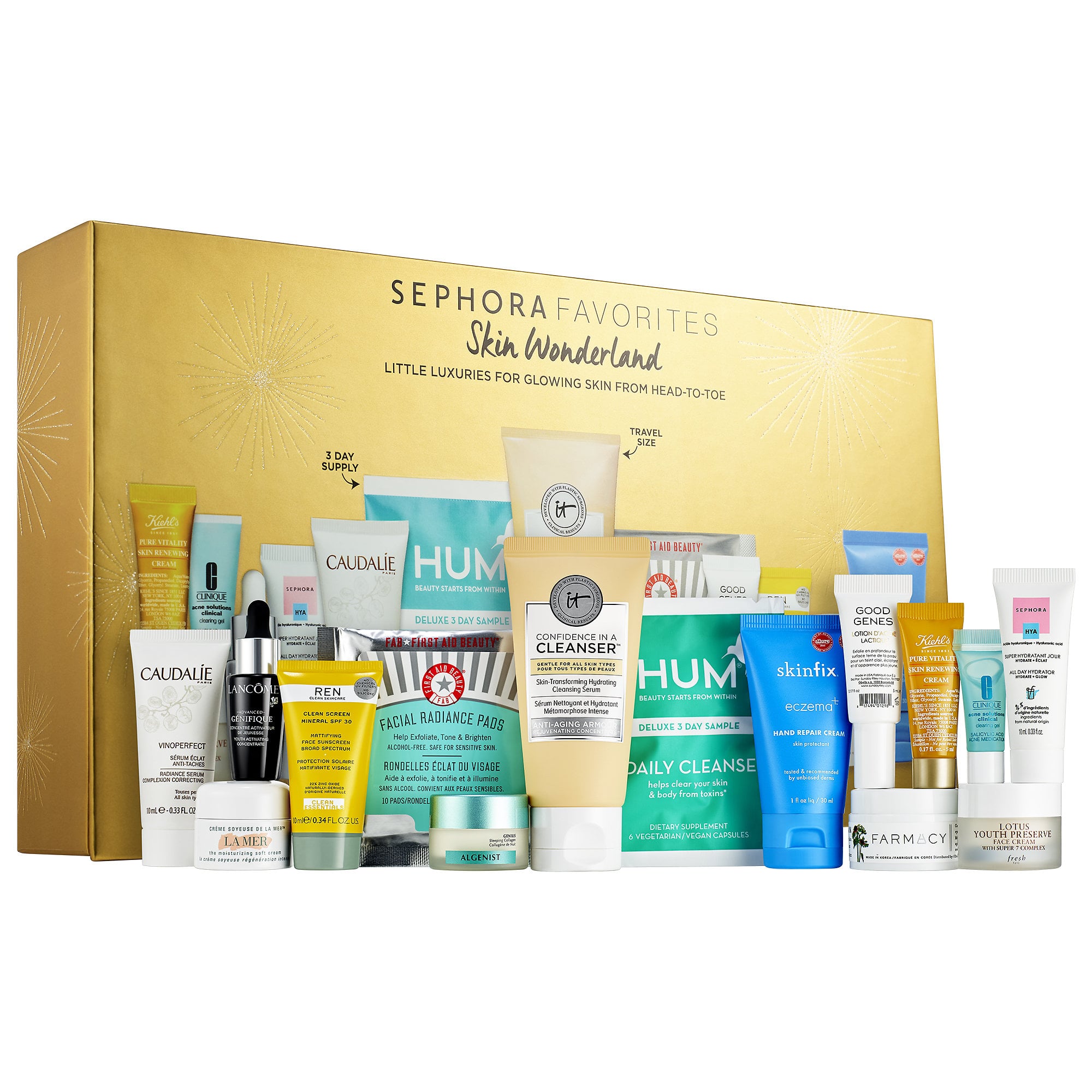 Let's start with two magic words: La Mer. That's right, this Sephora Favorites Skin Wonderland set ($64) actually includes the very fancy — and pricey — face cream.

But it's just one of the 15 products in the limited-edition kit. We love skin care and we've seen quite a few gift sets this season, but we're still excited for this one in particular. So excited, in fact, that we looked into all the goodies inside to see what each one's No. 1 selling point is, and we've already figured out how to work them into our daily (and nightly) routines.

Even though this gift set is a great deal on its own, don't forget that if you spend $75 (or more) at Sephora before Dec. 17, you can save big when entering the promo code "2019HOORAY" at checkout: Rouge-level shoppers knock $25 off, VIB members receive $20 off, and Beauty Insiders get $15 off their purchases.
Now, here's what you can expect, and get out of, this exclusive kit (valued at $181):
Cleansing
Treating
Moisturizing
Protecting
The mattifying Ren Clean Skincare Clean Screen Mineral SPF 30 not only protects your sun from UVA, UVB, and blue light rays, it also has rice starch to absorb oil and control shine, too.
If you have dry, cracked skin on your hands, Skinfix Eczema+ Hand Repair Cream will surely come in handy, but even if you don't, the sweet almond oil nourishes and the colloidal oatmeal protects them anyway.
The Hum Nutrition Daily Cleanse Clear Skin and Body Detox capsules include organic algae and 14 detoxifying herbs and minerals to help clear your organs, like the acne on your skin, along with toxins in the liver, kidney, lymphatic system, and more.