Exactly What's Inside Each Sex Education Character's Makeup Bag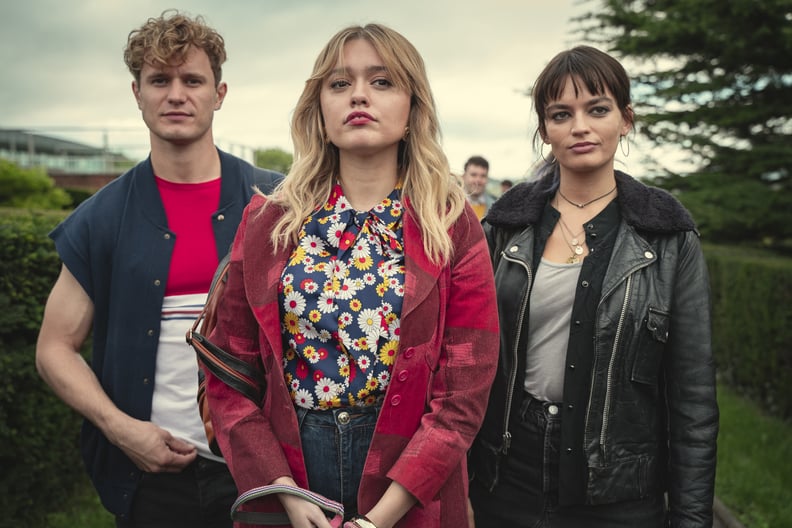 Sam Taylor | Netflix
Sam Taylor | Netflix
The only thing juicier than the alien-meets-erotica Romeo and Juliet school play in Sex Education's season two finale is the entire season three, where students pass out vulva cupcakes and their hair and makeup are, in many cases, a bit . . . extraterrestrial.
That's, of course, the goal of the show's beauty department — to bring each character's story and personality to life through colorful eyeliner, silver wigs, claw clips, and more. From the "love bites" (what makeup department head Emily Bilverstone calls Ruby's hickeys) to the out-of-this-world hair accessories, there were many a details to consider when pulling together each cast member's look.
Luckily, Bilverstone so kindly shared a sneak peek at what exactly went into creating everything from Maeve to Lily to Eric's beauty looks, plus the inspiration behind them — think: Lisa Rowe from Girl, Interrupted! Cher Horowitz from Clueless! Cate Blanchett as . . . Cate Blanchett — and more. Keep scrolling for the full behind-the-scenes beauty tea.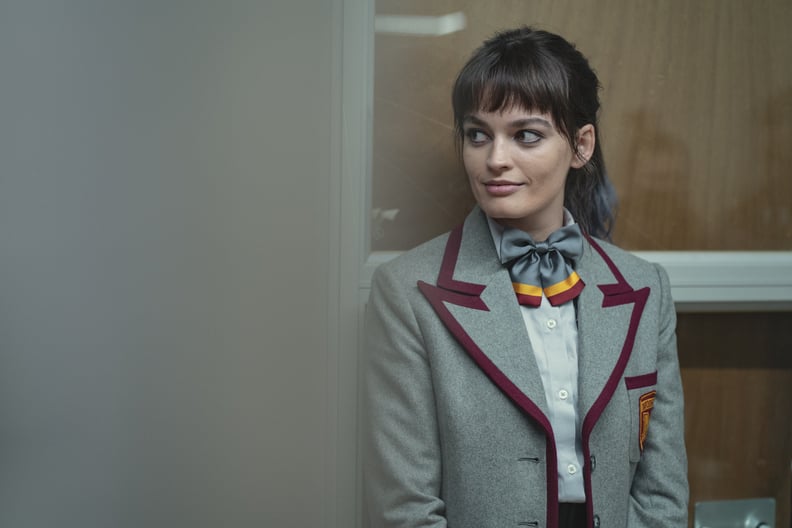 What's in Maeve's Hair and Makeup Bag?
According to Bilverstone, the biggest inspiration behind Maeve's piecey fringe was a mixture of Lydia Deetz from Beetlejuice, Lisa Rowe from Girl, Interrupted, and Italian model Mariacarla Boscono. Her entire look would be decidedly grunge, if it weren't for the dipped purple ends that were dyed by colorist Antonia Cometa.
The hair team (primarily hairstylist Abra Kennedy) maintained that choppy texture throughout the season with a combination of hot tools and texturizing spray, specifically the hair straighteners from Cloud Nine (only available in the UK) and the Sam McKnight Easy Up-Do Texture Spray ($36).
As for her makeup, Bilverstone placed lots of emphasis on Maeve's signature, smudged smoky eye. First, she laid the base with Pat McGrath Labs Sublime Perfection Foundation ($68) and Cle de Peau Concealer ($73). (She first prepped the skin with skin-care products from Decleor.) Then, she used the Chanel Calligraphie Longwear Intense Cream Eyeliner ($35) — "this was smudged and then set using the Shu Uemura Black [Pressed] Shadow ($15)," she said. She topped it off with Glossier Boy Brow in Clear ($16) and Glossier Mascara ($16). The rest? Just a few swipes of lip balm.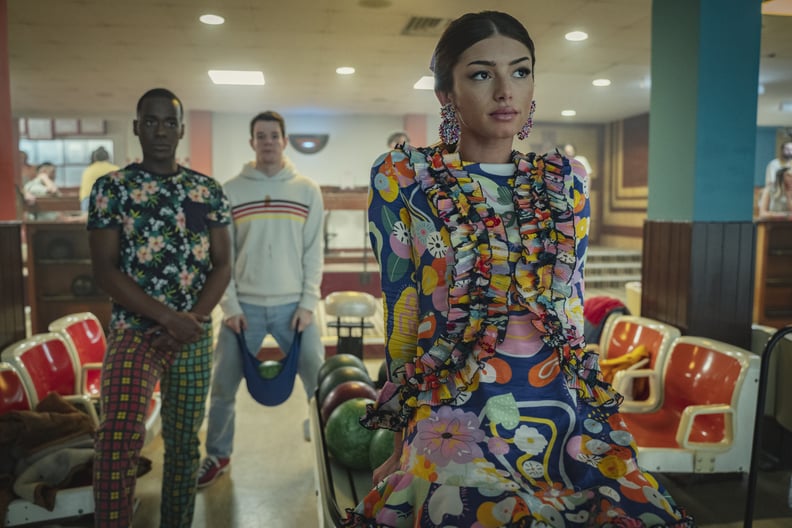 What's in Ruby's Hair and Makeup Bag?
Unlike Maeve (and her boyfriend this season, Otis), Ruby's character is extra in all the best ways — which means her hair and makeup had to match. Just take her beauty inspiration — a mix of Cher Horowitz and Jan Brady, two popular girls all the same — as proof.
Ruby's skin was coated with high-coverage pigment, starting with Glossier Futuredew ($24) mixed with Rimmel London Medium Matt Tan (only available in the UK) "buffed all over the skin and neck," followed by Chantecaille Future Skin ($79) and It Cosmetics Bye Bye Under Eye Concealer ($28) and topped with highlighter from the Hourglass Cosmetics Ambient Lighting Palette ($64). (She also used Hourglass Ambient to set Ruby's eye makeup, which was created with Glossier Skywash ($18) in Pebble and Lidstar Moon.)
Ruby's lips also got the full movie-star treatment: lip balm (Glossier), lip liner (Shu Uemura), MAC Lipstick in Verve ($19), and lip gloss (Liz Earle Beauty). "NYX Cosmetics Juicy Secret Lip Gloss ($5) is also a great match for Ruby's lip color," she said.
Her hair barrettes were courtesy of Hub Shop. Oh, and to create those hickeys (or as Bilverstone called them, "love bites") in the first few episodes, David Stonemam used Maekup for Film & Television.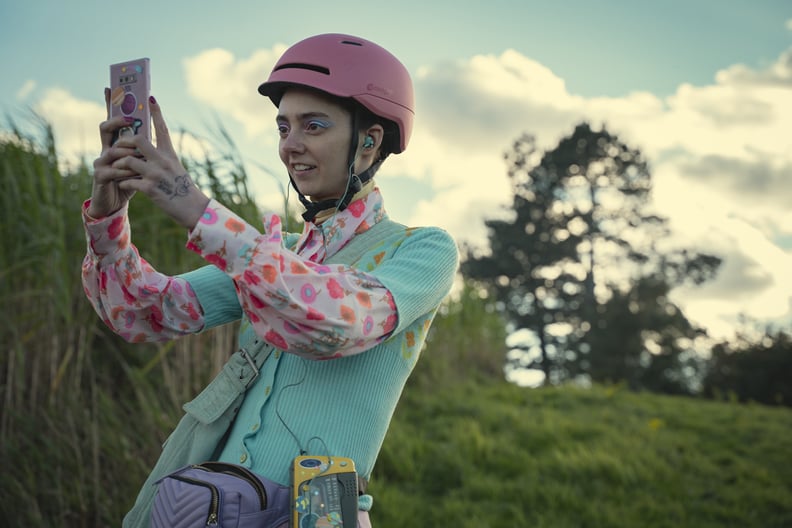 What's in Lily's Hair and Makeup Bag?
Ah, alien-loving, sex-adventure-writing Lily — nobody does out-of-this-world hair and makeup quite like her. Throughout the series, the makeup team used a handful of colored eye pencils from Shu Uemura, plus the pastel-hued Glisten Cosmetics Wet Liners ($10) in Grape and Strawberry. To create that alabaster-skin effect, Bilverstone used Chanel Vitalumière Ultra-light Skin Perfecting Makeup ($50) and Make Up For Ever Chromatic Mix in White ($17), an oil-based liquid pigment used to shift the tones in complexion products.
Then, there's Lily's hair. Her silver wig for the opening montage of the first episode (where everyone is, erm, you know) was made by Divamp Couture. Otherwise, her hair was styled by hairstylist Kennedy and featured just about every type of string you can imagine and hair clips from Etsy. "Different-colored string was tied into hair extensions to create [one] look, and the same was done for Lily's finale look using metallic hair string," Bilverstone said. The ears for the same look, she added, were made by MonsterFX Makeup painted in 3ina Silver Eyeshadow.
Lily's finale look was perhaps the most out there, and it was created with 3ina Cream Eyeshadow ($17) topped with iridescent eyeshadow from the Pat McGrath Mothership I: Subliminal Eyeshadow Palette ($125). She finished it off with swipes of Lime Crime Astronomical Volumizing Vegan Mascara ($20) in shades Nebula (a light purple) and 51 (a lime green).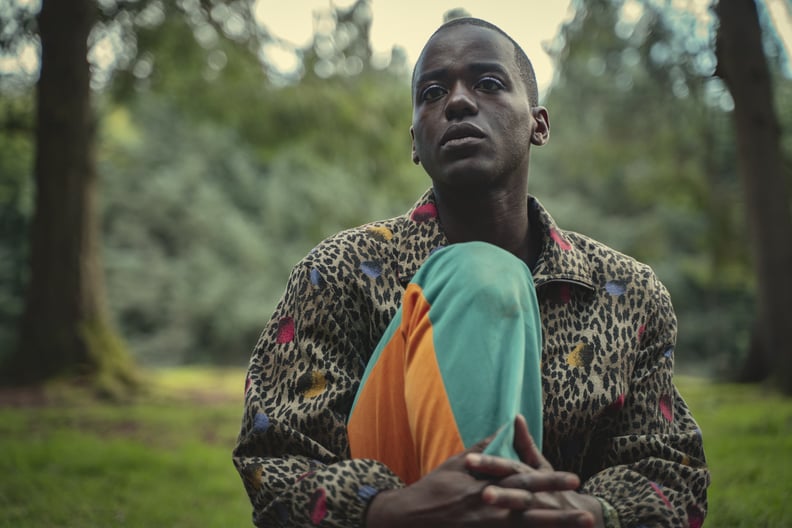 What's in Eric's Hair and Makeup Bag?
Anyone who watched this season knows Eric does not just serve in the fashion department, he also shows up for those makeup looks, honey. Of the makeup shown here, Bilverstone said, "Eric's double-date-look makeup was created using Fenty Beauty Eyeliner Pencil ($22) in Lady Lagoon and set with Shu Uemura Mini Khaki False Eyelashes."
For his finale look, to play up his orange ensemble, Bilverstone used Pat McGrath La Vie En Rose Eyeshadow Palette ($106) and the same falsies. Eric's highlight — forever ethereal and glowy — was created with Becca Cosmetics Sunlit Bronzer ($23, originally $38).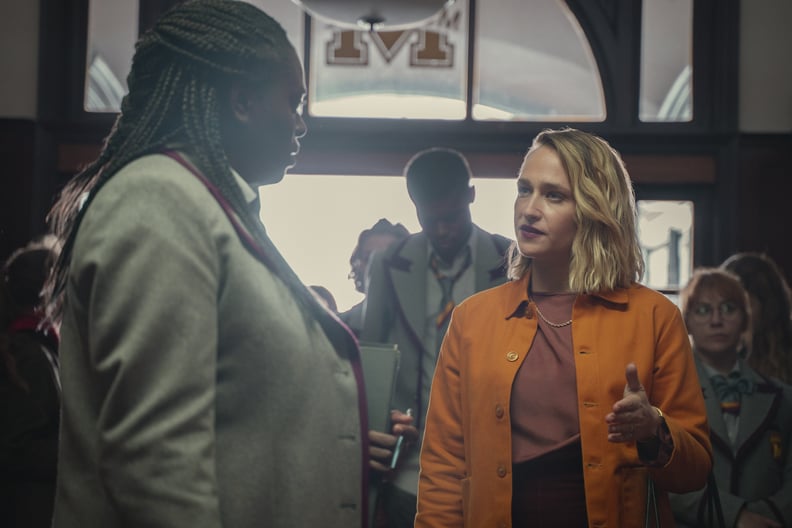 What's in Hope's Hair and Makeup Bag?
The biggest standout of Hope's overall beauty look is her blunt, textured bob and bold lip — which she wears with just as much gusto as she does enforcing new school rules. On some days, when a long-wearing hue was needed, Bilverstone used Nars Powermatte Lip Pigment in Warm Leatherette (a berry pink) and Save the Queen (a punchy mauve). On others, "depending on the lighting," she used Lisa Eldridge in Velvet Jazz (or Velvet Decade if the former "was looking too bright," she said).
As for her hair, the inspiration should come as no surprise: Cate Blanchett. In playing Hope, Jemima Kirk also had to have her tattoo covered up. That was courtesy of the entire makeup team using Kryolan Dermacolor Camouflage Creme ($19).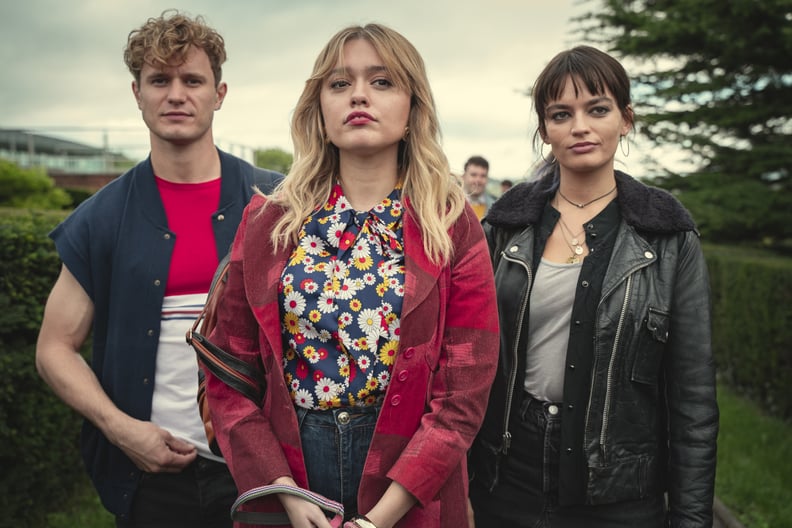 What's in Aimee's Hair and Makeup Bag?
Both Bilverstone and makeup artist Sophie Cox worked on Aimee's makeup this season, which was a mix of modern and retro. First, she started with a little skin care: she used the Pestle & Mortar Pure Hyaluronic Serum ($59) — "love this and use it on anyone and everyone," Bilverstone said — then used the same products as she did on Ruby. (Plus a little Benefit Hoola Bronzer ($30) and Glossier Cloud Paint Blush ($18).) Aimee's lips, when they had a hit of color, were usually a mix of the red-hued Lisa Eldridge Velvet Morning ($36) mixed "with a touch of" the berry-hued Charlotte Tilbury Love Liberty ($34).
The hair inspiration for Aimee was a handful of '70s icons, hence the "Farrah flip" hairstyle you'll notice in most of the episodes. To get that iconic feathery texture, hairstylist Kennedy used an assortment of products from Hair By Sam McKnight and Bedhead by TIGI.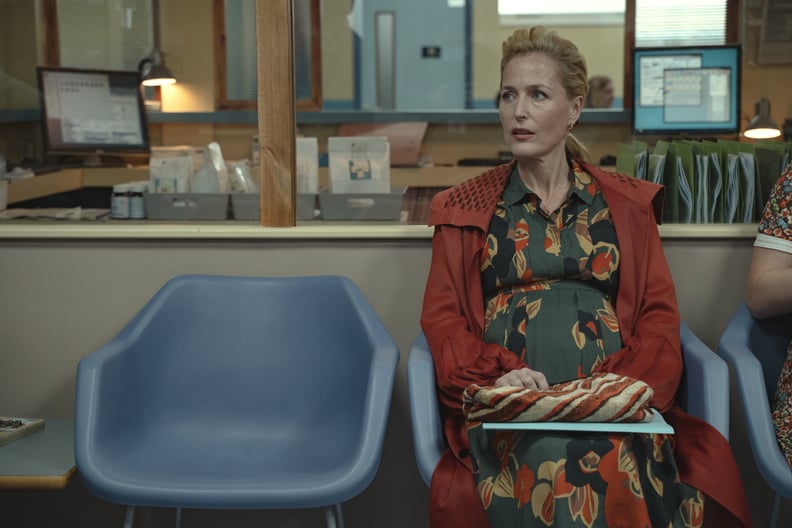 What's in Jean's Hair and Makeup Bag?