As POPSUGAR editors, we independently select and write about stuff we love and think you'll like too. If you buy a product we have recommended, we may receive affiliate commission, which in turn supports our work.
I'm a sucker for a TikTok beauty trend. Whether it's trying the viral "jaw bra" or passport-photo makeup, I'm constantly scrolling to find the latest and greatest beauty hacks.
By now, you've probably heard of the TikTok-viral makeup trend "siren eyes," which is essentially a way of changing the shape of your eye to look more lifted through a smoked-out eyeliner technique. Everyone on TikTok claims the method leaves you looking sexy and alluring, similar to the mythological creatures known as sirens.
After seeing one of our editors test the siren-eyes trend and love it, I then heard "siren lips" were taking over the platform, and my interest was immediately piqued. Just as the former is meant to lift the eyes, the lip version is meant to lift the lips for a sultry, defined look.
I have good-sized lips naturally (thanks, Mom), but they are slightly downturned when my face is in a resting position. I've never found a makeup hack to counter that fact, but I was curious whether or not the siren-lip trend would give them the lift I felt they had been missing.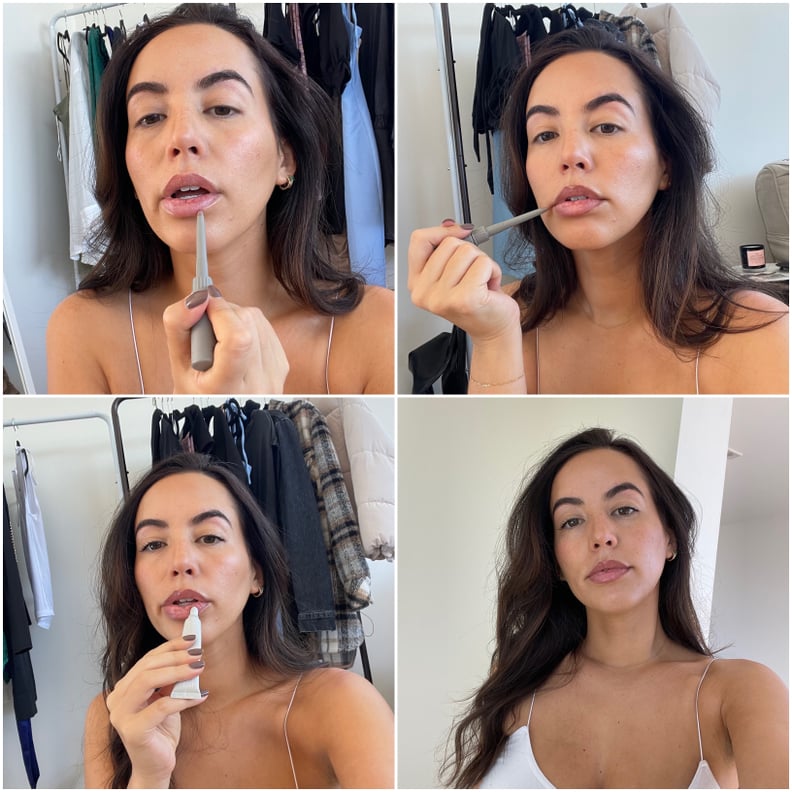 To test the hack, I needed a dark-brown liner, a nude liner, and a clear gloss. I used the Refy Lip Sculpt ($26) in the shades Dusk and Sepia and the Rhode Peptide Lip Treatment ($16). I started by taking the nude liner and overlining my lips. From there, I took the brown liner and lined my lips above the lighter color, starting at my cupid's bow. However, rather than defining my cupid's bow, I overlined it. When I hit the outer corners of my lips, I flicked out the liner upward just a bit — almost as if I were giving my lips a winged eyeliner. I then lined the bottom of my lips and connected the bottom and top lines. To finish everything off, I applied the Peptide Lip Treatment to smudge everything together.
I won't lie, it took me a few tries before I actually landed the look. There were a couple of instances where I looked a little . . . clownish, and there were other times when it looked like I had just gotten finished eating a chocolate doughnut. However, once I finally got the ratio of brown liner to nude liner figured out, the end result was worth it. It gave my lips a super-sexy, full, upturned look, and while it didn't change the shape of my lips completely, it was a vast improvement.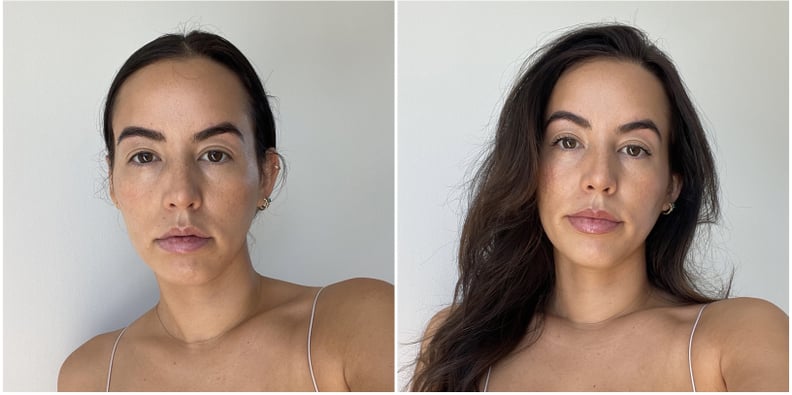 I've tested this hack a few times since my initial run, and I've found that there are a couple of things to keep in mind. In my opinion, it's best to opt for siren lips when doing a full face of glam, because I found that the trend didn't mix well with minimal makeup looks. For example, if I wanted to pop out of the house with "clean girl" makeup, I would stick with "gym lips" because the two trends mesh well together. When I'm ready to go all out for a dinner or an event, I found that siren lips pair well with siren eyes or even a fun smoky eye.
Also, although all of the TikTok videos I watched testing this trend called for a nude lip liner and a brown lip liner, I found that the brown lip liner paired better with a color that was one or two shades darker than my natural lip — not the same color.
The bottom line? While I don't think I'll be wearing this makeup trend every day, it is super fun to do when I want to feel extra seductive. Plus, it did lift my downturned lips, so if I can find a way to make it look a bit more natural, I may find myself wearing it more often.