I Contoured With Self-Tanner to Try TikTok's Viral "Tantouring" Hack — Here's How It Went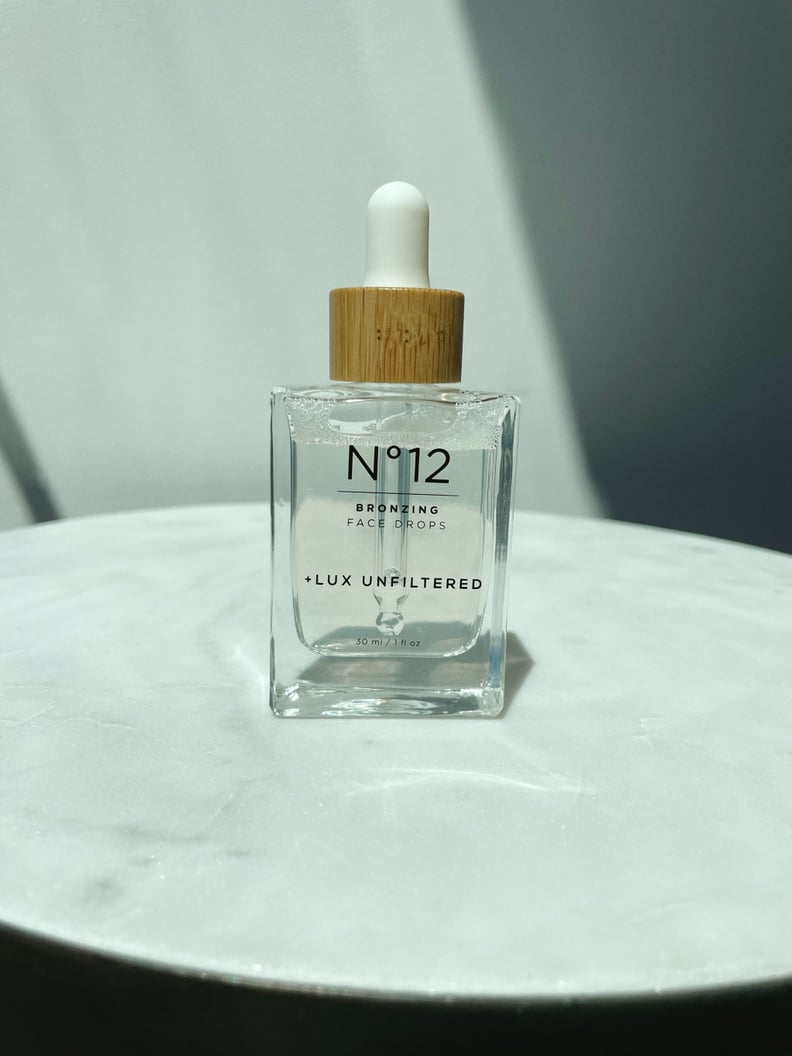 POPSUGAR Photography | Renee Rodriguez
POPSUGAR Photography | Renee Rodriguez
Every editorial product is independently selected by our editors. If you buy something through our links, we may earn commission.
TikTok's latest beauty hack is called "tantouring."
Tantouring involves contouring with self-tanner instead of bronzer.
One editor tested the hack and was impressed with the results.
When it comes to a TikTok hack, I'm always game to try the latest beauty trends. Whether it's doing a hair detox or applying my foundation with a jade roller, I can be talked into practically anything as long as TikTok says it works. Dangerous? Maybe. But it's also been a great way to learn some awesome beauty hacks that I'll continue using for years to come. So when I saw people on TikTok using self-tanner to contour, I knew I had to give it a try.
"Tantouring," or using self-tanner to contour, immediately piqued my interest because I loved the idea of not having to apply bronzer when doing my makeup. I'm not a huge fan of wearing makeup every day in general — especially base makeup — because it can often leave my skin feeling greasy by the end of the day. Plus, I have sensitive, acne-prone skin, so it doesn't take much to make my face break out. Last year, I discovered a facial self-tanning product that didn't irritate my skin and made it look like I was wearing foundation even when I wasn't, and I've been wearing it weekly ever since.
I apply my face-tanner either in the mornings or at night before bed, depending on my schedule, but for my first time trying out this hack I opted to apply it in the morning after showering. I prepped my skin as I normally would prior to self-tanning: I used my favorite exfoliating mask to remove any dead skin, and then washed my face with my normal hydrating cleanser. I then did my normal skin-care routine and applied my vitamin C serum, moisturizer, and face oil as well as eye cream.
When it came time to do the actual tantouring, I opted to use my favorite facial self-tanner, Lux Unfiltered's No. 12 Bronzing Face Drops ($45). These drops give my face the perfect subtle glow, and they don't cause any issues for my sensitive skin.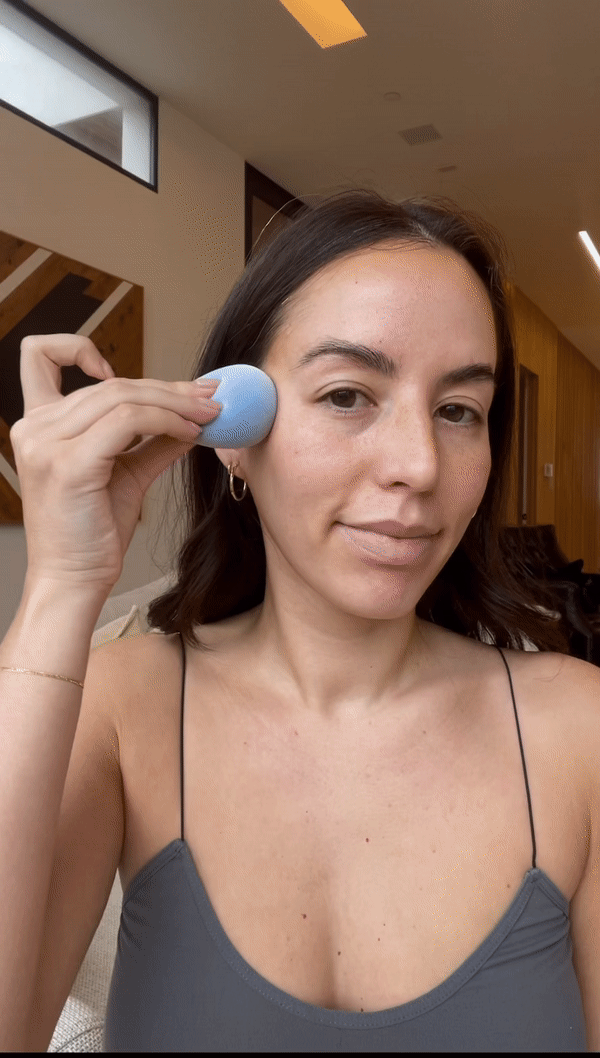 One thing to note: this tanning product goes on clear, so I wasn't able to see the lines I was creating, but I use it all the time and I'm very familiar with how many drops are needed for my face. If you're new to self-tanning, I would recommend using a product that has a built-in bronze color.
When applying my self-tanner to the entirety of my face and neck, I typically use about six drops in total, so I opted to dispense just three drops of the liquid into the palm of my hand. To contour my forehead and my cheekbones, I dipped the round end of my dry beauty sponge into the liquid and started pressing it into my skin where I would normally apply contour. (Pro tip: make sure you use a dry beauty sponge so you aren't inadvertently washing off the tanner.)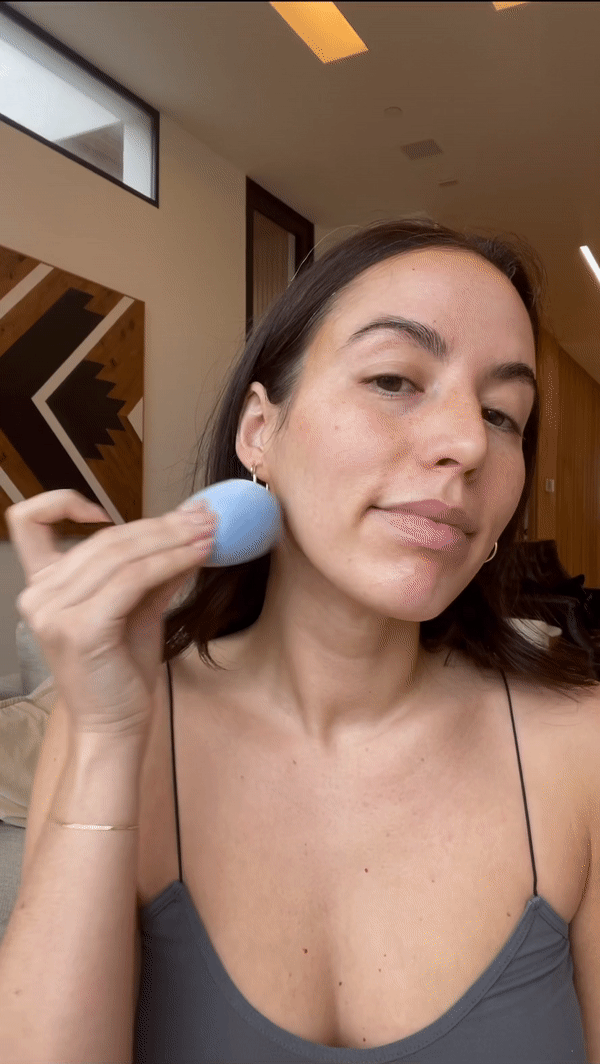 I then dispensed another two drops into the palm of my hand and used the round portion of the beauty sponge to apply the product on either side of my jawline. I don't do too much contouring around my jawline, so I opted to use less product for a more natural look.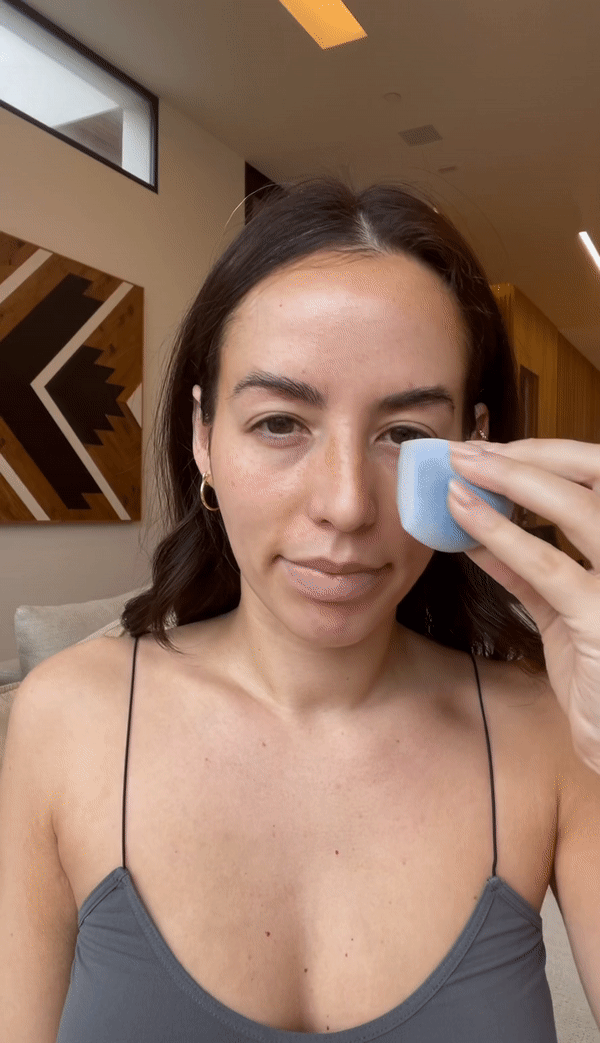 To contour my nose, I dispensed just one drop into the palm of my hand and I dipped the squared edges of my beauty sponge into the liquid. I then gently tapped the self-tanner onto either side of my nose — the same place I would normally apply contour. This part was a little tricky, but using the squared edges of my beauty sponge definitely helped.
After application, I immediately washed my hands with warm water and soap to make sure I didn't have any leftover tanning product on my hands or fingers. I then let the product develop during my eight-hour workday, and by the end of the day, I had a beautiful, subtle bronze glow over all of the areas where I would normally contour.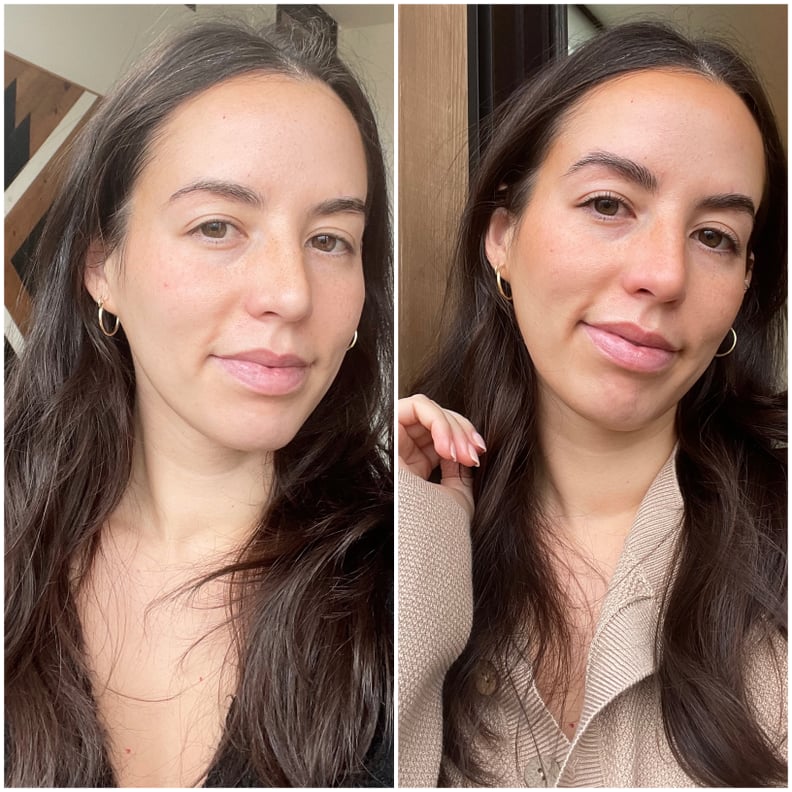 I've been using this hack for about two weeks, and I absolutely love it. When it comes to everyday makeup, I've been able to just fill in my eyebrows and slap on some mascara, and be completely ready to walk out the door. Absolutely zero foundation, concealer, or contouring required. I love how natural tantouring looks, and I love that it gives me a subtle glow with minimal effort. This is definitely my favorite TikTok hack so far, and one I'll continue using weekly.