TikTok Personality Tinx on Her Favorite Beauty Products
Tinx Talks Beauty Favorites and the 1 TikTok Trend She's Just Not Into
As POPSUGAR editors, we independently select and write about stuff we love and think you'll like too. If you buy a product we have recommended, we may receive affiliate commission, which in turn supports our work.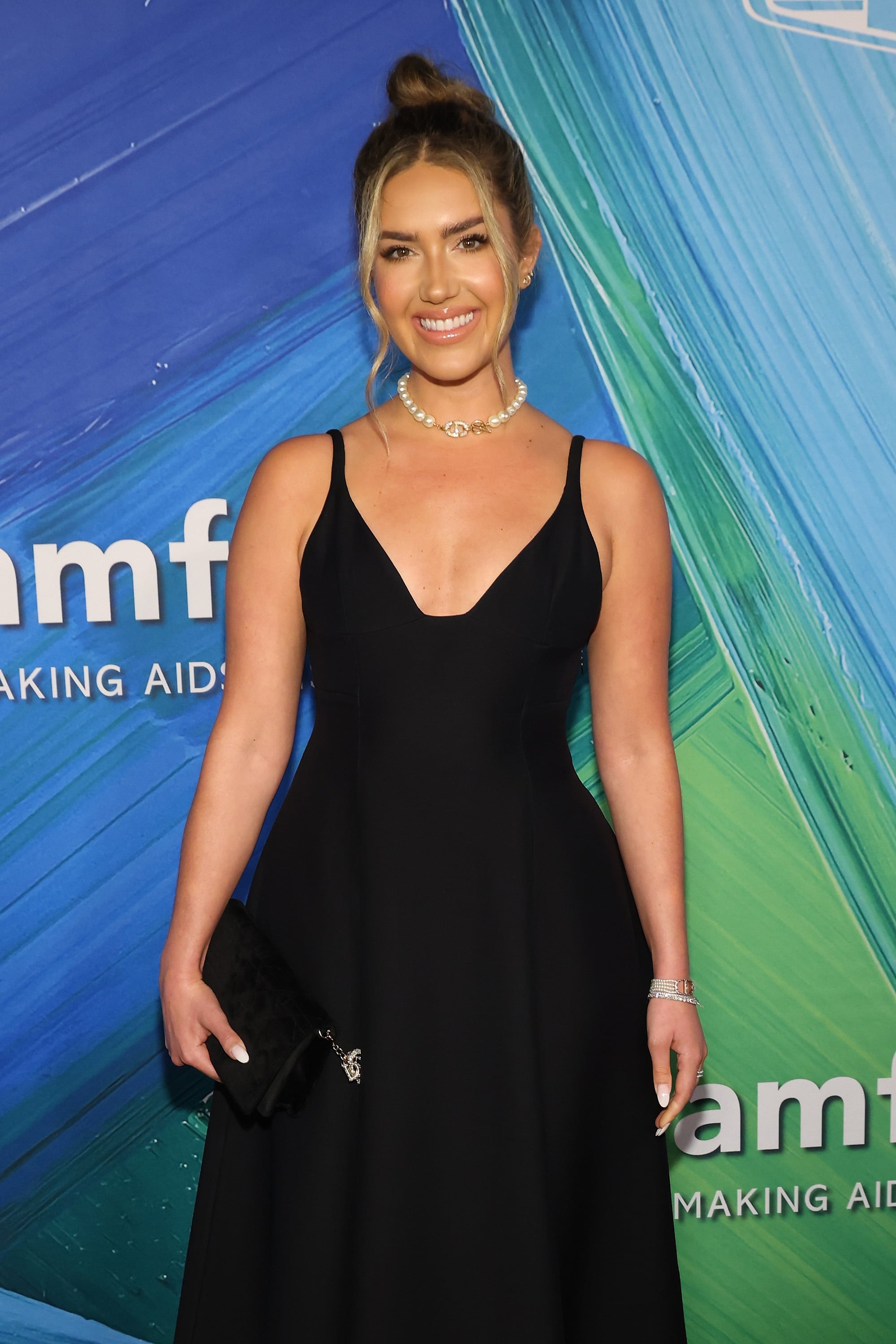 Fun fact: a little over a year or so ago, my boyfriend suddenly became a master at picking out gifts. He randomly surprised me with an amazing Simple Modern Tumbler Cup ($26) on a casual Wednesday, and a few weeks after that a set of Bala Bangles ($49) was delivered to our door. At the time, TikTok wasn't even a blip on my radar, so imagine my surprise when I finally downloaded the app and learned that TikTok personality Christina Najjar, aka Tinx, was the real Santa Claus behind all of my new favorite products.
One part cool girl, one part relatable role model, Najjar is like the sister I never had, but so desperately needed all throughout high school, college, and postgrad life. Known for her "Rich Mom Starter Packs" and overall relatable content, the TikTok star was most recently named Mane Addict's latest "One to Watch" by founder Jen Atkin.
These days, my boyfriend isn't the only one buying the products Najjar suggests — I'm fully on board, too. So when I had the opportunity to grill her on her current beauty favorites and trends, I jumped at the chance faster than you can say "box theory."
If you've ever scrolled the TikTok FYP and stumbled upon one of Najjar's videos, chances are you'll be able to recognize her by the eye patches she always seems to be wearing and the Skinny Confidential Hot Mess Ice Roller ($69) that rarely leaves her hand. Although she rotates among a few different brands, she says her favorite eye patches are the Inn Beauty Electrify Lighting Bolt Eye Patches ($20).
"You look in the mirror and you're like, am I Harry Potter or am I a superhero?" Najjar tells POPSUGAR. "It's a good vibe." She's also been using the DMH Aesthetics Light Shield Mask ($190), which first gained popularity after Kourtney Kardashian was seen using it on Poosh and social media. "It has three different light settings, and it says it kills bacteria and beats wrinkles, so I just pop that on whenever I'm watching TV."
One new thing about Najjar you might not recognize? Her current hair color, which went from dirty blond to a darker hue. "I watched that movie 'Sliding Doors' a lot when I was growing up [with Gwyneth Paltrow], and in the movie, she changes her hair when she has a big life change," she says. "I just felt like I needed to usher in a new era and just try something new. I'm really happy with it."
"I just felt like I needed to usher in a new era and just try something new. I'm really happy with it."
Still, don't get too used to her current color, as her recent hair change probably won't be her last. Taking inspiration from Kendall Jenner's latest look, Najjar says she plans to try out red hair this summer. "Kendall Jenner is obviously the most beautiful person in the world, and she just dyed her hair red, and I was like 'Oh! I can do it, too.' I think I'll look like Kendall Jenner, but I'll probably look like Pippi Longstocking."
When it comes to keeping her hair healthy through all the photo shoots and color changes, Najjar says she washes her hair two to three times a week, and if she doesn't have an event, she opts to let it air-dry. To deal with hair damage, Najjar turns to hair masks, like the Ouai Treatment Mask for Fine to Medium Hair ($38). "It is so good. You need to get this hair mask. It's literally life-changing. I'm obsessed with hair masks almost as much as I'm obsessed with face masks, and the Ouai one is phenomenal."
As for other hair products Najjar is using right now, she's a big fan of the Bed Head Tigi Hair Stick ($18). "I'm obsessed with the hair stick that everyone was loving, the Tancho stick. That sold out, so I got the Tigi Bedhead One, and that one works just as well," she says.
Najjar is also influenced to buy TikTok-famous beauty products just like the rest of us — stars, they're just like us — and her current favorites include the Nyx Double-Sided Contour Stick ($12) and the wands from Charlotte Tilbury. "I have tried the Charlotte Tilbury Glowgasm Wand ($40) that is literally sold out forever, and it's absolutely incredible. I love all of the wands. They're worth the hype."
Although she occasionally succumbs to the power of TikTok's influence, she's not always so easily swayed. Facial slugging, which has ticked up in popularity on the app these past few months, is a trend she's definitely avoiding. "I don't think it's for me, because I break out," she says. "Maybe I'm doing it wrong, but I tried, and I'm not even going to lie to you — maybe it wasn't so much that I was breaking out, but that I just can't go to sleep with all of that gunk on my face. I know people swear by it, but to me, going to bed with a big thing of Vaseline on your face . . . I just couldn't fall asleep."
As for what's next (besides consistently influencing me to purchase anything she deems noteworthy), Najjar recently launched Rich Mom Gear, a collection of sweatshirts that promptly sold out shortly after they were released. If, like me, you missed your chance to snag one, don't worry: the collection may be restocking this April.