I Tried the Exact LED Face Mask Kourtney Kardashian Uses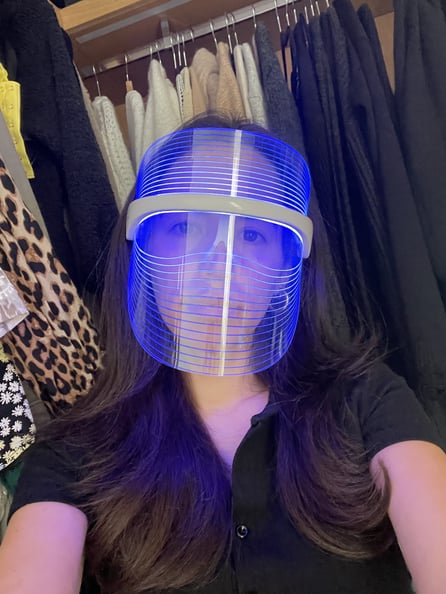 POPSUGAR Photography | Renee Rodriguez
POPSUGAR Photography | Renee Rodriguez
As POPSUGAR editors, we independently select and write about stuff we love and think you'll like too. If you buy a product we have recommended, we may receive affiliate commission, which in turn supports our work.
LED therapy is a skin-care treatment that utilizes assorted wavelengths of light.
The DMH Aesthetics Light Shield Mask allows you to do LED therapy from the comfort of your own home.
One editor tested the light shield mask and was impressed with the results.
I am a huge fan of learning about celebrity beauty routines. I love hearing what types of makeup they're into and what skin-care products have worked best for them — especially if it involves a beauty tool I can purchase and test out for myself. When I found out that both Kourtney and Khloé Kardashian use the DMH Aesthetics Light Shield Mask ($190), I added it to the top of my holiday wish list, and luckily for me, Santa came through.
The DMH Aesthetics Light Shield Mask is a LED light therapy treatment. The device's red light works to calm inflammation, the blue light targets acne and breakouts, and the amber setting aims to fade dark spots. The mask is equipped with a self-timer that turns off after each 15-minute session, and it's hands-free and cordless, which means you can go about your day while you treat your skin.
Since it was my first time trying LED therapy, I wanted to familiarize myself with what it actually was. According to Web MD, LED (light-emitting diode) therapy is a treatment that uses varying wavelengths of light, including red and blue. Originally developed by NASA, LED light therapy is now used for skin aging and acne. LEDs do not contain ultraviolet rays, so they're safe for regular use. However, those with sensitive skin or those using medications that make them sensitive to light should consult with a doctor or dermatologist before use.
I take an acne medication to help clear up my hormonal flare-ups, and I usually don't have issues with breakouts unless I'm testing a product that doesn't agree with my skin. Then, about five months ago, I noticed that I was breaking out on my forehead pretty regularly, and I couldn't nail down the cause. I wasn't using any new products, and I hadn't recently changed anything in my routine.
Since I knew my light shield mask has a setting to help with acne, I decided to put it to the test and see if it could relieve some of the blemishes on my forehead. In the past, I really only used my light shield mask sporadically, and since I hadn't had any breakouts in a while, I only tested out the red and amber settings.
In the three months that followed, I used my DMH Aesthetics Light Shield Mask four to five days a week every morning for 15 minutes. I started out my day by washing my face as usual, but before applying any of my skin-care products, I wore my light shield mask. One thing I particularly love about this specific mask is that it's transparent, so I was able to complete my other typical morning tasks while I was treating my skin.
Plus, it works. It took a few weeks for me to see a noticeable difference, but I'm happy to say that for the past two months, my forehead has been acne-free. I've even noticed a significant reduction in breakouts across the rest of my face as well. I spent a week at my mom's house recently and didn't pack my light shield mask, and already I've noticed a tiny zit has already popped up near my mouth, which has definitely convinced me to continue using it regularly.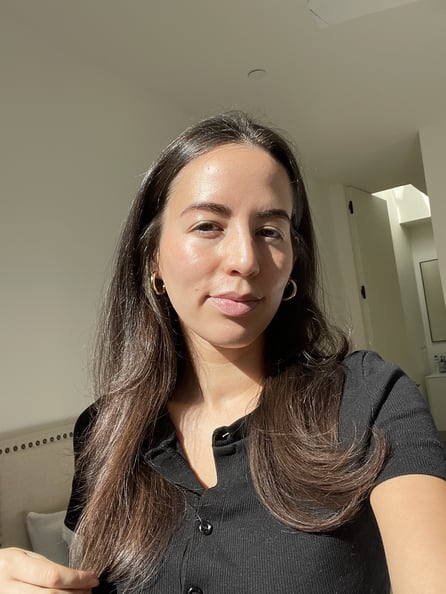 Although I love my light shield mask, it doesn't come without a few cons. First, the battery dies quickly. I can get maybe 45 minutes total (three sessions) of use before the mask needs to be recharged. Second, this mask can be difficult to take from place to place. It's very delicate, and I usually store it in the cardboard box it came in because, well, I genuinely have no idea where else I could store it safely without worrying that it would become damaged.
Lastly, but probably the most annoyingly, the piece of the mask that sits on your nose can become very uncomfortable, despite the nose pads. I ended up wrapping each nose pad with soft tape from a first-aid kit, and it's made a huge difference. However, it does look a little wonky and isn't completely ideal.
Overall, despite the few downsides, I've seen great results from using the DMH Light Shield Mask on a regular basis. It's become my absolute favorite beauty tool and one that I have come to rely on when it comes to keeping my skin clear. Kourtney Kardashian was right on this one.
Rating:
★★★★☆