Vanessa Morgan's New Tattoo Reframes Her C-Section Scar as an "Honor Mark"
Vanessa Morgan is on a mission to encourage others to embrace their skin — imperfections and all. That's the thinking behind her latest tattoo, which honors the C-section scar she got after the birth of her son, River.
Morgan gave birth to River in 2021 via an emergency C-section, leaving behind a permanent mark on her lower abdomen. It sits low and is barely visible even in a bikini, but to her, it's impossible to forget about. If her skin could tell a story, that mark would represent the biggest chapter. "I love that it just shows that I'm this strong woman who was able to bring life into the world," Morgan tells POPSUGAR.
Admittedly, she didn't think about the scar for a while after giving birth. "I was just so overwhelmed with the pain and then taking care of a newborn," she says. It wasn't until she removed the surgery bandage that her mind went to its permanence and solutions for how to cover it ran through her head. She didn't stay in that mindset for very long, however, and now when she looks at it, she's flooded with positive, happy emotions. "I have so much gratitude that I was able to carry a child for nine months and then so much gratitude that my body healed from that," Morgan says.
"I'm more beautiful for this experience, more beautiful for this scar, and bringing my son into the world."
It's not lost on her that scars are often viewed as something to be covered up and hidden, but she hopes to change that with her new partnership with Gold Bond for the brand's latest campaign, "My Scar My Story." She even got a new tattoo from famed tattoo artist Noah Lee as part of the collaboration. Now, next to her C-section scar is the word "Kintsugi" in a beautiful, fine-line script font. "[It] means you're more beautiful for having been broken," she says. "It's a form of Japanese pottery where you repair the broken pieces with gold. That's exactly what I feel my C-section scar represents: I'm more beautiful for this experience, more beautiful for this scar, and bringing my son into the world."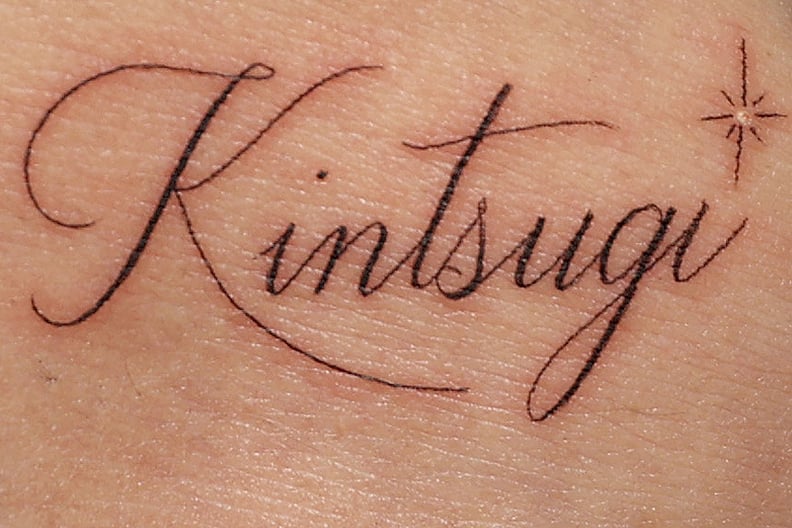 Instead of viewing her scar as an "imperfection," it's more of an "honor mark." The placement of her new ink doesn't conceal any part of the scar but rather accents it, which was an intentional choice. She wanted people to be able to see it.
Embracing the skin you're in isn't always easy, especially in the age of social media when everything and everyone can feel picture perfect, but it's something Morgan hopes gets easier with the cultural push for unfiltered beauty. Back in May, Morgan found herself feeling inspired when she saw model Kelly Hughes on the pages of Sports Illustrated showing off her C-section scar. "Seeing that, I remember feeling even better about my scar," Morgan says, adding how "crucial" it is to "make people feel comfortable in such a filtered social media environment."
Tattooing her scar isn't the only way Morgan is challenging beauty standards; she's also a big fan of wearing heart-shaped pimple patches at the grocery store and keeping her photos on social media unfiltered. "This is real skin," she says. "We have such a high standard of beauty nowadays that's just completely unattainable."
Granted, confidence like Morgan's doesn't happen overnight, but it has come even easier to her as she's gotten older. "After having a kid, you realize what really matters," she says. "I was harder on myself when I was younger. Now I'm like, 'I love my body. I love my avatar and what it's doing in this lifetime.'"