Tattoos often tell a story about the wearer, and that couldn't be more true for Vanessa Morgan and her collection of fine-line tattoos. The actor has at least 10 pieces of body art scattered across her body and added a new design as recently as July 2022 — all of which hold a deeper meaning to her. She has ink for her son, River; her husband; her mom; and even a matching design she got alongside one of her closest friends, Lili Reinhart.
"All of my tattoos have special meaning to me," Morgan tells POPSUGAR. Among a few of her favorites include the ink on her wrist of River's name, the moon and sun on the side of her wrist to "represent the phases of life," and her mom's initials on her ribcage. She also has two butterfly tattoos — one behind her ear and one hidden somewhere else — as a nod to her name, which means butterfly. "And I love the symbol of a caterpillar turning into a butterfly: rebirth," she says of the ink. "That's a big one for me, too."
The most recent tattoo Morgan got is of the word "Kintsugi" placed right next to her C-section scar from the birth of River in 2021. That one represents her son entering the world — a milestone event in Morgan's life. "Everything I put on my body, I know it's forever," Morgan says. "It's like art; each is a little chapter." To learn more about Morgan's tattoos and the meaning behind each one, keep scrolling.
Vanessa Morgan's "CM²" Tattoo
Morgan got her first tattoo in July 2016 from celebrity tattoo artist Jon Boy. The ink is of the letters "CM²" in tiny font. In an Instagram post showing off the new ink, she wrote, "CM the initials of my mother Catherine Mziray the strongest woman I know, I love you more than words. Thankyou for making me who I am. And for my sister Celina Mziray @celinamziray ..the most important women in my life . Happy to have a reminder of you two for the rest of my life CM²."
Vanessa Morgan's Rose Tattoo
In February 2018, Morgan showed off another tattoo of a delicate rose on her ribcage. She captioned the Instagram post, "He who wants a rose must respect the thorn."
Vanessa Morgan's "Be the Light" Tattoo
On the side of Morgan's back is the phrase "Be the Light" in a fine-line script. While she hasn't revealed the exact story behind this ink, the uplifting phrase could be a daily reminder.
Vanessa Morgan's Butterfly Tattoo
In 2019, Morgan shared a peek at the butterfly tattoo behind her ear. "One step closer to becoming a butterfly 🦋 my 6th tattoo everyone," reads her caption on Twitter. This tattoo is special for her because her name, Vanessa, means butterfly, and the insect represents rebirth.
Morgan has a second butterfly tattoo hidden somewhere else on her body, but she hasn't shared the location.
Vanessa Morgan's Heart Tattoo
Morgan has two tiny tattoos on her left hand and wrist. One is the outline of a heart on her ring finger. It's visible under her engagement ring.
Vanessa Morgan's "MTK" Tattoo
The other design on Morgan's left wrist is of the letters "MTK," which are her husband, Michael Talbert Kopech's, initials. The two married in 2020.
Vanessa Morgan's Seed of Life Tattoo
Morgan has a tattoo of the Seed of Life, which is ancient geometry, going down her spine. She got the design in December 2021. The meaning behind the symbol is that all life on Earth and in the universe is interconnected.
Vanessa Morgan's "River" Tattoo
Tattoo artist Kiju did Morgan's "River" tattoo on her wrist. The actor got the fine-line script tattoo in March 2021 following the birth of her first son.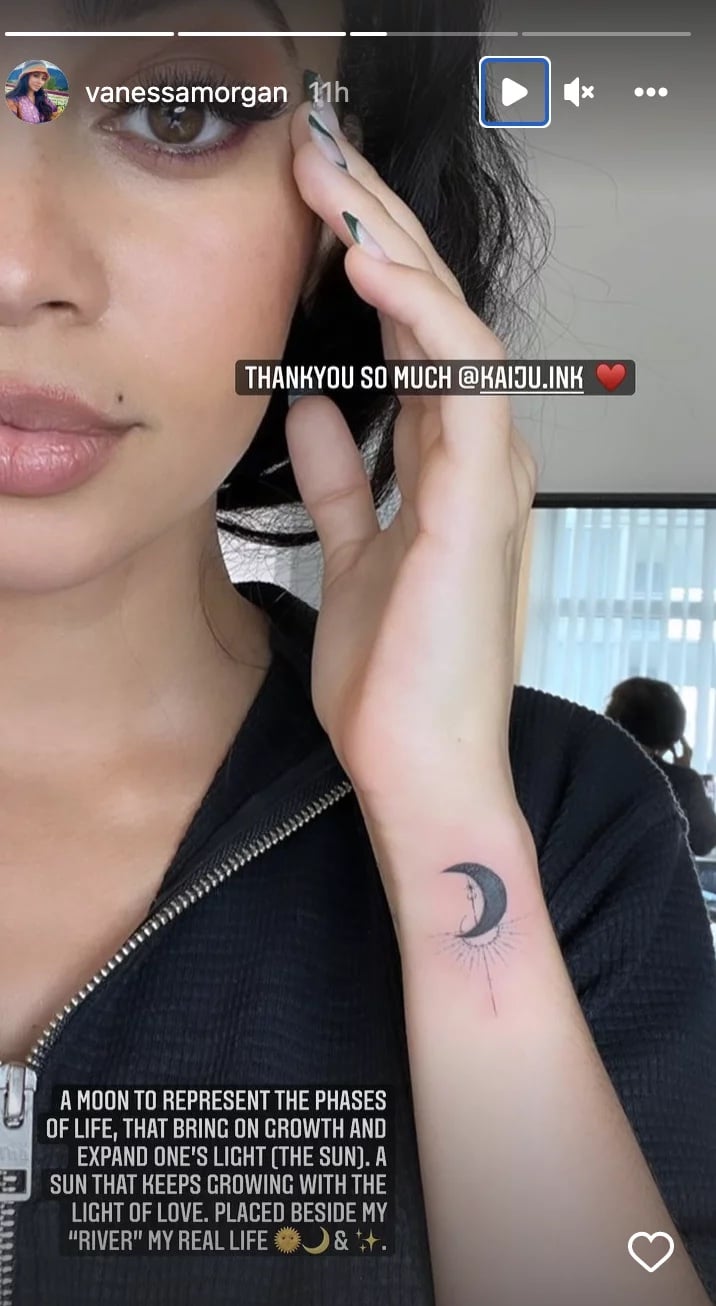 Vanessa Morgan's Moon-and-Sun Tattoo
In May 2022, Morgan visited Kiju again for the moon-and-sun tattoo on her wrist. "A moon to represent the phases of life, that bring growth and expands one's light (the sun)," she wrote in the caption of her Instagram Stories. "A sun that keeps growing with the light of love. Placed beside my 'river,' my real life sun, moon, and stars."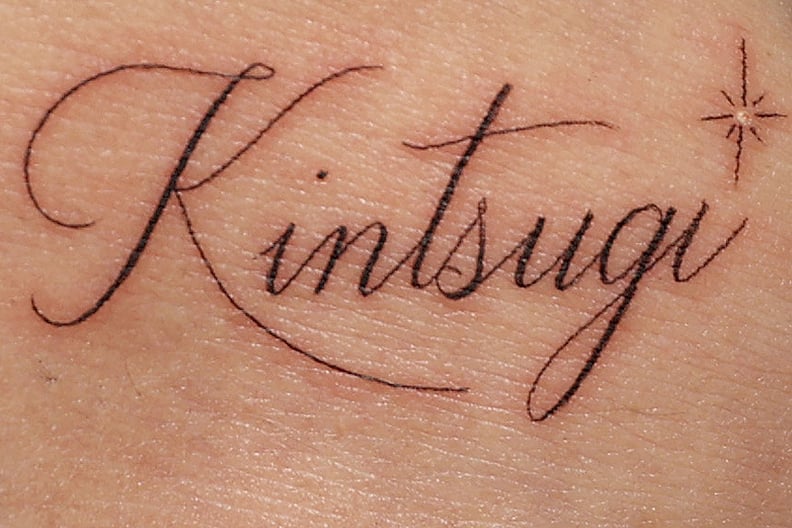 Vanessa Morgan's "Kintsugi" Tattoo
In July 2022, Morgan honored her C-section scar with a new tattoo of the word "Kintsugi" from famed tattoo artist Noah Lee. "It's a form of Japanese pottery where you repair the broken pieces with gold. That's exactly what I feel my C-section scar represents: I'm more beautiful for this experience, more beautiful for this scar, and bringing my son into the world." She calls the scar and the ink her "honor mark."