As POPSUGAR editors, we independently select and write about stuff we love and think you'll like too. If you buy a product we have recommended, we may receive affiliate commission, which in turn supports our work.
Weddings, birthday parties, graduation ceremonies, and proms have been looking a little different lately. But instead of missing out on the fun altogether, many big spring events are going digital. A virtual prom on Zoom or FaceTime may not be the ideal experience, but it's still a great way to get all dolled up and celebrate with your friends.
If you planned on attending prom, chances are you already have your perfect dress; it's one of the first things you check off the to-do list. All that's left to complete your look are your prom hair and makeup. Naturally, you're not able to go to the salon as originally planned, but there are plenty of online tutorials that can help you DIY your prom hairstyle at home.
Effortless curls are one way to go, but why not try your hand at an updo? Think of it as an opportunity to practice and show off your at-home beauty skills. You may be surprised by the outcome. From fancy updos to simple and sleek ponytails, there's something for everyone at every skill set out there. Keep reading for the best updo hair tutorials for virtual prom this year.
Prom Hairstyle: Easy Twisted Bun "Fake Updo"
The final result of this hair tutorial may look hard, but it's surprisingly easy to do at home. Start with your hair in two ponytails at the back of your head. Then, twist the hair of each ponytail around itself and secure it at the end with a small elastic. Once you pull the twisted hair back through the elastic and pull the two sections of hair through the other, simply secure them in place with bobby pins to fake a fancy updo.
Prom Hairstyle: Sleek Afro Puff
Prom Hairstyle: Milkmaid Braid
Is your prom vibe boho? This hair tutorial by Justine Marjan is the perfect thing. Create two fishtail braids on either side of your head before wrapping them up over your head and securing them in place with bobby pins. Leave a few pieces out in the front, and curl them to make the look prom-worthy.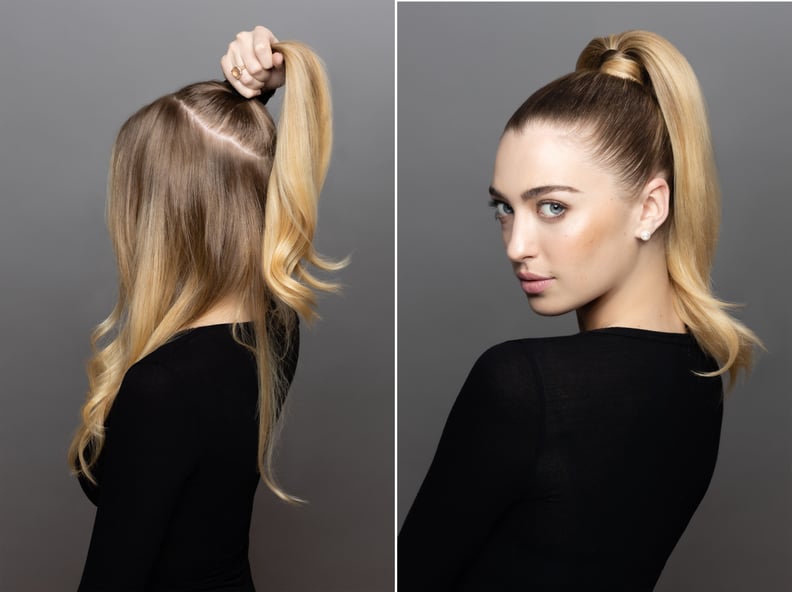 Prom Hairstyle: Sleek, Pumped-Up Ponytail
Sebastian Professional lead stylist Anthony Cole shared his tutorial for creating the perfect pump pony. Start by applying a hair oil like the Sebastian Professional Dark Oil ($48) to dry hair to smooth down any frizz and follow up with a texture spray to add shine and grit to the hair. Using a tail comb, gather a round section of hair at the crown of the head, and secure it with a ponytail holder — leaving some hair down in the front and back. Pro tip: wrap a small piece of velcro around the ponytail for extra hold. Then, pull the rest of the hair into a high ponytail around it and secure it in place. Cover the elastic by wrapping a piece of hair around the base of the ponytail or create a bungie holder by putting two bobby pins on each side of holder, pin, wrap around the ponytail base, and pin to secure.
Prom Hairstyle: Volumized Ponytail With Extensions
This is a great one for anyone with short or thin hair. Kat Lewis, the head of education at Bellami, shared a quick and easy tutorial for the same pumped-up ponytail, but using extensions to add volume. Simply pull the hair at the crown of your head into a high ponytail, and attach your extensions, like the Bellami Silk Seam Clip-In Hair Extensions ($120) at the roots. Then, gather the rest of your hair around it, secure it with a ponytail holder, and fluff.
Prom Hairstyle: Double Infinity Braid
Creating a stunning double infinity braid is easier than you think. Start by sectioning the hair in half with a rattail comb and spraying your roots with the Oribe Foundation Mist ($32). Then, on one side, create your braids starting at the front of the head and work your way back, gathering more hair as you go. Repeat on the other side. When you're finished with both braids, secure them together at the base of the head with bobby pins.
Prom Hairstyle: Boho Chic Topknot
For this tutorial, start by dividing your hair into three sections and pull part of it back into a high bun. Then, twist the hair on the side of your head back until it connects with your bun. Secure it in place with bobby pins. An easy way to dress up a topknot is by adding rhinestones, cuffs, or beads, recommended Groover. "Using a spray like the African Pride Olive Miracle Sheen Spray ($10) is perfect for finishing off any look while leaving you with hair that is glossy and shiny without feeling weighed down."
Prom Hairstyle: '90s Flipped Ponytail
Koko Symone's video will help you nail the '90s flipped ponytail in just a few easy steps. Start by putting your hair in a high ponytail with just the front pieces loose. Then follow her simple instructions to get the perfect curl at the end.