POPSUGAR Photography | Tori Crowther
POPSUGAR Photography | Tori Crowther
Winter isn't the obvious time to switch to a sunkissed blonde look, but it's exactly what I did, and I'm here to convince you why you should consider the same.
With the exception of a few face-framing highlights and a trim, I haven't changed my hair in over five years. Although I wasn't scared of a change, I wasn't too fond of the idea of cutting my hair shorter, and I was cautious of trying balayage. I've seen one too many balayage fails, and I didn't want my fate to be the same, so for a long time I just pinned the pictures to my inspiration board instead of going for it.
That was until I was introduced to Jack Howard, London-based celebrity colorist and UK color spokesperson for L'Oréal Professionnel, aka a balayage master. I knew I'd be in safe hands with him! After Jack explained exactly what balayage is, there was one technique I was particularly intrigued by: California balayage.
California balayage is Jack's new technique, which he describes as a "much heavier incarnation of classic balayage with a slightly lived-in root. Much more of the hair is colored." He tailors the shades of blonde from pale icier blondes to golden shades. Jack loves this balayage look as "it's a gorgeous, low-maintenance color to take you through the entire season, as it will start out heavy and then grow out into a lived-in finish, so the upkeep is completely dependent on the wearer."
Keep reading to see my color transformation that might convince you to take a step into the blonde side for Winter.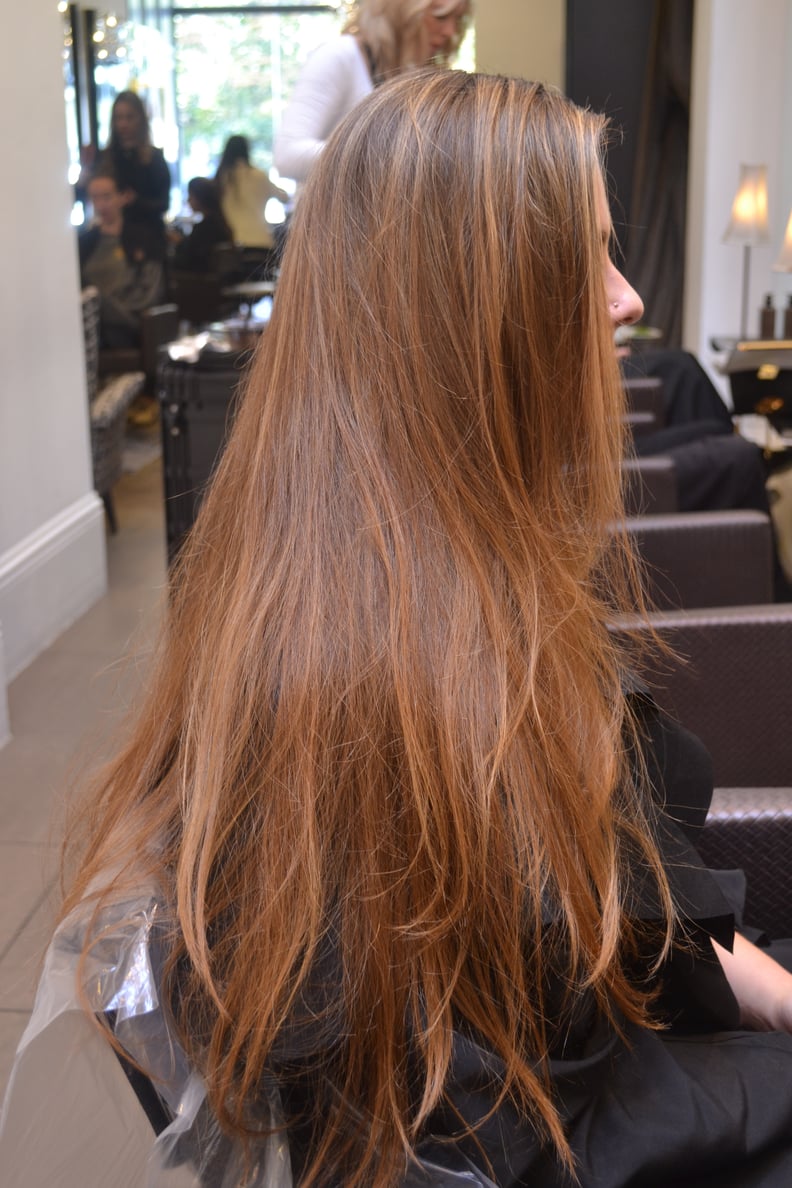 Before
This is my almost-natural hair color with only a few blonde highlights to frame my face.
The Process
Here Jack explains what he calls the "money piece," which gives a soft but powerful frame to the face around the natural parting.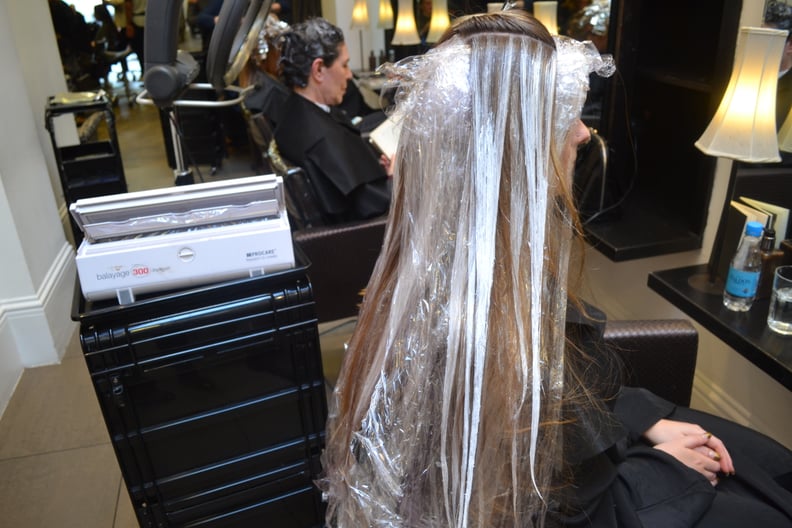 The Process
After Jack has skillfully handpainted each section, he uses cling film to separate the hair and keep the dye in place. This is layered starting from the base of the hair towards the scalp to the tips, making sure that each strand of hair has been perfectly painted.
The Process
Here you can see the California balayage starting to take shape. The sections are lightly colored towards the roots and heavier near the tips of the hair. As you can see, the color is painted on incredibly carefully so that it looks very natural, as it would if it were sunkissed.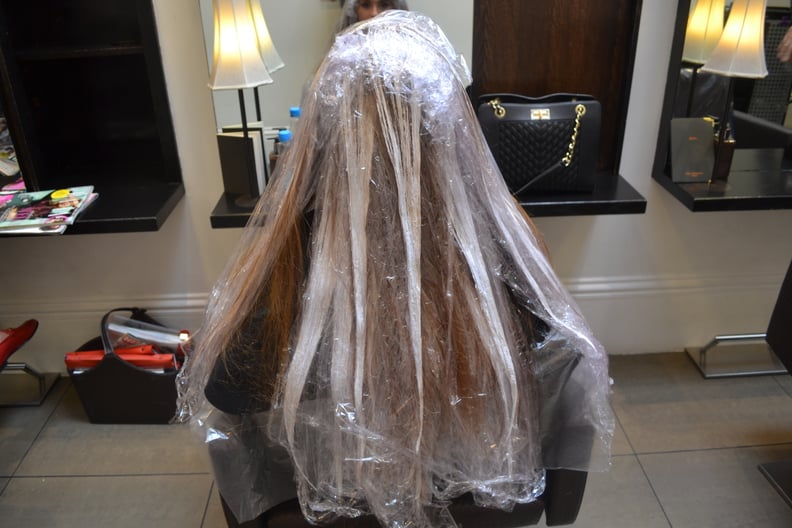 The Process Complete
Each carefully dyed strand is covered with cling film to keep it still, and left to develop for approximately 50 minutes.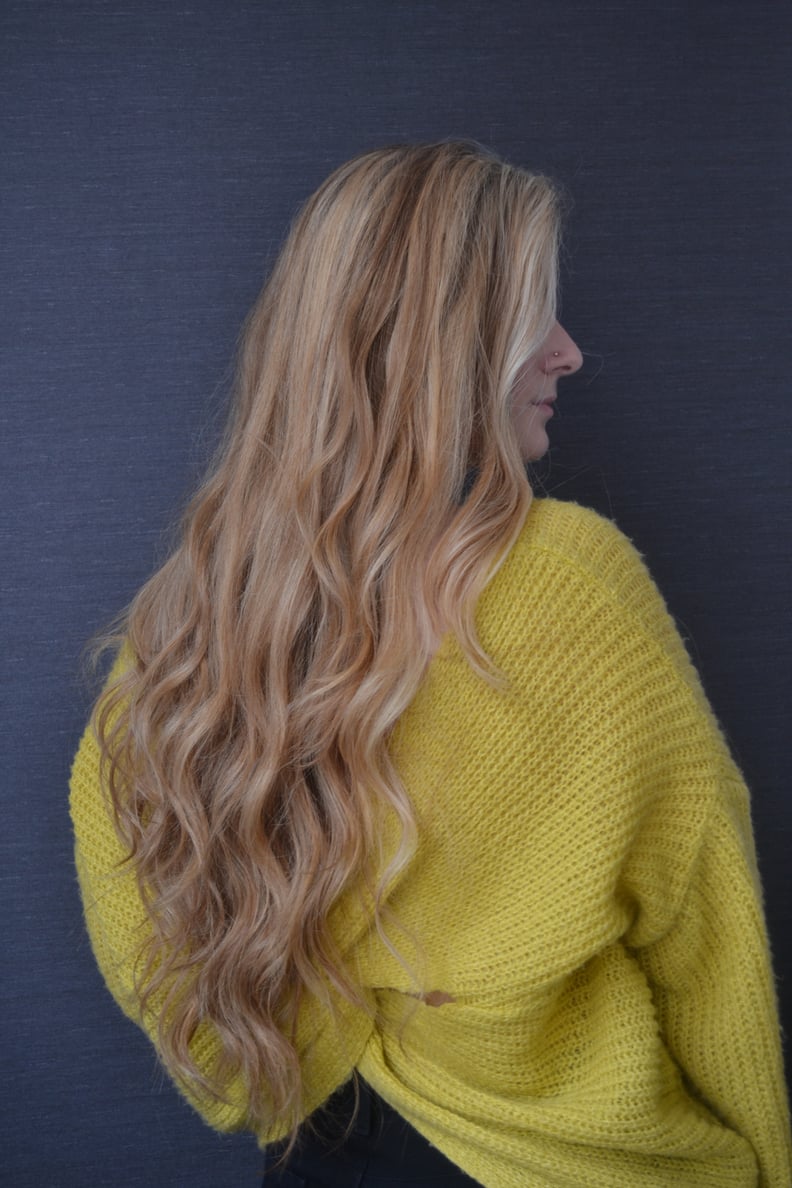 After
During the process, L'Oréal Professionnel Smartbond was used to protect the hair from coloring. My hair actually felt in better condition after being dyed than it did before. My split ends looked much healthier!
I was also surprised with how natural the color looked. I expected it to be a huge shock when I looked in the mirror, but it wasn't the huge change I was expecting. It looked so natural that it didn't completely change the way I looked, which was nice. I also know that I won't have an obvious line of regrowth, which is the real bonus of balayage versus foils or traditional highlights. In fact, Jack advised that I could get my color touched up once every six months.
The only big change? I did have to rethink my makeup color choices! Note to self: orange eye shadow (which I was wearing the day of the appointment) is a big no-no when you're blonde!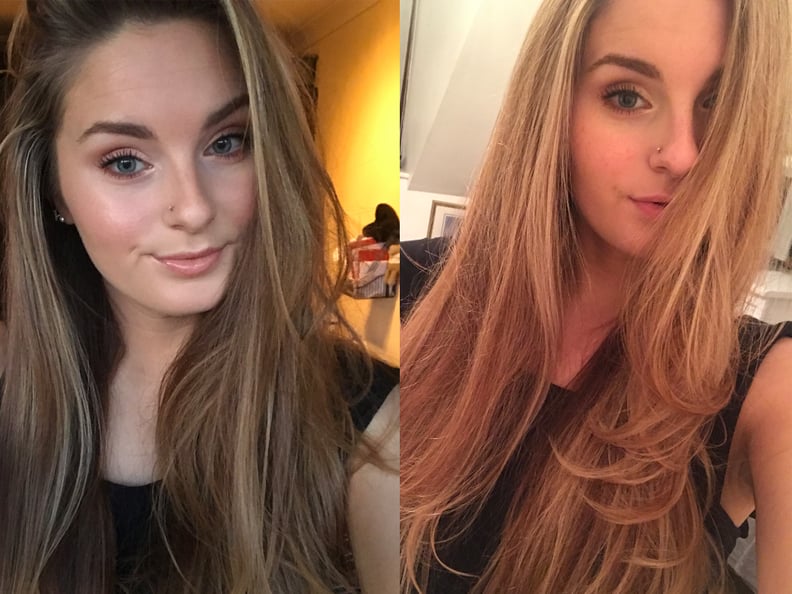 Before and After