Anne Hathaway's The Witches Hair and Makeup Details
It Took 140 Wigs and Over 1,000 Pairs of False Eyelashes to Create the Characters in The Witches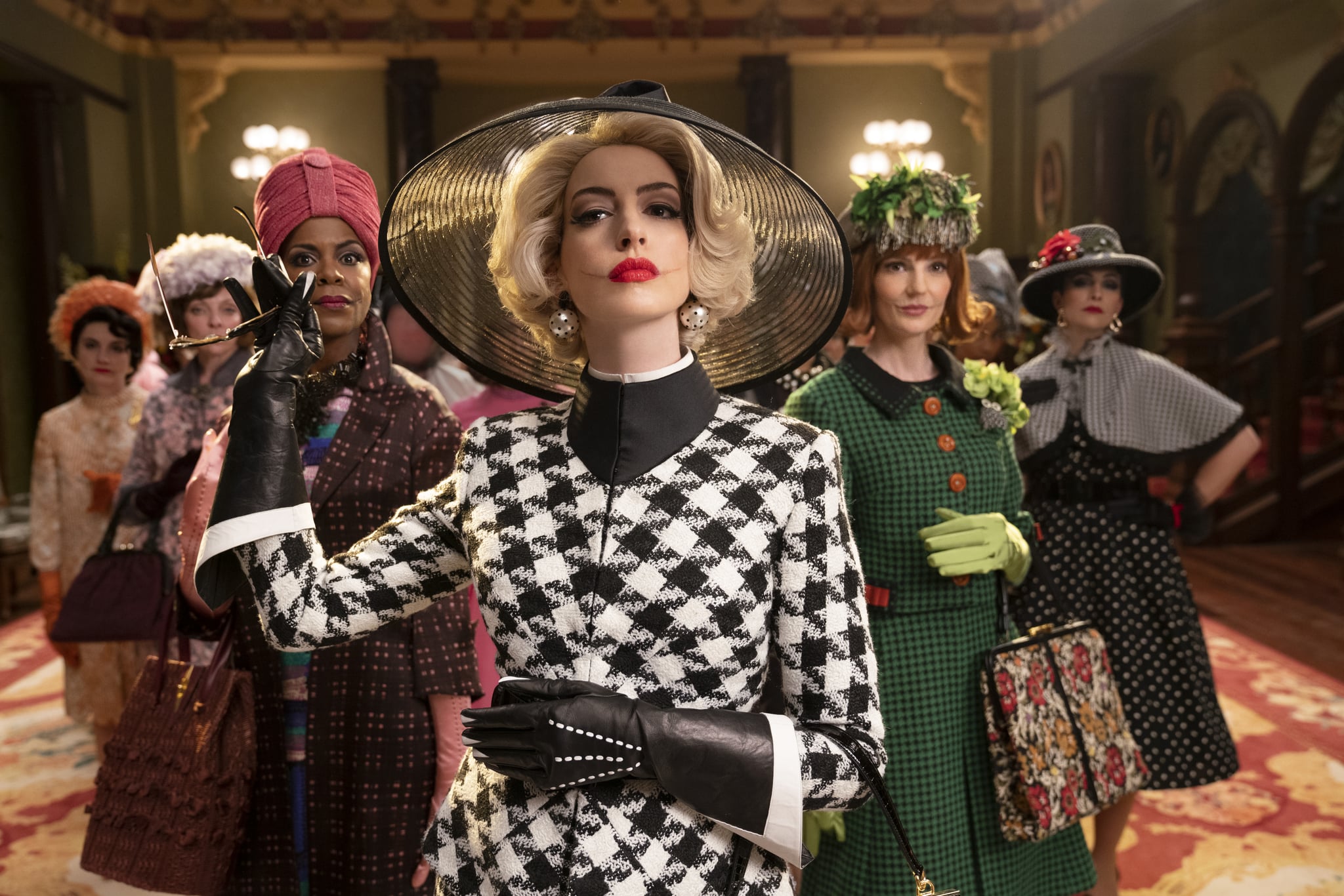 When it was announced that director Robert Zemeckis was remaking The Witches for a new generation, those of us who saw the film as kids prepared to be utterly terrified. Anjelica Huston's gruesome skin, gnarly claws, and decaying teeth are burned in our collective memory, and with this new version coming at us in a time of high-tech CGI, we were prepared for the worst. Except, the worst didn't come (and no, we're not complaining). Instead of looking ghastly, Anne Hathaway and her fellow witches, while scary, were actually incredibly chic and stylish — more '60s fashion models than nightmare-inducing demons.
It turns out, that was exactly the point. "It wasn't a case of 'Oh, just make it look scary' — we wanted to make them look very stylish and almost lull people into a false sense of security," the film's makeup and hair designer, Peter Swords King, told POPSUGAR. "And the wonderful thing was that [Zemeckis] wanted to go back to the actual period [the book was set] in, the '60s, and really go for it, which for me, working with [stylist] Joanna Johnston was fantastic, to treat it as much as a period film as it was a fantasy, slightly scary kids movie."
It also meant that Johnston and Swords King had to work strictly within the confines of the period, which meant lots and lots of research, from makeup ads and fashion magazines to what people were wearing on the streets. We spoke to Swords King about that process, as well as all the work that went into transforming Hathaway and 64 other actors into the most sartorially minded monsters we've probably ever seen.
And while we explore every aspect of the hair and makeup of this film, it's also important to note the criticism that it has received over some of it, namely the witches's hand and feet, which was done using a mix of prosthetics and CGI. The prosthetics used looked visually similar to the limb abnormality ectrodactyly, otherwise known as "split hand", which is typified by the absence of one or more central digits on the hand or foot. Many prominent members of the disability community — including the Paralympians and the Paralympic Games organisation — have condemned the depiction, saying the use of distinct physical impairments in their hands is offensive to those with limb differences.
Both Warner Brothers and Anne Hathaway have since apologized for the oversight, the actor taking to Instagram on Nov. 6th to address the backlash. "I have recently learned that many people with limb differences, especially children, are in pain because of the portrayal of the Grand High Witch in The Witches," she wrote. "Let me begin by saying I do my best to be sensitive to the feelings and experiences of others not out of some scrambling PC fear, but because not hurting others seems like a basic level of decency we should all be striving for. As someone who really believes in inclusivity and really, really detests cruelty, I owe you all an apology for the pain caused. I am sorry. I did not connect limb difference with the GHW when the look of the character was brought to me; if I had, I assure you this never would have happened."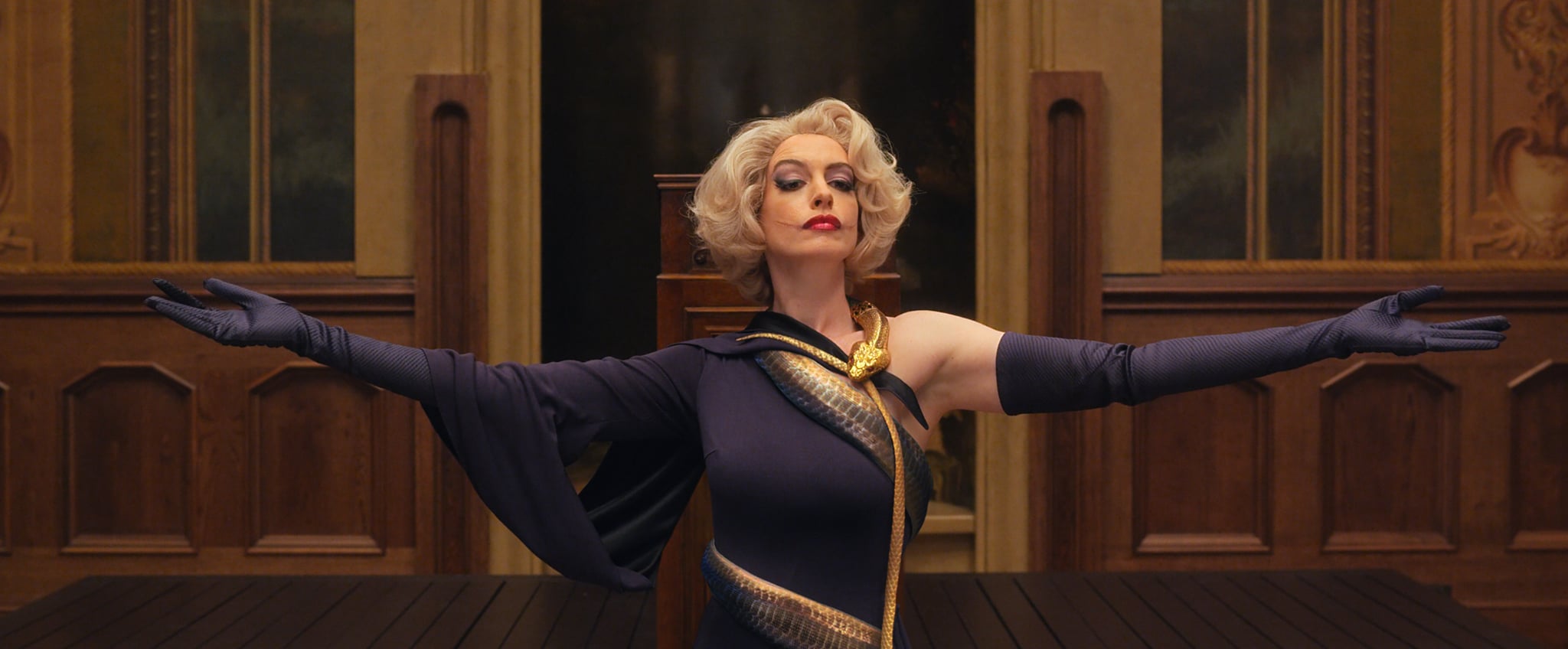 It Wouldn't Be The Witches Without Wigs
The fact that the witches wear wigs is an important plot line in the book. But with this new version of the film set in the 1960s, it made even more sense for them to being wearing them because of the period. "Everyone had wigs in the '60s, my mum had wigs, and they'd have them dressed at the hairdressers, so the whole thing fit very well [with the story]," said Swords King. It also gave him and his team a chance to really flex their creative muscles. "We tamed a lot of the wigs down from some of the research we had, actually. You cannot believe what was going on with people's hair in the '60s, so we did try to make it stylish."
Swords King and his assistant bought nearly 140 human wigs for the movie — two per witch — that had to be set and touched up every morning before they started shooting, especially for the iconic scene when the Grand High Witch instructs the coven to "Take off your wigs!" "We had to have doubles so that when [the witches] took the wigs off and threw them, we didn't have to dress them again and slow down filming," Swords King said.
Sixties-style flips and bouffants meant that Swords King and his team went through ridiculous amounts of hairspray on set. "You cannot believe how much we used," he laughed. "I mean, cases and cases and cases of hairspray. And we got the strongest hairspray imaginable," said Swords King, although the formula still had to allow them to brush through the hair. "If the hairspray makes the hair too solid, the wig gets destroyed, he explained, adding that he turned to an old industry favorite, L'Oréal Paris Elnett Hairspray, as well as hairspray from Fudge.
65 People in Bald Caps
Remember that rather uncomfortable looking video of Hathaway getting a cast of her entire head? Well, that was the first step in creating her customized silicone bald cap. "Anne and the five main witches in the film, their caps were all crafted with the sores and scars and everything already on them," said Swords King. "But down in the supporting artist's tent, where all the other 60 witches were made up, they were just in bald caps, and then we had thousands of wounds and scars and everything that were applied afterwards."
Swords King and his team also had to apply the scars on either side of every witches' mouth, which were prosthetics that they could easily stick onto the skin without fear of them falling off. Hathaway's wide, gaping grimace on the other hand was computer generated.
Fake Eyelashes by the Hundreds
All of the 65 witches in the film, including Hathaway, wore false eyelashes. "I've never stuck on so many pairs of false eyelashes," Swords King laughed. "We had boxes and boxes everywhere of hundreds of pairs of eyelashes, they just went on forever." And while Swords King and his team tried to reuse the strips, due to the wear and tear that comes with over 12 hours of filming a day, it just wasn't possible. That means they went through approximately 65 pairs of lashes a day, every day of the three weeks it took to film all of the scenes involving the witches.
Luckily, King and his team got hooked up by Eylure. "They sponsored us and basically sent us the hundreds and hundreds of pairs of false eyelashes. They were just brilliant. It's not often you get to stick eyelashes on everyone [for a film] and pretty big, noticeable ones," Swords King added.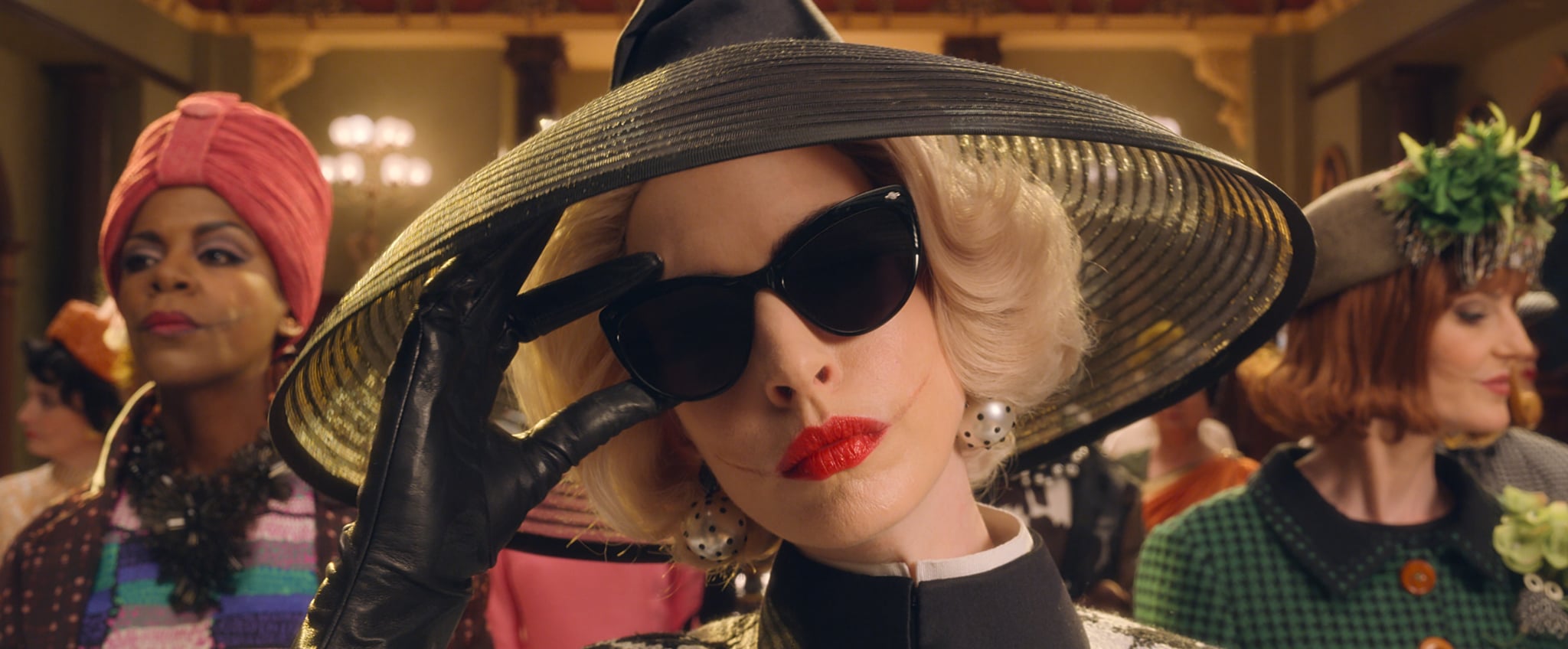 The Grand High Witch's Gradual Makeup Transformation
Swords King admitted that developing and designing the hair and makeup for the Grand High Witch was the most challenging task of the film. "All of the other witches had their look and that was it. But Anne, we had to develop. In the beginning, she comes in looking like a fashion model, but then we had to make sure that the hair and makeup progressed, because obviously she regresses through the film, getting nastier and crazier and more manic," he explained. "It was never a big jump; though. Instead, we wanted you to get to the very end and think 'When did that happen?'"
To achieve that gradual transformation, King and makeup artist Paula Price — who did Hathaway's makeup on set — had to be incredibly organized. "We had all these charts with all the different looks, and what makeups we were using, and what we were going to do, and how Paula was going to apply them," Swords King explained. They also detailed how the lips were going to go slightly darker, and the shape was going to change slightly, and the eyebrows change slightly, and so on — using subtle shifts in colour and shape to follow along with the Grand High Witches gradual and eventual break down. In they end, they "made it more manic, and it almost got goth in a way, with the dark purples at the end and this almost bulletproof hair that was just so solid, and a scary shape," Swords King said.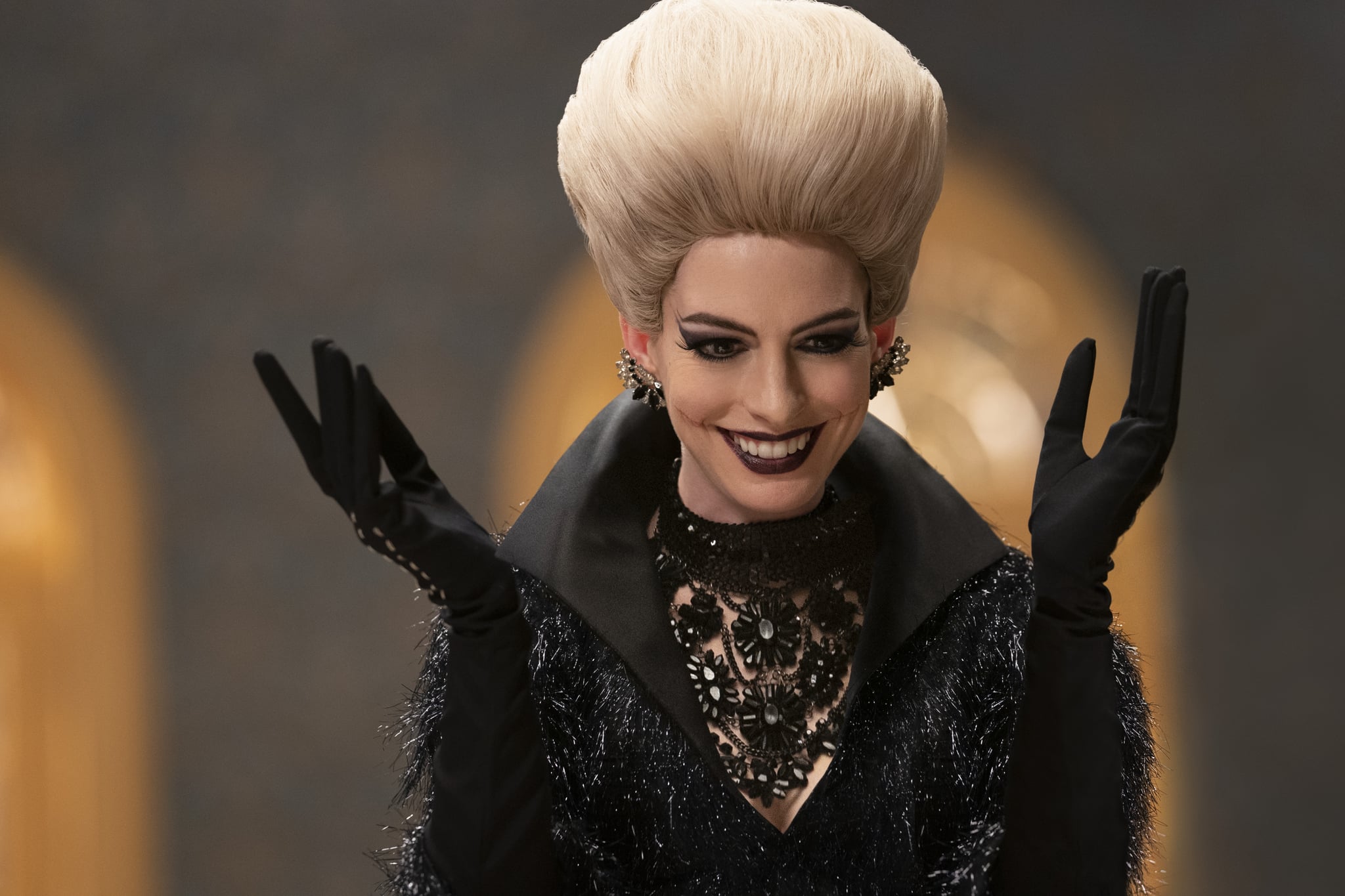 The process was also very collaborative, with Hathaway playing an integral part of designing her hair and makeup. "In the beginning, Anne was mentioning the '60s Italian fashion model Carmen Dell'Orefice as a reference," said Swords King, which is part of the reason Hathaway wore blonde wigs (all hand made by Swords King). "And while the references for Hathaways blonde hair were from the '60s, a lot of the makeup references were modern, in the sense of fashion shoots and runway collections."
"We looked at a hundred different pictures, and we tried lots of different things," Swords King continued. "We knew we were doing eyeliner. We knew the eyeliner was going to get more extreme, something that looks very '60s, but we had to make sure that is was going to work for both the character and with Anne's face shape."
Price and Hathaway had a good time on set developing the makeup the Grand High Witch. "The '60s are Paula's favorite period, so she was in her element. Her and Anne would continually say 'let's go further, let's go more,' so her and Anne were having great fun," said Swords King.
In fact, despite a grueling three weeks of filming that involved arriving at 3 a.m. and not leaving until well into the night, Swords King, his team of hair and makeup artists, the actors, and the extras all had fun with the hair and makeup on this project. "You know, we had a nail bar on set with trainees who did everyone's nails. It was matching nails and lips, because that was a '60s thing, and so I said, 'Go on, do some matching, this is the one chance we've got to do some really good fun stuff. So it was really nice. We had a good time and everybody did enjoy it, although it was incredibly hard work," said Swords King. "Plus, it was very, very collaborative, between all the makeup and hair, and wardrobe; it was just fantastic. It's lovely when it works like that, and you can all feel [like] you're actually putting your part in to create a whole."