Angelina Jolie Reportedly Meets Kate Middleton
Angelina Jolie and Brad Pitt Hang Out With Kate Middleton and Prince William!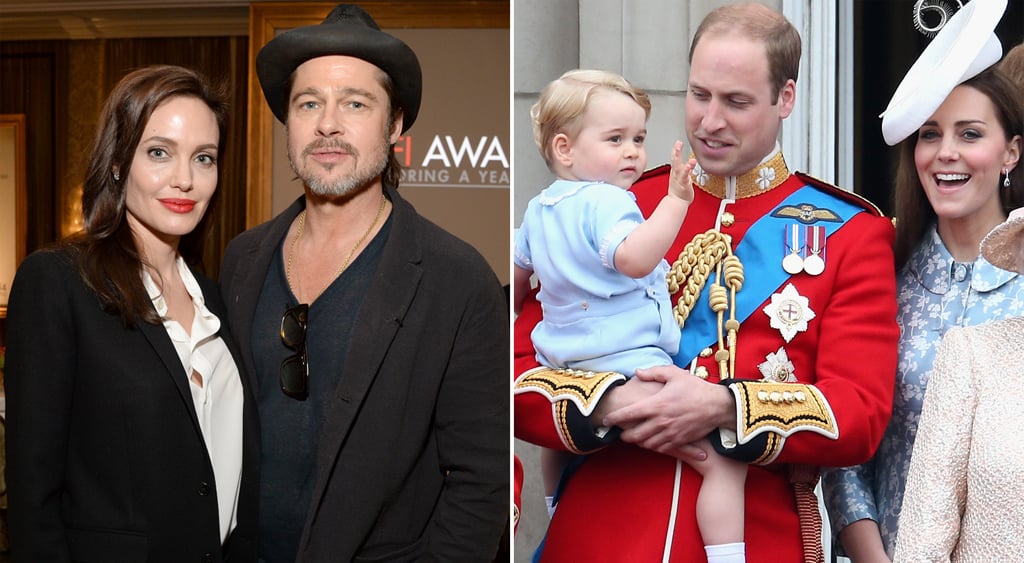 Sounds like Angelina Jolie and Brad Pitt were a hit with Kate Middleton and Prince William. On Friday, Hollywood royalty linked up with British royalty, according to Us Weekly. It all went down at Kensington Palace, with Kate and William reportedly hosting Angelina and Brad at their lavish apartment.
According to ET, their children didn't participate in the festivities, which included a discussion about their "shared interest in combatting the illegal wildlife trade" over afternoon tea. Still, the actors were sure to bring their charm and a special gift to celebrate Princess Charlotte's birth. "Everyone got on splendidly," a source reportedly told the magazine. "Brad and Angelina spent much longer with the Duke and Duchess than planned. They ended up staying for almost a few hours."
Although the day marks the first time the couples have met, Angelina and Brad are no strangers to royal protocol. In October 2014, Angelina received an honorary damehood from Queen Elizabeth, pictures of which were released to the public. Angelina was recognized for her work to raise awareness against sexual violence across the world as a United Nations Special Envoy. Her latest trip to England kicked off days before her Monday meeting at the Foreign and Commonwealth Office.
As Angelina prepares for the spotlight, Kate has been keeping a relatively low profile. She made her first public appearance since Charlotte's birth at the annual Trooping the Colour ceremony on Saturday, June 13. One day later, Kate got all sorts of cute with George at William's polo match. Meanwhile, the little guy has also bonded with his maternal grandmother — earlier in June, Carole Middleton treated George to a sweet day at a petting zoo.
Stay tuned for more on Angelina and Brad's high-profile stay!