Ben Savage Interview on Girl Meets World
Ben Savage Confirms Why We're Excited For Girl Meets World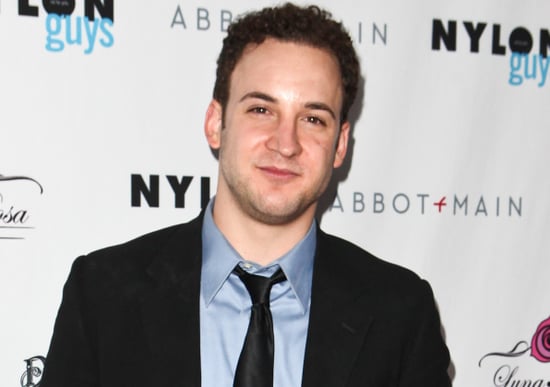 Source: Getty
Ben Savage is heading back to the small screen as Cory Matthews, something the actor says is like "taking a step back in time." It's been just over 10 years since Boy Meets World went off the air, but fans have plenty to be excited about. In one month, some of the cast members will reunite with the show's Disney Channel spinoff, Girl Meets World, which premieres on June 27. In the new series, Savage and Danielle Fishel reprise their roles as Cory and Topanga, now raising their young daughter, Riley, played by actress Rowan Blanchard. We chatted with Savage last Fall about Boy Meets World, what to expect from the new series, Fishel's wedding, and more, so keep reading to see what the TV star had to say about stepping back into Cory's shoes, fun fan moments, and which cast member has the best hair.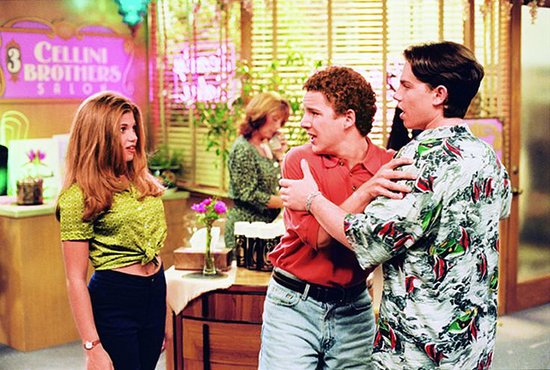 Source: ABC
POPSUGAR: What's it like to be back on set with your Boy Meets World cast members?
Ben Savage: It's certainly been a really nice experience being back on set with everybody, especially Danielle. It's almost like you're kind of reopening a chapter of your childhood, getting to almost relive it as an adult. It's really been a lot of fun. It's like taking a step back in time but doing it a little differently, with the wisdom and experience of being an adult.
PS: Girl Meets World will be on the Disney Channel, and it follows your teenage daughter, but older Boy Meets World fans will be tuning in too. Is it tough to balance those audiences?
BS: Interesting question. I think it might be a little bit of a challenge, because I think a lot of Boy Meets World fans are sort of expecting the show to pick up where it left off. And for us, really, I don't want them to be disappointed, but this show, Girl Meets World, is for a new generation. It's not so much a continuation of Boy Meets World as it's a brand-new slate for a brand-new generation of kids. It's aimed at 13-year-olds, hopefully giving them something fun to watch and something that they can enjoy with their friends. Some of the best emails and notes and messages and tweets I've gotten are from former Boy Meets World fans who tell me how much they're excited about watching the new show with their own children. It's really a nice feeling to know that they grew up with us, and now their kids are going to get to grow up with Girl Meets World.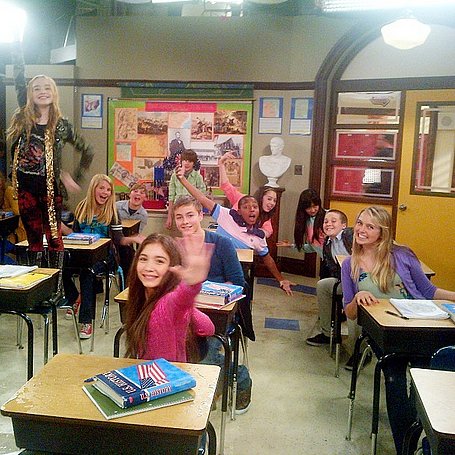 Source: Instagram user bensavage
PS: Based on an Instagram photo that you shared from the Girl Meets World set, you showed your "first class," so it looks like you'll be the teacher this time around?
BS: I'm my daughter's history teacher. I don't think I could ever live up to the wonderful model that Mr. Feeny set and the wonderful example he set for everybody. But I think what makes Cory interesting and fun to watch is that he's figuring it out along with the rest of everybody. The people growing up who are Cory's age and my age, we're all kind of doing our best and figuring things out and trying to make it work. I think we all strive to be a little more like Feeny.
PS: Obviously your daughter will be a mix of Cory and Topanga, but is she more like one parent than the other?
BS: She's definitely Cory's daughter.
PS: And Rowan Blanchard is coming on to this spinoff around the same age that you started Boy Meets World. Did you have any advice for her coming in?
BS: I think Rowan is in a very good position, because she has a lot of people looking out for her. And I don't just mean her family, but us, and she has a lot of people making sure she's OK in terms of what she's going to expect and all that. In a way, she has a much different job and maybe a little more pressure than we did because when we started, no one knew what Boy Meets World was, and it was kind of its own, brand-new thing. With Rowan, there's a little bit of pressure, but I think she's going to do just great. We're all excited for her, and we're all excited to help her out. Hopefully she can be as funny as me. (Laughs.)
PS: While we're looking back on Boy Meets World, do you have a favorite scene or episode?
BS: The final episode of the show will always stay with me, just because I remember exactly how I felt on the last take of the last scene of the last episode. And I just remember when they said "cut" on the last take, it was almost like someone was saying, "Your childhood has officially come to an end, and now you have to grow up and be an adult." I'll always remember that episode and that moment, but every episode was special and every episode was a ball and I didn't stop laughing for seven years. That's pretty good.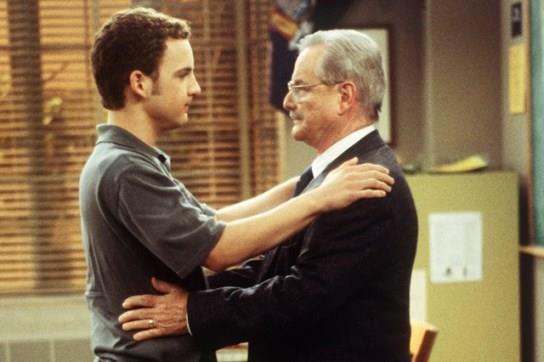 Source: ABC
PS: So what about behind the scenes? Was there an offscreen moment that stands out to you?
BS: It's very hard to parse through seven years and pick one moment, but I will say that the group of actors that I was working with — Danielle Fishel, Rider Strong, Will [Friedle] — they were all such nice people. And they were so funny. And they were just good-natured people and they still are. Whenever I see them, it's like nothing has ever changed and we pick up exactly where we left off. They were a very important part of my life and I'm glad they're still friends of mine.
PS: The last time that fans saw Cory, he was moving to New York with Topanga, but after Boy Meets World ended, you actually headed to Stanford. What was that transition like?
BS: It was a fun transition. It was an interesting transition, because I'd grown up in LA, and I hadn't really had the chance to experience being a normal student for a while. So going to Stanford was kind of like my chance to be a normal kid and have fun, and I did. I dove into every experience that I could and enjoyed those four years as much as possible.
PS: I'm sure you've dealt with your fair share of fun and crazy fan moments. Is there one that stands out to you?
BS: Fans have been great. It's always flattering when people come up and tell us that they loved the show or they grew up with us. It always means a lot, and it's always appreciated.
PS: One of the memorable Boy Meets World scenes is when you and Danielle sing "War" together in a karaoke contest. Do you have a go-to karaoke song?
BS: Interesting question! The thing about karaoke in LA is that everyone here has record contracts. They're all, like, professional singers, so it's almost a little intimidating to go up there and just sing a fun karaoke song, because you're going against pros.
PS: It's like American Idol.
BS: It's like American Idol! So me going up and singing, I don't know, some bad '80s song? The girls up there don't even laugh, because they're like, "Dude, I have a recording contract and a seven-figure deal with Sony. Move over."
PS: You're active on Twitter and you're awesome about retweeting fans. Is there someone who you wish would retweet you?
BS: I'll just say I really enjoy some of the fan responses on Twitter. Everyone's usually pretty sweet and nice, so it's nice.
Hope you like kids with curly hair RT @TBerni: Seriously though. I'm gunna marry @BenSavage and have three beautiful babies <3

— Ben Savage (@BenSavage) September 23, 2013
PS: Looking back on the Boy Meets World cast, I'm going to share a few superlatives with you, and you can name the cast member that comes to mind. Class clown?
BS: Me or Will Friedle.
PS: Biggest flirt?
BS: Me and Danielle.
PS: Best hair?
BS: Uh, me. Obviously that's so not true, but I'm just going to say me, because why not?
PS: Most talkative?
BS: Danielle.
PS: Most likely to secretly be a superhero?
BS: Will. Wait, are we doing characters? Or us as people?
PS: This is real life.
BS: Real life? Oh, well, OK, so best hair is still me. And talkative would be Danielle, in the most loving way possible.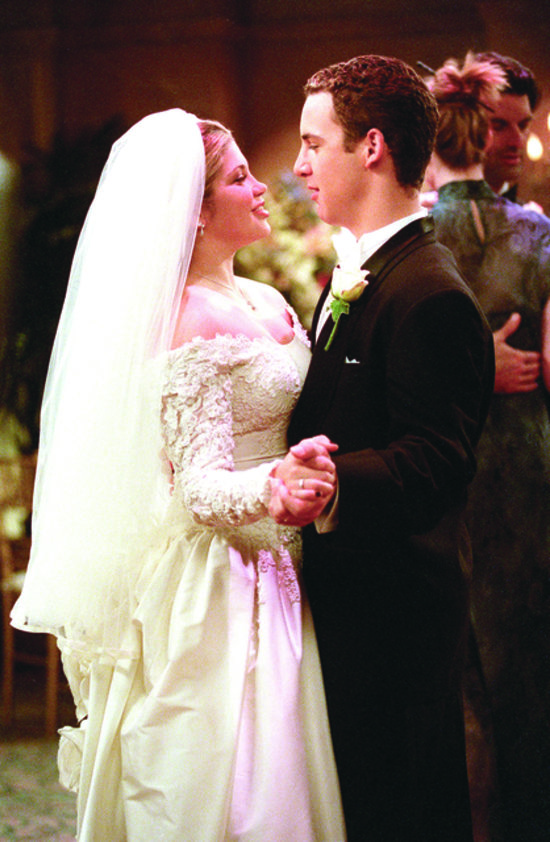 Source: ABC
PS: Danielle recently shared some of her wedding pictures. What was it like to see your TV wife actually walk down the aisle?
BS: You know, it's not every day that you watch your wife walk down the aisle with another guy. But Danielle is a wonderful person, and I couldn't be more happy for her. She planned her heart out for this wedding, and she gave it her all, and it was such a nice wedding. Everyone there had such a great time. I was happy to be there, and happy to support her.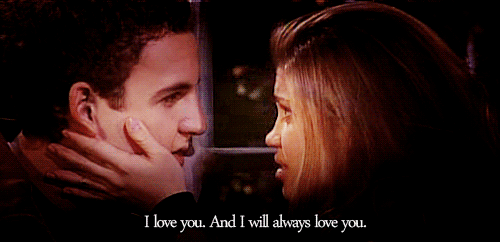 Source: ABC
PS: So many people want the Cory and Topanga relationship for themselves. Do you have any love advice that you learned from that onscreen relationship?
BS: Great question. I can understand why people want to emulate that relationship. It was a special relationship and it was real love, so I understand why people like that relationship. I don't know if I can dispense advice on love, but I think the most important thing would just be to be honest and open with someone, and fight for what you want. If you're in love with someone, or if you feel that connection with someone, you might as well go for it. Because to not go for it would be the antithesis of what Feeny and Cory and everyone taught us, which is to follow your heart.