Bjork Talking About RuPaul's Drag Race September 2016
Björk Totally Watches RuPaul's Drag Race and Loved Being Impersonated on the Show
Image Source: Getty / Santiago Felipe
If you're a RuPaul's Drag Race fan, you'll know that one of the best episodes of every season involves "Snatch Game." Putting a Drag Race twist on the classic game show Match Game, each of the queens dresses up as a well-known celebrity, TV personality, musician, or public figure — basically whatever their beautiful heads can dream up. There have been plenty of iconic "Snatch Game" moments through the seasons, but last week's edition took things up a notch. As part of RPDR All Stars season two, we witnessed Alaska Thunderf*ck as Mae West, Tatianna as Ariana Grande, and, most brilliantly, Katya as Björk. If you were delighted by Katya's take on the strange Icelandic singer, you're not alone. In fact, even Björk saw (and fell in love with) Katya's impression.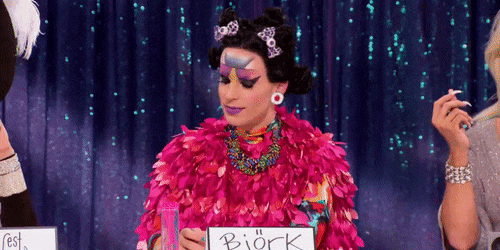 Image Source: Logo TV
During a Monday AMA (Ask Me Anything) on Reddit, Björk revealed she had, indeed, caught wind of Katya's "Snatch Game" triumph. "YESSSSSSSS i absolutely loved it," she wrote, "especially when she started humming to herself ha ha ha ha selfishly i was hoping for a more current version like a vulnicura one lol but she nailed the feminist activist tribal volta sincerest form of flattery etc." What's even more delightful is that Björk is actually a fan of the show. In a recent interview with The Guardian, she revealed she'd taken inspiration from RuPaul, and had seen every episode.
"My assistant James Merry, who's become my collaborator now, introduced me to it back in 2009 when we were in Costa Rica. I would watch it occasionally with him, then recently I was looking for something to watch with my daughter, and over the last few months we we [sic] watched all eight series. It's uplifting how [RuPaul] builds up the queens, he gives them tough love and they blossom throughout the series. It's really life-affirming. But on top of everything else it's obviously hilarious. I know all the queens now by name; we quote it left, right and centre."
Sounds like Björk loves RuPaul's Drag Race quotes as much as we do . . . and, of course, it also sounds like Katya just gained a very important fan.