Brie Larson Captain Marvel Interview
Watch Captain Marvel's Brie Larson and Gemma Chan Take Our '90s Girl Power Icon Quiz
It's hard not to feel inspired as hell when you come across any Captain Marvel poster, movie clip, or even a literal pineapple featuring a brief glimpse of Brie Larson as the badass Carol Danvers. In this latest addition to the Marvel universe, Larson and Gemma Chan star as intergalactic female soldiers in the early '90s who are locked in an ongoing war with another alien race — kicking ass as the only female members of their unit.
So in honor of their onscreen heroism, everyone's love for the '90s, and that era's epic wave of girl power, we had Larson and Chan take POPSUGAR's quiz to find out which '90s girl power icon they truly are — during which we discover Larson's love for Gushers . . .
. . . and Chan's obsession with every '90s teen's dream store: Claire's.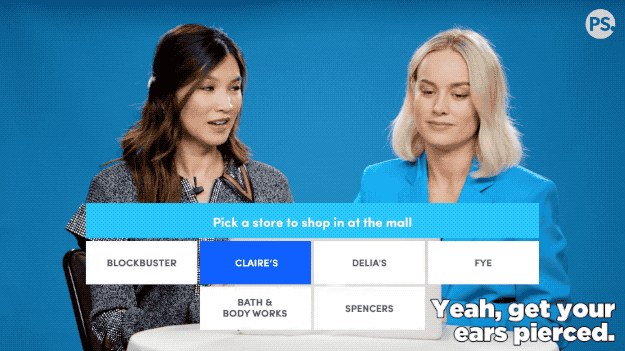 Watch the video above to find out their '90s girl power alter egos, and catch them on the big screen when Captain Marvel hits theaters Friday, March 8!