Harry Styles Wearing a Michael Sam Jersey
Harry Styles Sends a Powerful Message on Stage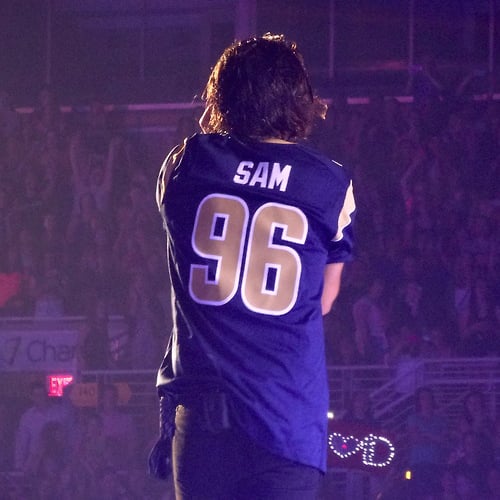 One Direction swept through St. Louis on Thursday night, and while scores of concertgoers were screaming at the sight of the boys as they took the stage, there was another entirely different, amazing reason to cheer. During the encore, Harry Styles hit the stage in a Michael Sam jersey. Michael, if you recall, rocked the sports world by officially coming out as gay back in February. He's been making history ever since; back in May, he became the first openly gay player to be drafted, and if he makes it through training, he'll be the first openly gay athlete to play in the NFL. Harry's choice of outfit is too perfect to be coincidence: Michael was, in fact, drafted to the Rams, who are based in St. Louis, where One Direction was performing. The move also comes at a crucial time: if Michael survives the next round of cuts, he'll officially make the team. The best part is that the gesture didn't go unnoticed. The team's official Twitter and Michael Sam both called out the moment:
Check out @onedirection's @Harry_Styles rocking a @MichaelSamNFL #Rams jersey at the Edward Jones Dome last night. pic.twitter.com/jgqK75MzNC

— Los Angeles Rams (@RamsNFL) August 28, 2014
@Harry_Styles thank you for your support!!! #RamNation

— Michael Sam (@MichaelSam52) August 28, 2014
Regardless of the outcome, we're crossing our fingers for Michael and giving a round of applause to Harry.