Issa Rae Interview About Insecure Season 2
Issa Rae Assures You: She Is as Insecure and Awkward as Ever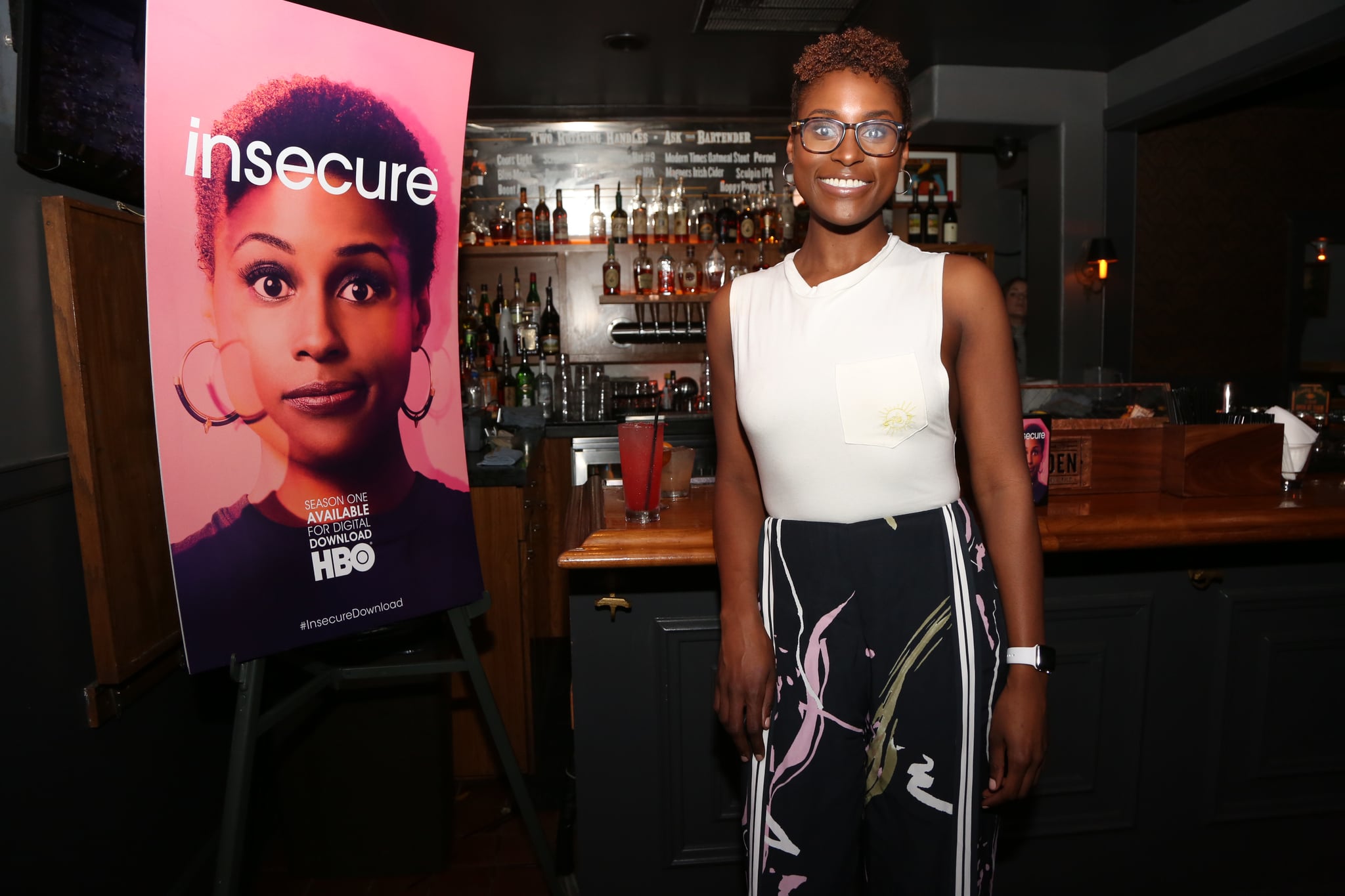 Issa Rae is rolling up to a cocktail party on Sunset Boulevard to celebrate the HBO show she created and where signature cocktails inspired by the character she earned a Golden Globe nomination for playing on it are being raised in her honor. But the star of HBO's Insecure insists the title of the series still describes her to a T.
Issa built a name for herself with her YouTube series Awkward Black Girl, which led to Insecure. Clearly, she has made it, is envied by millions, and is an independent, self-made woman. So I can't help but ask her if she worries about straying too far from the authenticity of those adjectives that made her shows — and her — connect with audiences. She doesn't even blink before answering. "Not at all. It's not going anywhere," she shakes her head. "Even at the Golden Globes, I was like, 'Oh. I'm never gonna feel like this is like a normal thing, and I'm never gonna feel comfortable, and that's OK with me.' [Insecure] is about a journey to growing confident in your insecurities, and I feel like I'm further along on that journey than that character is currently . . . but it's a journey, nonetheless."
I sat down with Issa, a group of fellow writers, and one of those aforementioned cocktails (the "Drunk AF," which is billed as a cocktail to order when you'd rather be at home with a bag of Flamin' Hot Cheetos and ranch dip) at the LA bash. Issa talked about feeling pressure to speak on behalf of the black community, the audience divide over Insecure's first season finale, and how she learned to operate like a "boss-ass b*tch." Read on for highlights from our conversation.
On Her Night at the Golden Globes
"I was so glad to experience them, but I'm just so glad they're over. It hit me on that week . . . I was like, 'Oh, holy sh*t! This is like, a worldwide thing! People are gonna be watching.' And people in my family started hyping it up like, 'Oh my God! What's the dress?' It hit me in a major way. But being there, I felt like I was just surrounded by all the people that I love. Heroes. And of course I always feel out of place, so it was just like, a voyeuristic experience if anything.
"I loved Tracee Ellis Ross's speech. That was also like, 'Thank God!' 'cause she knew I didn't have anything prepared. I wasn't gonna be able to do that. And then I love Meryl [Streep], hands down. I think that she's just such a responsible artist and I admire that."
On the Women Who Taught Her to Be a "Boss-Ass B*tch"
"I was at dinner with Shonda Rhimes, Ava DuVernay, Debbie Allen, and Mara Brock Akil; these women that I shared an Essence cover with. I was in a pivotal [career] moment, where I was just trying to decide whether I should put my foot down. And they each told their individual stories about being in my exact position and how putting their foot down is what led them to being where they are today.
"It was just like, I'm sitting at this table with these boss-ass women and I'm being hesitant about whether I should put my foot down about something that clearly isn't right for me. If I'm even questioning this, then I don't deserve to be at this table, and I'll never get to their level. So it was just a very enlightening moment for me, where I was like, if I wanna be a boss-ass b*tch, I have to do boss-ass b*tch things!"
On Whether She Feels Pressure to Represent Black Stories
"I didn't feel the pressure because I made it clear that we're telling a very specific black story. I was kinda alleviated of that pressure because there were so many other shows out there. I was like, 'Oh, this won't be an issue, because if people aren't messing with our show, then they'll watch Queen Sugar, or Being Mary Jane.' Still, despite me saying that this is a specific story, despite there being other options, I did get some backlash. How me and my friends are, and what is this saying about black women. You can't win either way."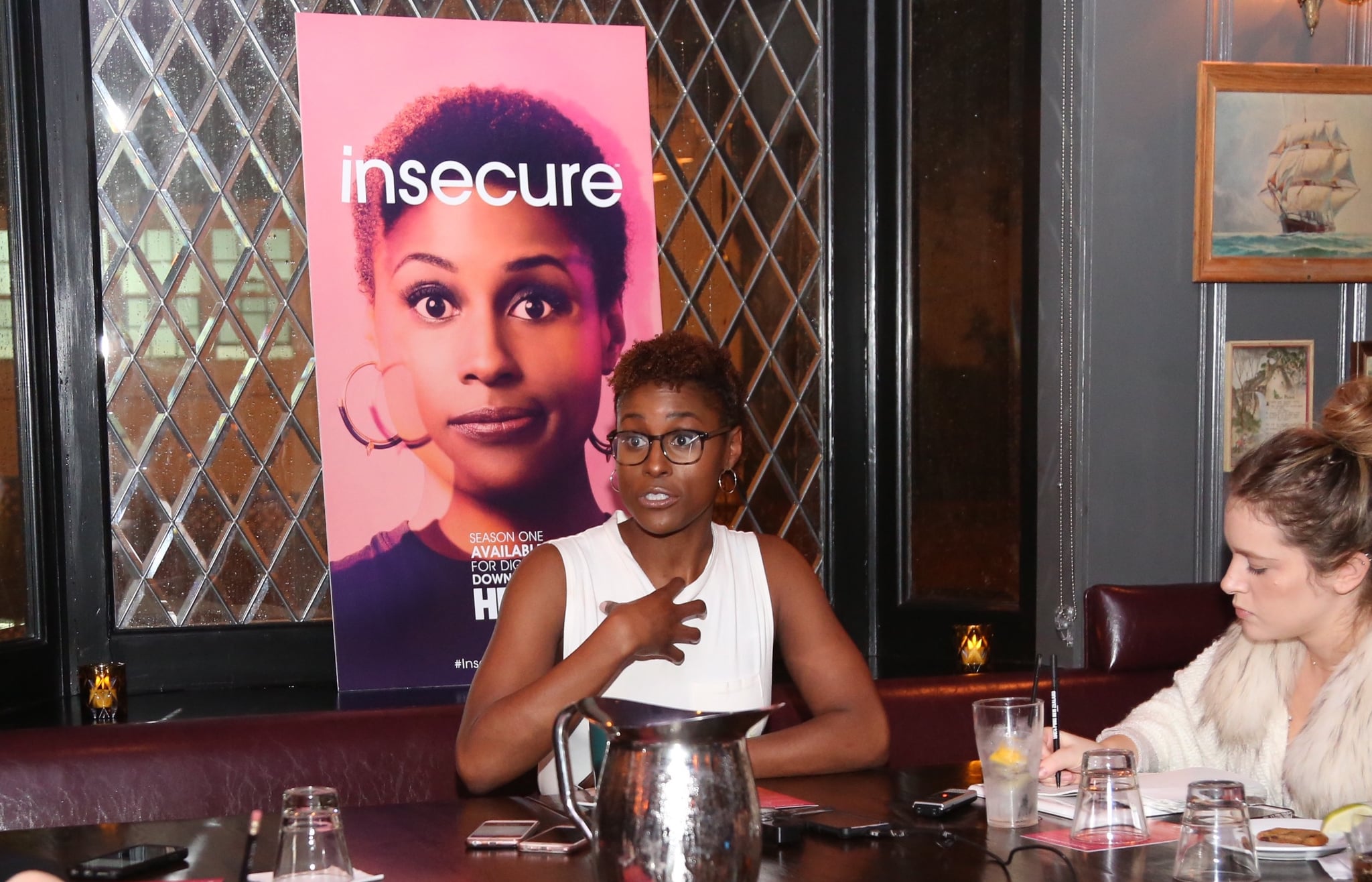 On the Current State of Diversity in Movies and on TV
"It's such a small world and such a small community, but it does feel like we're taking the reins ourselves in so many ways. And that seems promising. Even just the changing of the guard behind the scenes that feels, first of all, inevitable. It feels so necessary, and people are demanding alternative stories at this point, so it feels refreshing. Whereas before, I was a little bit hesitant and skeptical — like, 'Oh, is this just gonna be a trend?' But you're really seeing a shift happening, and I think in this political climate now, people more than ever are demanding those new voices."
On Whether the Show Will Get More Political Post-Election
"I think it'll get as political as real conversations do. That's as far as we'll go; like, how you talk to your friends about it. We also don't want it to feel dated in a way. We want to be topical without being, like, we watch this 10 years from now — four years from now! — and we're like, 'Remember when Trump was president? That was crazy.'"
On How Split Fans Were Over the First Season Finale
"I love how divided people were, I wasn't expecting that, and I love, love, love it. That's real life. When anybody makes a decision, people are split. That is something that we want to continue to embrace moving forward."
Season one of Insecure, and the show's soundtrack, are both available for download now.