Jennifer Lawrence and Eddie Redmayne For Interview Magazine
6 Glorious BFF Moments From Jennifer Lawrence's Interview With Eddie Redmayne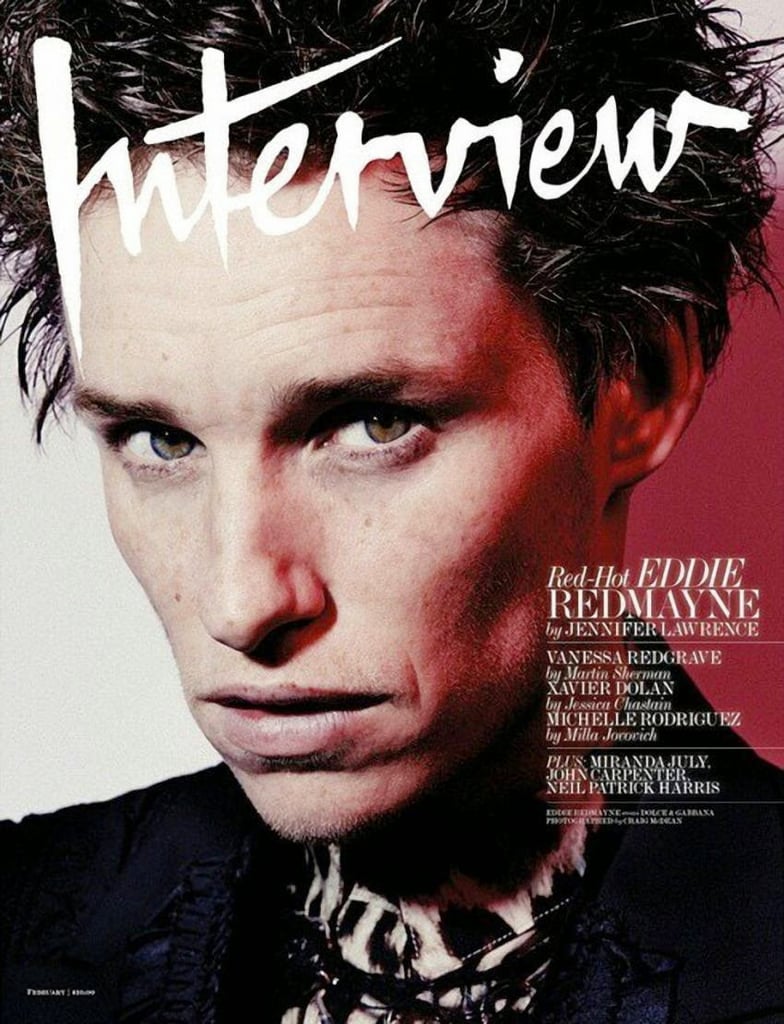 Jennifer Lawrence chatted with Eddie Redmayne in the newest issue of Interview Magazine, and it was just as magical as you'd expect. The two spoke on the phone back in November, when Eddie was promoting his spectacular performance in The Theory of Everything, and Jennifer had just finished dazzling us at all those Mockingjay — Part 1 premieres. We couldn't help but notice a bond form between the two as the interview went on, and we've pulled out our favorite moments below. Keep reading to see Jennifer and Eddie become fast friends.
1. When They Bonded Over Their Mutual Love of The Real Housewives:
Eddie Redmayne: It's really been bad on this press tour. I come home from trying to pretend to know about astronomy and physics all day and turn on The Real Housewives.
Jennifer Lawrence: Oh my God.
ER: I know. It's bad.
JL: You watch Real Housewives, Eddie?
ER: I've been a closet lover of faux reality TV since The Hills. It's bad.
JL: I feel like I'm going to cry. We're making a breakthrough. I went to Pump the other night to meet [restaurateur and Real Housewives of Beverly Hills star] Lisa Vanderpump. I had her sign a bottle of vodka, and when she gave it to my friend who was with me at the Oscars, my friend said, "Jennifer, this is so much better than the Oscars!" [laughs] We took so many pictures with her. We were like, [referring to season four of the show] "Puerto Rico was a witch hunt. Brandi [Glanville] and Kyle [Richards] were so mean!"
ER: I can't believe the intricacies of their lives. I want to know how much of it's a sham, how much of it is directed.
2. When Eddie Called Jennifer the Next Oprah:
JL: What was your most helpful tool? Was it the Stephen documentaries?
ER: Good question.
JL: I know! And I just came up with it, too.
ER: I think you've got a sideline. Oprah beware. [both laugh]
3. When Jennifer Impressed Eddie With Her Eating Habits:
JL: Um. Sorry, I'm eating Chinese food.
ER: Chinese? What time is it where you are?
JL: This is my breakfast.
ER: I'm impressed, Lawrence!
JL: I had it for dinner and breakfast, and I ordered so much that I'll probably have it for lunch.
4. When They Bemoaned Not Having a Leisure-Time Hobby:
ER: So you're a lady of leisure now? Are you finally having a moment off?
JL: I am, and I'm miserable. I was so excited to get time off, and now I don't know what to do with myself. What do you do when you have time off?
ER: Someone asked me today what I've been doing, and I felt like I had to really make up something to justify my . . .
JL: Yeah. I'm like, "I paint — I'm a painter!" [laughs]
ER: What do I do? I don't know. I'm really sh*t at the piano. I play the piano.
JL: I'm so happy you don't have an answer.
ER: And then I occasionally try to pretend to paint, again, badly. But this is the great luxury of not working: the moment you read a book that has nothing to do with work, you know you're really relaxed. And I have a sh*t attention span. I can't concentrate for more than five minutes.
JL: Me too. I read two pages and I'm like, "Maybe I'll just watch TV until the commercial break, and then I'll finish the chapter."
5. When They Discussed the Struggles of Food Poisoning and Tequila:
ER: I give it like a year and a half after getting food poisoning from something, and then I start gorging on it again.
JL: That's what I think about tequila.
ER: I hate tequila!
JL: I'm always like, "Nope, I can never drink tequila again," but . . .
ER: Tequila is my salmon. I had a brutal experience with it at university. [laughs]
JL: [After being disconnected and coming back on] I'm sorry. I think my publicist pulled the plug when I started talking about tequila. [both laugh]
6. When They Mutually Agreed About How Actors Are Handled:
ER: And you know how, quite often, people don't understand how actors work and so they treat us with kiddie gloves?
JL: Yeah, like a land mine.