Jimmy Fallon Interview With Parade Magazine | Feb. 16, 2014
This Just In: Jimmy Fallon Is the Perfect Husband and Dad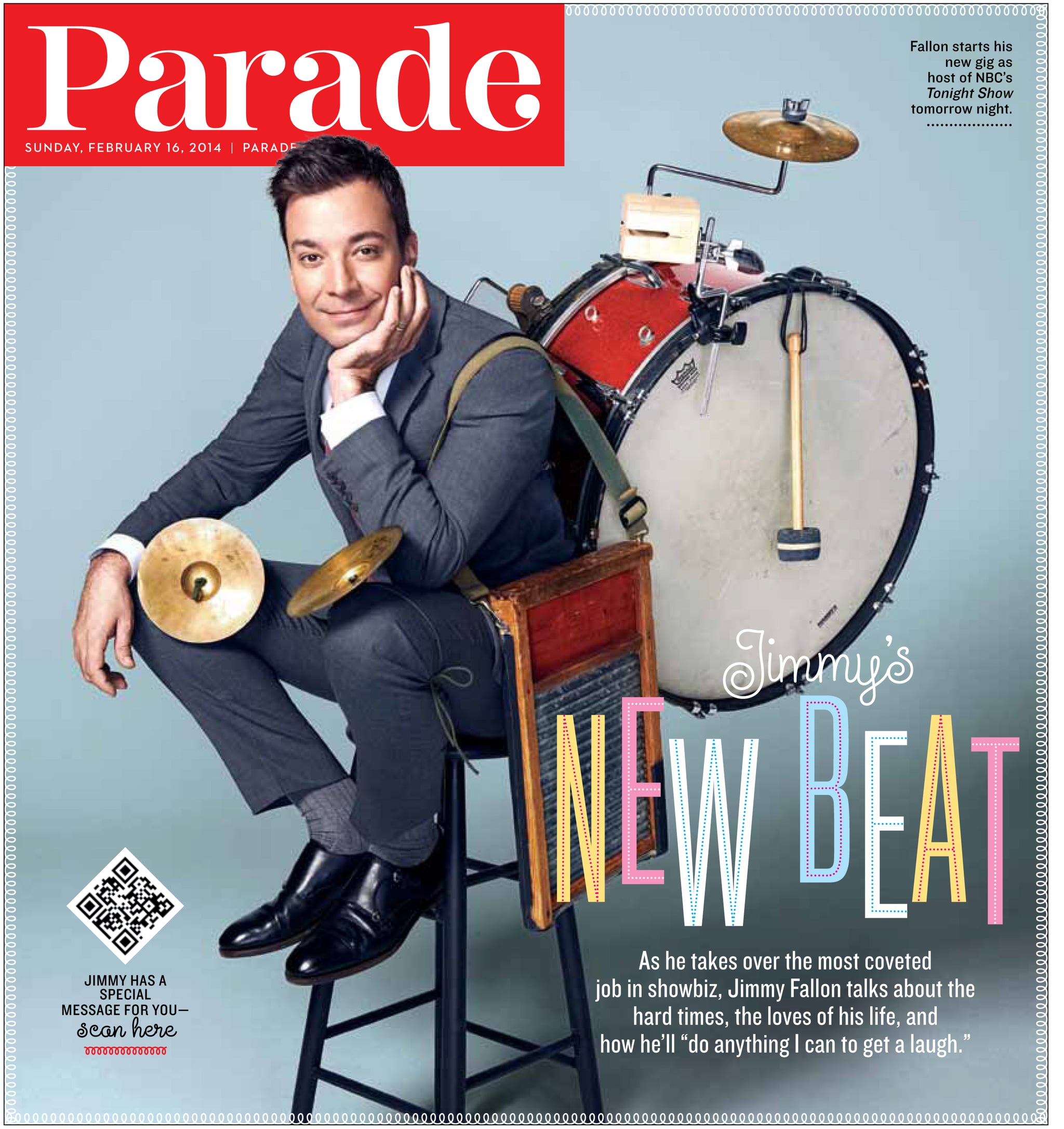 Jimmy Fallon has big shoes to fill as he takes over The Tonight Show starting next week, but he's ready — thanks to his 6-month-old daughter, Winnie. As he explains in the Feb. 16 issue of Parade, the way she "squeals and chirps" makes him and his wife, Nancy Juvonen, feel like they're "in a Disney cartoon." All joking aside, Jimmy is more than ready — albeit nervous — for this "insane" opportunity starring on the historical late-night show, and he already has two dream guests in mind: Queen Elizabeth and Pope Francis. "I'd make it fun for them," he promised.
Keep reading for more from Jimmy's Parade cover story, including the sweet story about him falling in love with his wife, some tough memories from a decade ago when he had two back-to-back box-office flops, and an emotional video about his career move. Oh, and if you're wondering what Jimmy is doing for Valentine's Day, picture him in an apron. According to his wife, she shops for him at Williams-Sonoma for all sorts of cooking gadgets, and his most recent endeavor was making sous vide baby food for Winnie. Aww!
On his first impression of his now-wife, Nancy, while filming Fever Pitch: "She was beautiful. It was a cold, rainy day on the set in Boston, and she had blond hair and was wearing white pants, and she really stood out on this gloomy cobblestone street. It was the best thing that ever happened to me."
On the "rough" five-year period before having their baby, Winnie: "I was doing everything — injecting Nancy, drinking Chinese herbal tea, sleeping upside down. It's just tough."
On their adorable daughter, Winnie, and the story behind her name: "She's a win-win . . . She's so juicy and fun. She squeals and chirps. Honestly, you'd think we're in a Disney cartoon."
On how he tackled the failures of two films, Taxi in 2004 and Fever Pitch in 2005: "You're a little depressed that you're not wanted. We'd go out to bars, have drinks, and I'd sing with the band [but] it wasn't like I was blacking out or getting into fights." Nancy added, "It wasn't like, 'Head to rehab.' He was just trying to figure out what's next."