Katy Perry Talks About Taylor Swift in Billboard Magazine
Katy Perry Admits Her Super Bowl Show Won't Be as Good as Beyoncé's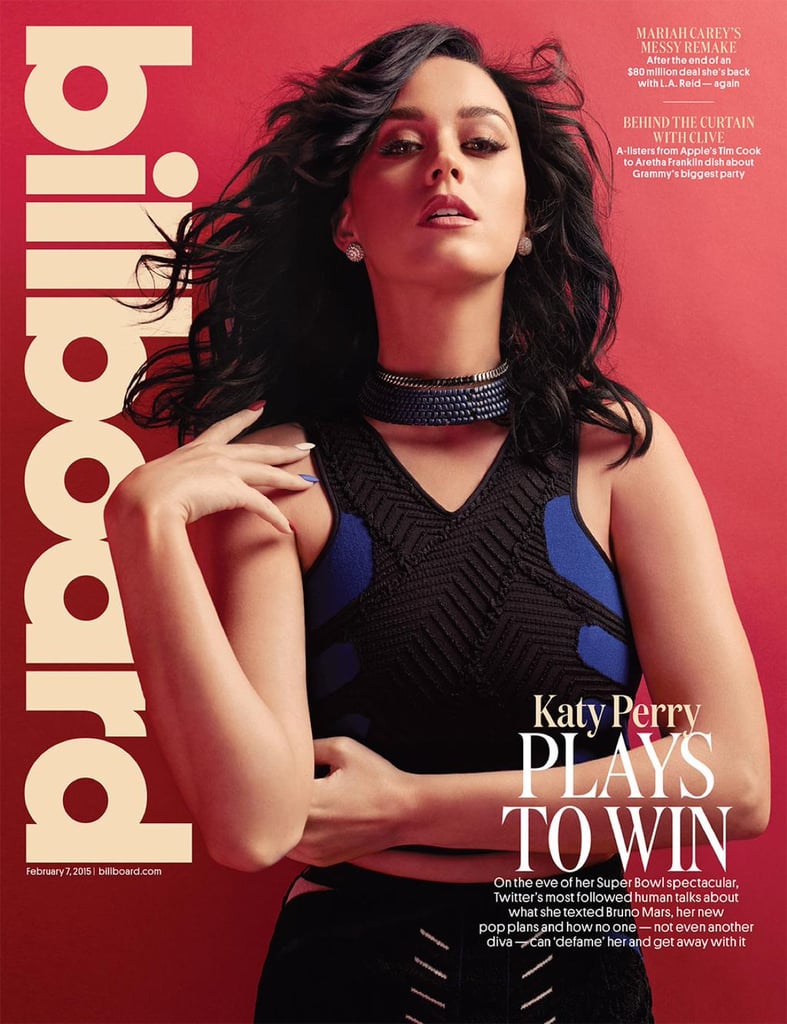 Katy Perry is headlining the Super Bowl halftime show this Sunday, a gig that the singer called "the biggest event of my career." Ahead of the game, Katy spoke to Billboard Magazine about everything from her plans for the big performance — including outrageous costumes and a few high-profile guests — and her thoughts on past halftime show performer Beyoncé, saying, "She's an icon. . . I'm not." She also touched on her reported "bad blood" with Taylor Swift after the release of 1989. Check out the most telling quotes from Katy's Billboard interview, and be sure to check out her sexiest photos ahead of the Super Bowl.
On the vibe of the halftime show: "I want the show to be quintessential Katy. It's like the exclamation point on the whole last cycle. This is the cherry on top of everything I've already done."
On her nerves: "Everyone has been asking me if I'm going to be nervous before the halftime show. I'm like, I'm f*cking human. This is the biggest event of my career."
On prepping for her performance by watching videos of past performers Madonna and Beyoncé: "Those performances are clean and streamlined. They're about the catalog, the songs. I like Madonna for the graphic effects she brought. [And Beyoncé] brought so much strength, so much sassiness and just the right amount of sex. She's an icon. Elvis, The Beatles, Michael Jackson — she's in that category. I'm not. She's like five notches above me, and those levels are compounded in difficulty."
On her LA "compound": "I always dreamed of living commune style. I want my own Neverland ranch at a some point, but not with the salacious parts."
On her biggest dream: "My own Starbucks on the property. I have to create my own world because it's hard to go into the other world sometimes. Barbra Streisand has a mall downstairs in her basement — just weird, amazing stuff like that. I get it, because it becomes such a thing to go out in the world."
On Taylor Swift's song "Bad Blood" being about her: "If somebody is trying to defame my character, you're going to hear about it."