Kenya Moore Wants to Leave The Real Housewives of Atlanta
What Is Going On With the Real Housewives of Atlanta?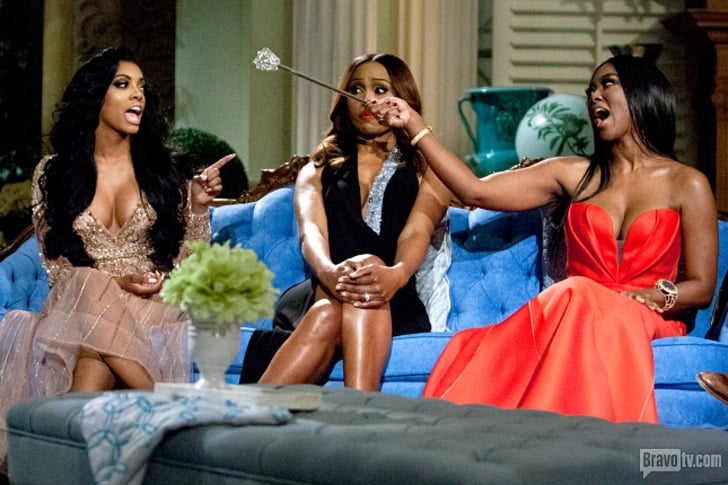 Source: Bravo
There is a big battle going on between two stars from The Real Housewives of Atlanta. Last week, Porsha Williams was arrested for simple battery after she got into a vicious fight with her costar Kenya Moore during their show's reunion special. Now, Kenya is claiming that she is considering leaving the show after seeing it take a violent turn.
During the first episode of the show's reunion special, which aired on Sunday, Kenya claimed that Porsha's ex-husband, Kordell Stewart, cheated on her, which caused Porsha to lash out at Kenya. As the two traded vicious insults, Porsha grabbed Kenya by her hair and dragged her across the floor. Host Andy Cohen and producers immediately jumped in the middle of the two women and pinned Porsha to the ground while Kenya walked away from the brawl, saying that Porsha should be fired and that "either she goes or I go." NeNe Leakes and several other castmates came to Porsha's side as she cried on the floor, telling her to control her emotions. While NeNe attempted to calm her down, Porsha cried out, "I can't believe I did that. I have embarrassed myself!" She was later asked to leave the taping. Watch their brawl and Porsha's hard-to-watch breakdown below.
After the episode aired, Andy called the fight "gross" and said that the other women felt that Kenya pushed Porsha to the edge. Later, in an interview, Kenya said she is considering leaving the show:
"We all agree that we don't condone violence. We've become angry with each other, we've threatened each other and gone to the edge. But at the end of the day, we know there's a line. If there are no consequences, then where does it end? I think Porsha was in a position to provoke me."
Kenya also said that Porsha has yet to talk to her about the incident, adding, "If I was in her position, the first thing I would do is apologize."
Some RHOA stars have come to Porsha's defense. NeNe wrote about the brawl on her personal blog, saying to Kenya, "You TAUNT, you INVADE people's personal space, you PUSH, you PROVOKE, you LIE and yet you don't condone violence! Well, what message are you sending?" Immediately after the episode aired on Sunday, Phaedra Parks appeared on Watch What Happens Live to talk about the incident, saying that Kenya was "a big bully" and provoked Porsha. Meanwhile, the ever-diplomatic Kandi Burruss tweeted that she doesn't want anyone to leave the show: "I want everyone to come back next season!"