Kristen Stewart's CR Fashion Book Interview
Kristen Stewart Reveals What She's Most "F*cking Attracted" To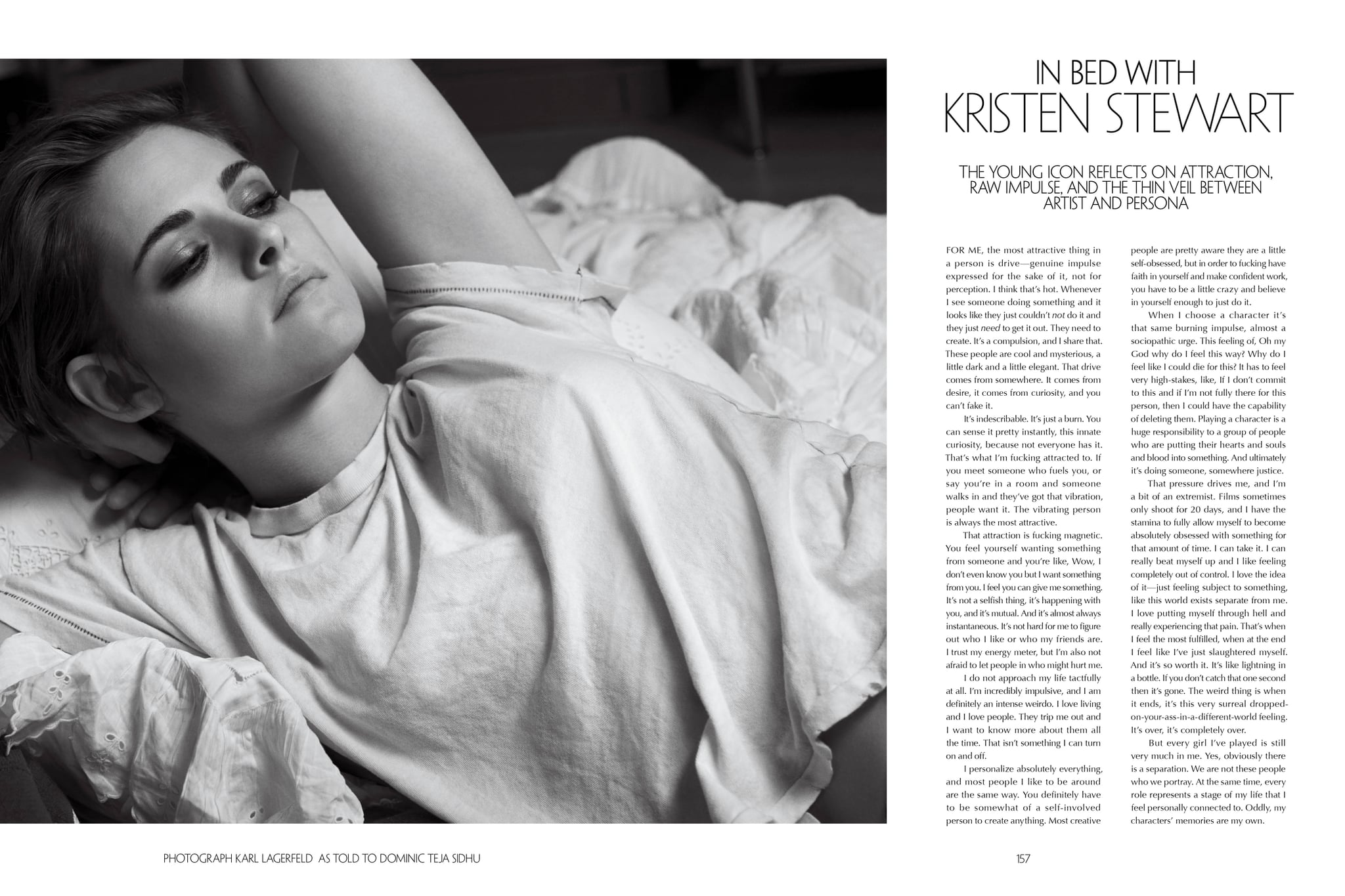 Kristen Stewart reflected thoughtfully about her personal life and career in the latest issue of CR Fashion Book, sharing her attractions, raw impulses, and what makes an artist. In the issue, Kristen is seen wearing a simple white shirt while posing nonchalantly in a classic black-and-white photo shot by Karl Lagerfeld. She talked about what she finds irresistible in a person, citing "drive and genuine impulse" as the main attraction, and revealed why she takes the characters she plays to the extreme. The outspoken actress, who is known for not holding back, spoke about her own self-involved persona as an artist. Earlier last month, Kristen left her own artistic mark in the film world when she was the first American woman to win best supporting actress for her performance in Clouds of Sils Maria at the César Awards in France — watch her deliver parts of her acceptance speech in French! Scroll through to read Kristen's latest candid quotes.
On what she is most attracted to in a person: "For me, the most attractive thing in a person is drive — genuine impulse expressed for the sake of it, not for perception. It's a compulsion, and I share that. It's indescribable. It's just a burn. You can sense it pretty instantly, this innate curiosity, because not everyone has it. That's what I'm f*cking attracted to."
On being self-involved: "You definitely have to be somewhat of a self-involved person to create anything. Most creative people are pretty aware they are a little self-obsessed, but in order to f*cking have faith in yourself and make confident work, you have to be a little crazy and believe in yourself enough to just do it."
On being an extremist in any role she plays: "When I choose a character it's the same burning impulse, almost a sociopathic urge. Playing a character is a huge responsibility to a group of people who are putting their hearts and souls and blood into something. That pressure drives me, and I'm a bit of an extremist."
On her ultimate prize after the director calls cut: "I love putting myself through hell and really experiencing that pain. That's when I feel most fulfilled, when at the end I feel like I've just slaughtered myself. And it's so worth it. It's like lightning in a bottle. If you don't catch that one second then it's gone."