Lena Dunham Tweets About Justin Bieber Doing Drugs
The Funniest Celebrity Tweets of the Week!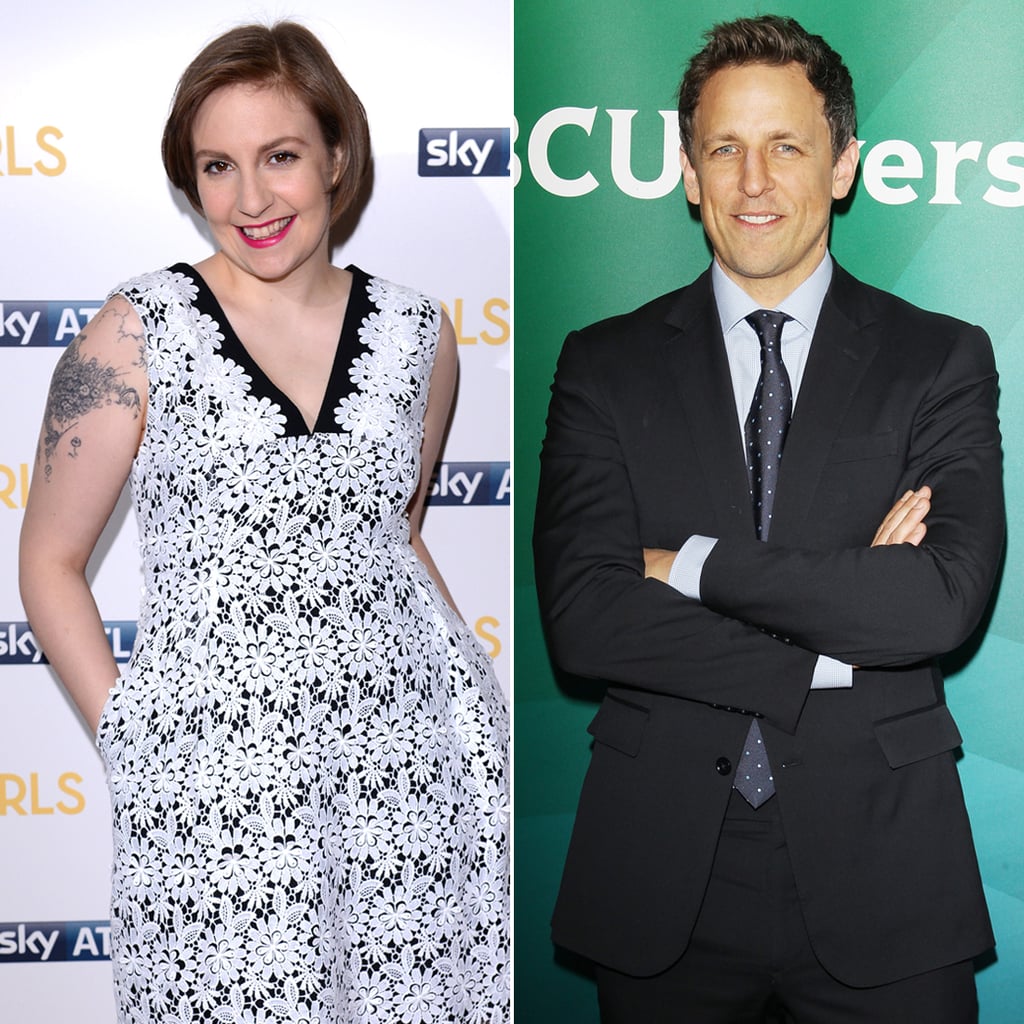 Nothing really surprises Lena Dunham. If you've seen Girls, you know she's seen, imagined, or tried nearly everything. But Justin Bieber's alleged choice of drugs on the wild night that landed him in jail? That little discovery inspired the actress to chime in on the pop star's misfortunes this week. Meanwhile, in an attempt to understand what has led Justin astray, Seth Meyers pinpointed the moment everything went downhill. In other can't-miss tweets, Ellen is cashing in on marijuana trends, and Kelly Osbourne had a pretty crappy time at Barney's. Keep reading to LOL at all that and more!
The only crazy part of Justin Bieber arrest is that he was "popping anti-depressants all day." Anti-depressants take like 3 months to work.

— Lena Dunham (@lenadunham) January 23, 2014
Lena, don't you know Justin is planning for his future?
I blame Kate McKinnon #Bieber http://t.co/wSDCqkf3wE

— Seth Meyers (@sethmeyers) January 23, 2014
Because nothing is as traumatic as seeing someone imitate you on Saturday Night Live.
US marijuana sales might top $2.3 billion this year. I'm not saying I support it. I'm just saying it's now available in the Ellen Shop.

— Ellen DeGeneres (@EllenDeGeneres) January 22, 2014
Ka-ching!
Every time you buy a box of Girl Scout Cookies, a Keebler elf hangs himself from a hollow tree. #havefunkids!

— Jimmy Kimmel (@jimmykimmel) January 23, 2014
Now, Jimmy, don't go hating on our Samoas and Thin Mints.
I would love to see Rob Ford and Justin Bieber in a drag race.

— kelly oxford (@kellyoxford) January 23, 2014
Leave it to the Canadians.
Cate Blanchett referencing Matthew McConaughey talking about Neptune in his acceptance speech last night was a joy of my life

— Mindy Kaling (@mindykaling) January 19, 2014
We loved this, too!
More than 11 million people have quit Facebook in the last 3 years. Unfortunately, none of them were your parents. #fallonmono

— jimmy fallon (@jimmyfallon) January 17, 2014
Ah, nothing like a parental notification.
Miley Cyrus could never live in the kind of cold we're having here in NYC. Can you imagine all the poles her tongue would get stuck to?

— Joan Rivers (@Joan_Rivers) January 22, 2014
Time to get that tongue insured, Miley.
The main thing your selfie is doing is showing me how dirty your house is

— Whitney Cummings (@WhitneyCummings) January 19, 2014
Whitney is judging you.
Bye bye Blockbuster! Nuts. There goes my 26 cents a year for "Beaches."

— Bette Midler (@BetteMidler) January 23, 2014
Bette's royalty checks are getting smaller.
Hands down one the funniest things I have ever seen! A dog shitting in Barney's and about 20 people… http://t.co/xHhtlhKvBe

— Kelly Osbourne (@KellyOsbourne) January 21, 2014
Picture Kelly Osbourne laughing and snapping that pic as you walk through it.
i have no life pic.twitter.com/M4COTM6GlH

— christine teigen (@chrissyteigen) January 23, 2014
Surprise, surprise — Chrissy has interesting chip names.
Wanna make Oprah smile in a pic with you? Give her financial advice. http://t.co/FAK5kZHRe6

— Damon Wayans Yunior? (@wayansjr) January 18, 2014
Damon knows Oprah laughs her way to the bank.