Mama June of Honey Boo Boo's Scandal
Everything You Need to Know About Honey Boo Boo's Sex Offender Scandal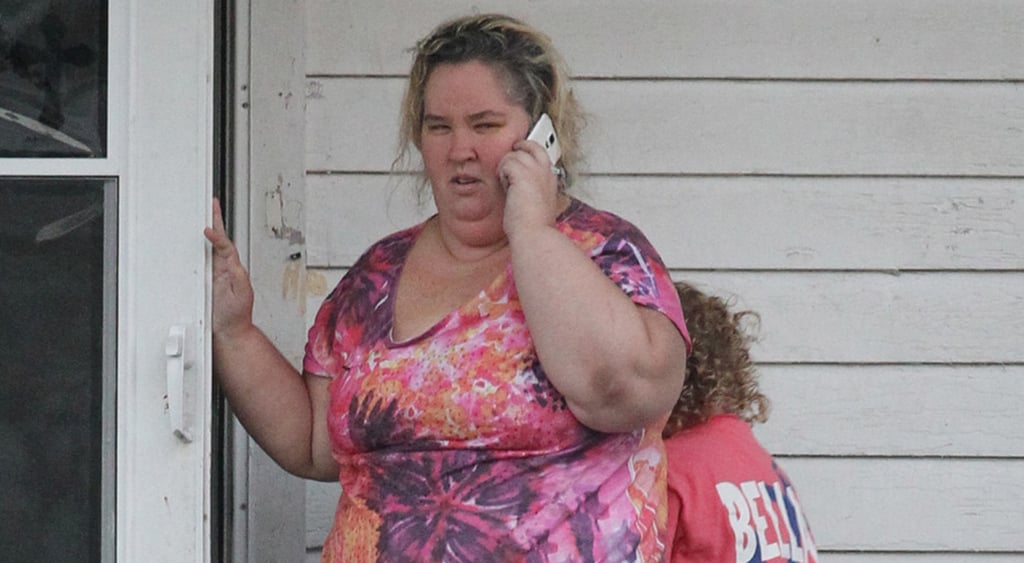 It's been a rough week for the cast of the now-canceled TLC show Here Comes Honey Boo Boo. Last week, news broke that the matriarch of the reality TV family, "Mama" June Shannon, had begun dating a convicted child molester after breaking up with her longtime partner, Mike "Sugar Bear" Thompson, earlier this year. June and her family initially denied the reports, but that didn't stop TLC from pulling the plug on the successful series and removing all episodes of the show from its stations. Now, more details about Mama June's alleged romance with Mark McDaniel are coming to light, and things aren't looking good for the Georgia-based family. Keep reading to find out everything that we know so far about the shocking scandal.
Mark Allegedly Molested June's Eldest Daughter
Anna Marie "Chickadee" Cardwell, June's oldest child, has come forward to identify herself as one of Mark's victims. Anna, who was 8 years old at the time she was being molested, has said that Mark "would try to touch me and all that stuff" when he was dating her mother. (He was never convicted of molesting Anna but he was convicted in 2004 of a similar molestation charge on another child.) Anna, now 20 with a 2-year-old daughter of her own, has said that she is "confused" by the differing accounts in the media about her mother's relationship with Mark but wants to believe her mother is telling the truth. However, if she discovers that June has been hanging around Mark, she has said she would not let her be around her granddaughter. "I would not let her see Kaitlyn unless Mark is out of the picture or away because I don't want him nowhere near my child," Anna said.
June Maintains Her Innocence
June has not spoken publicly since Friday, Oct. 24, when TLC announced that it was canceling her show. At the time, she shared a video of herself on her youngest daughter's Facebook page, maintaining that the reports that she is dating a sex offender are "totally untrue" and that she has not seen Mark in 10 years. June's daughter Lauryn "Pumpkin" Thompson has also publicly stated that her mother has not been in contact with Mark in 10 years. The family has remained tight-lipped since June's video, but she was spotted walking around outside her house on Friday (see photo above) while chatting on the phone.
There Are Recent Photos of June Hanging Out With Mark
Despite June and Lauryn's denials, TMZ has published photographs showing June hanging out with Mark over the past few weeks. In one set of photographs, June is seen walking hand in hand with Mark as they looked at new homes with his son and her 14-year-old daughter, Lauryn. There are also snaps of June, Mark, and 9-year-old Alana playing around on a staircase together.
June Could Lose Her Kids
People spoke to a representative for Georgia's Division of Family and Child Services, who said that if they found that June's children were "living around a sex offender" that they could possibly remove the kids from her home:
"From our point of view, when there are young children who are not able to protect themselves that are in daily contact or living with a sex offender, someone would go out and assess the situation and decide whether the children can stay there or not. If we thought a child was in harm's way in any way, shape or form, we would develop a safety plan and make sure the children are not around an offender."
For privacy reasons, the spokesperson could not confirm nor deny if they were investigating June.
However, the Cops Can't Keep Mark From Hanging Around June's Kids
Legally speaking, it is not against the law for Mark to hang out with June and her family. According to TMZ, Mark is allowed to be around June's three underage daughters, but he is not allowed to be around Anna. As long as Mark is in "total compliance" with his sex offender restrictions then the police can't touch him. However, the local police have said that they have received numerous complaints about his relationship with June and that he is on their radar.