Miley Cyrus Feuding With Ed Sheeran at the VMAs
Did Miley Cyrus Dis Ed Sheeran to His Face at the VMAs?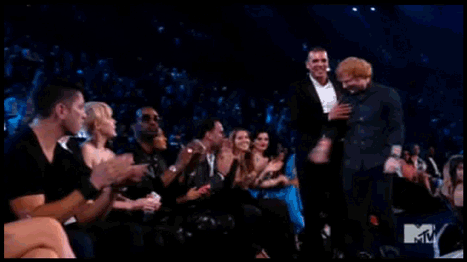 It looks like Miley Cyrus might have serious beef with Ed Sheeran. The "Wrecking Ball" singer was caught on camera mouthing "*sshole" to Ed when he passed by her while walking to the stage to accept his award for best male video at the 2014 VMAs on Sunday night. It isn't clear if Miley was cursing at Ed in jest or if she really meant to lash out at the British singer. Her comment may have stemmed from an interview that Ed gave in 2013, where he complained about Miley's now-retired dance move, twerking. "You shouldn't be encouraging little kids to twerk," Ed said at the time. "Stop doing this, Miley Cyrus, please. Stop. Stop. Sing 'Wrecking Ball.' It's a great song." He later backtracked on his comments, saying that it was something that he "said in jest" while he was drunk. "I just wanna make it clear," Ed said, "I genuinely like Miley's music a lot."
Despite her bizarre outburst, Miley later adopted a more serious tone when she sent a homeless youth up to the stage to accept her award for best video and raise awareness about homelessness in LA.
Source: MTV; Front Page