Mindy Kaling Tweets About Bringing Her Dad to Set
The Funniest Celebrity Tweets of the Week!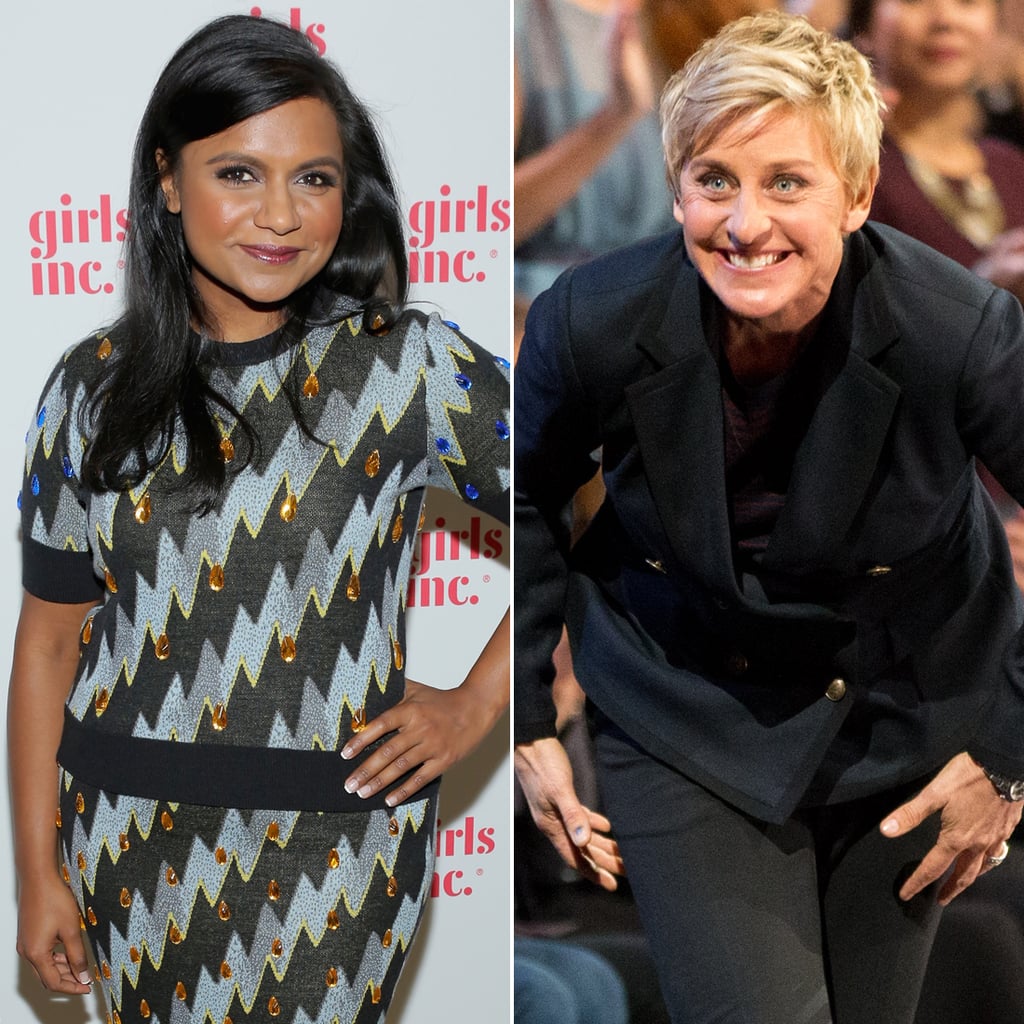 For actors, nothing says "Yeah, I made it!" to parents quite like an impressive set visit. In a turn of events that would only happen to Mindy Kaling, the star's dad was given reason to question his daughter's success. In other funny tweets, Ellen DeGeneres just wants Channing Tatum to show off his goods, and Seth Meyers can't look away from reports about the Olympics in Sochi, Russia. Keep reading to LOL at all that and more!
Brought my dad to set and no cast was here yet and the writers weren't here except Lang so I think my dad thinks it's all made up

— Mindy Kaling (@mindykaling) January 31, 2014
You're wonderful. Now take your shirt off. RT @channingtatum Honored to announce 6 new members of #TeamOscar on Ellen tomorrow.

— Ellen DeGeneres (@EllenDeGeneres) February 6, 2014
Someone had to say it for us.
I can't personally remember an Olympics with better toilet reporting

— Seth Meyers (@sethmeyers) February 6, 2014
The photos have Pulitzer written all over them.
Wonder how many gold medals Putin is going to 'win' in Sochi?

— RainnWilson (@rainnwilson) February 6, 2014
And on a serious note, what is Putin's competitive sport of choice?
How many calories in lipstick? How many if you put it on all day?? I gotta think this through.

— bettemidler (@BetteMidler) February 5, 2014
We just got a flashback of this hilarious lipstick look.
My friend once said, "If you can't remember a guy's name, just call him David. Most men are named David." #worstadvice

— Jimmy Fallon (@jimmyfallon) February 5, 2014
Beckham is the only David in our world.
Warning!!! New obsession alert! I'm ALL OVER Bieber's dad. Jeremy Bieber...welcome to my act, sir. Xxoo, #KATHY G pic.twitter.com/WGgOsNcR4K

— Kathy Griffin (@kathygriffin) February 6, 2014
We hope Justin and Jeremy have a sense of humor!
Shooting today w/@wwwbigbaldhead & @steveyeun for @TheSoup. I don't feel well. pic.twitter.com/a4Pl5LsdGy

— Joel McHale (@joelmchale) February 6, 2014
Hangover scare day?
I'm trying to become more germaphobic.

— Lena Dunham (@lenadunham) February 1, 2014
Good luck with that in New York.
Super Bowl Sunday!!! Anyone know what channel it's on... in France?

— oliviamunn (@oliviamunn) February 2, 2014
It's all about the live stream, Olivia.
My alarm is gonna go off in 10 minutes and I haven't fallen asleep yet. Can you forget how to sleep? What is happening?? Someone send help.

— Anna Kendrick (@AnnaKendrick47) February 6, 2014
It sounds like you're having a panic attack.
When people go on juice cleanses I feel like they're really just cleansing friends because that's what you really lose

— Whitney Cummings (@WhitneyCummings) February 6, 2014
What, you don't want to eat while I glare at you and sip my green drink?
Just read a study claiming dogs can feel love, which is yet another way dogs are superior to cats. And comedians.

— Conan O'Brien (@ConanOBrien) February 4, 2014
Oh Coco, we know there's a heart in there somewhere.
I just rode my bike past a transvestite who smelled like the most delicious garlic marinara sauce.

— Seth Rogen (@Sethrogen) February 2, 2014
Random cardio moments are the best.
David Beckham is creating his own soccer team. I already knew that. He and Victoria have been making soccer players for years now. #MLSMIAMI

— Ellen DeGeneres (@TheEllenShow) February 5, 2014
. . . Or perhaps they're making the Spice Boys.