Tracee Ellis Ross Talks About Golden Globe Award Win 2017
Tracee Ellis Ross Opens Up About Her Historic, "Really Special" Golden Globes Win
Image Source: Getty / Kevin Winter
"Pain is obviously a part of life. It's something we all experience," Tracee Ellis Ross told us over the phone this week — although these days, it would appear that the Emmy-nominated actress doesn't have much to agonize over. After working professionally in Hollywood for over 20 years, Tracee is finally getting a well-earned turn in the spotlight. While discussing her recent history-making Golden Globes win, the Black-ish star revealed just why her award was bigger than herself. Keep reading to see why Tracee considers her win to be "really special" and check out the fun fact she shared about her mother Diana's iconic Golden Globes win 44 years ago.
POPSUGAR: First off, I have to say congrats on your Golden Globes win. You are the first black woman to win for best actress in a comedy series since Debbie Allen in 1983. Did you realize that you were making history?
Tracee Ellis Ross: I was aware. I think it inspired a lot of what came out of my mouth: that me winning that award was really me winning not just for me. It was an award to be shared with many women. What I did not know — I found out the day after — is that my mother [Diana Ross] won a Golden Globe 44 years ago. And I'm 44, which I mentioned in my speech, so it was kind of this very beautiful full-circle moment.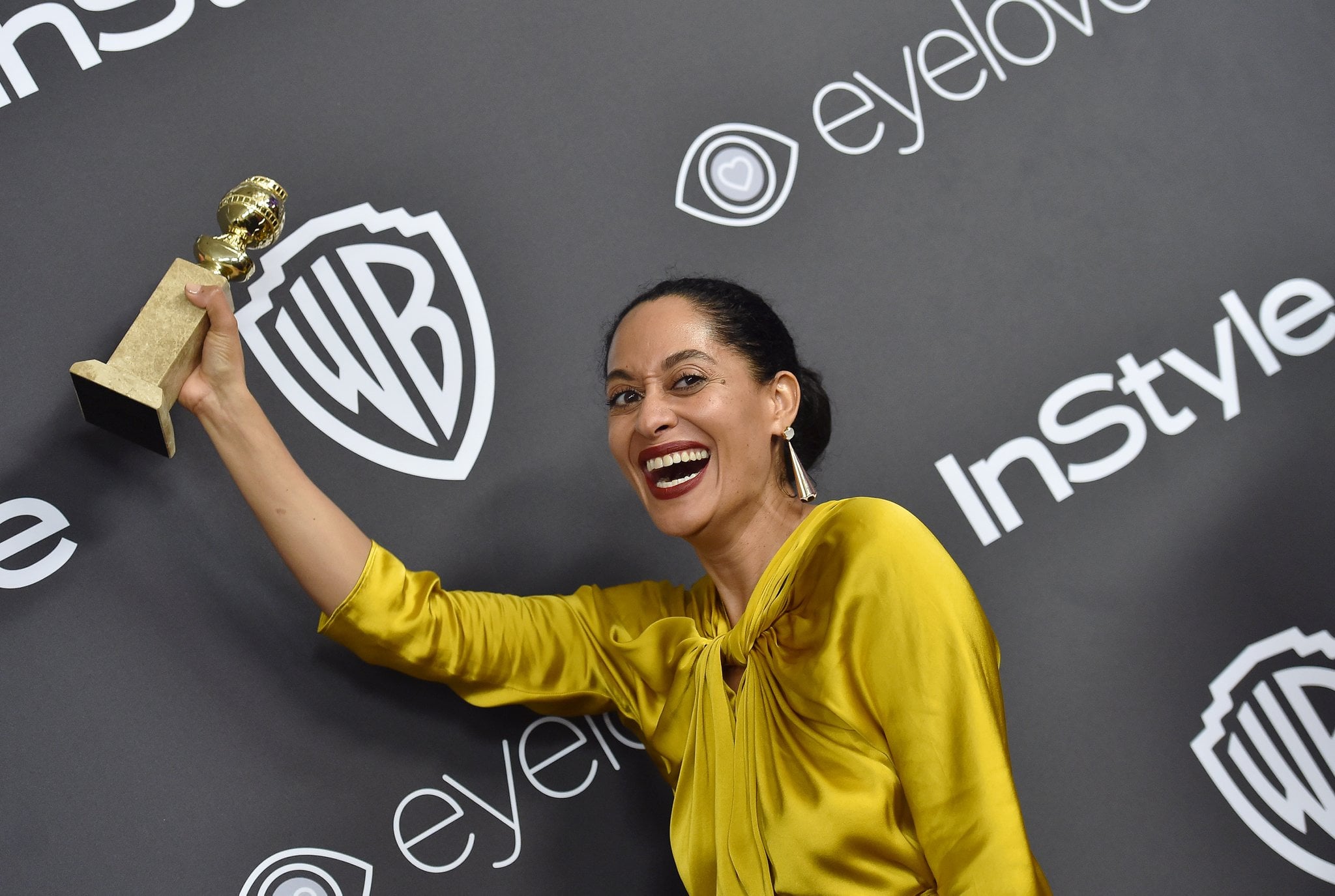 Image Source: Getty / Axelle/Bauer-Griffin
POPSUGAR: Your speech was very moving. What does it feel like to be celebrated for your work at this stage in your career?
"If you would have told me at 13 years old that I was gonna win a Golden Globe, I would have thought you were nuts!"
TER: It feels really special. I have been doing this for a long time. It's exciting to be on that stage and to be able to thank all of those people who make it possible. But I think it feels really special mostly because I feel very aware of the magnitude of what's going on around us and the importance of these moments. Not in terms of what they mean to me personally, but what they mean to all of us. In the way that women, women of color, and colorful people are getting to be seen, the way our humanity is getting to be shared.
POPSUGAR: Let's talk about your involvement in Motrin's #WomanInProgress campaign. What made you want to be a part of it?
TER: I think it is inspiring a really important conversation about changing our understanding about pain. Pain is obviously a part of life. It's something that we all experience, the spectrum of discomfort to comfort. In our culture, it's like pain is something to avoid. If I really look at my life, my relationship to pain and the ability to lean in to it is actually what has brought about some of the most important growth and joyous experiences in my life. Avoiding pain actually would have robbed me of some of the most important moments of my life.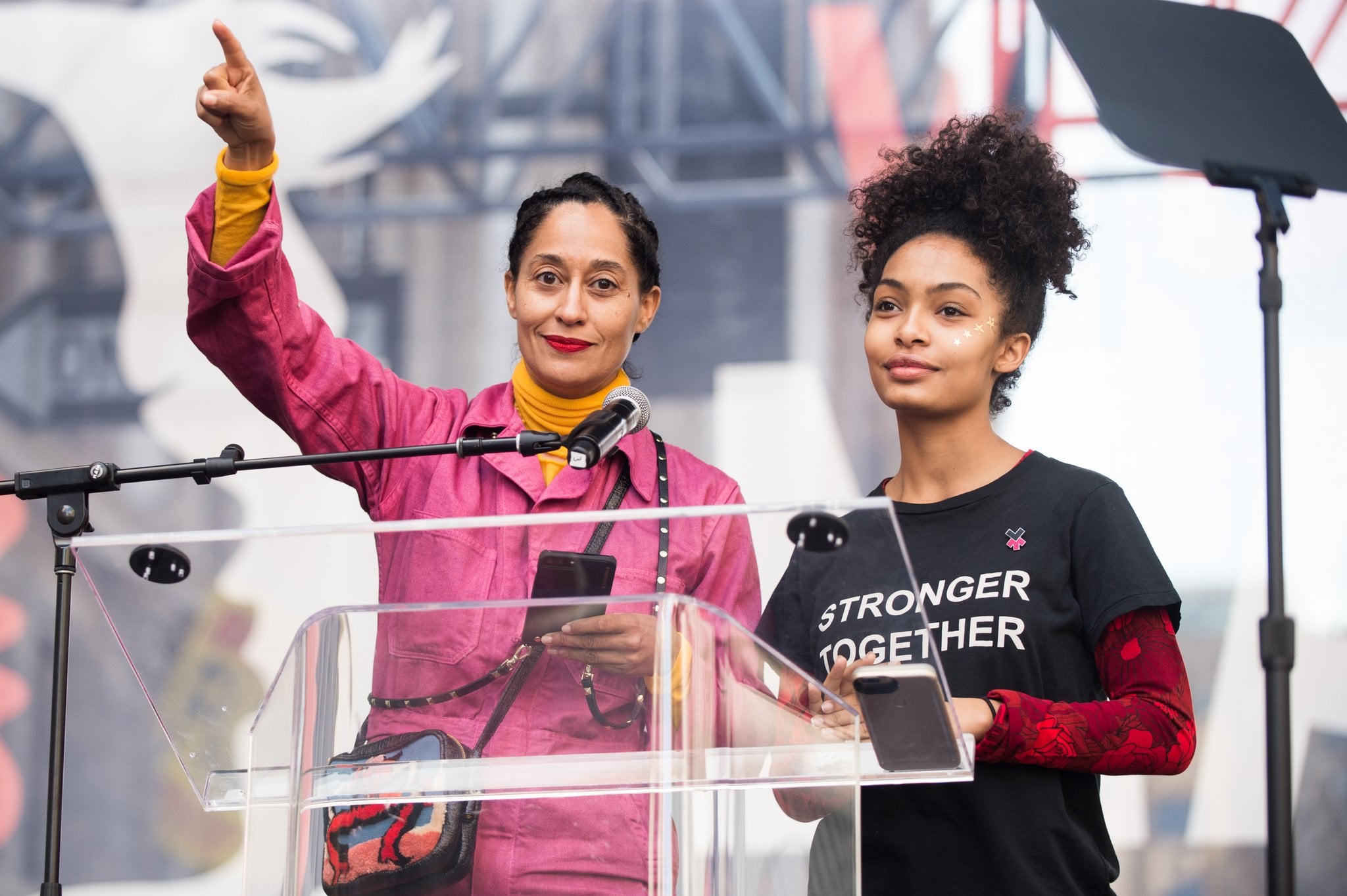 Image Source: Getty / Emma McIntyre
POPSUGAR: Speaking of turning pain into empowerment, you supported the Women's March last month following Donald Trump's inauguration. What was it like to be there in LA and speak at the event?
TER: It was probably one of the most moving things that I have ever experienced. I didn't know what to expect. It was like being in the biggest hug you could possibly be in. I thought it was so important for all of us to experience our own power and the magnitude of it, and for the world to see that — the impact that we can have when we gather together in this intersectional and revolutionary way. The heroes of that march were every single woman and person that showed up.
POPSUGAR: You've been very active in politics lately. Would you ever consider running for a public office? President Tracee, maybe?
TER: [Laughs] I have no idea. It seems unlikely, but my life has taken turns that I would have never expected. If you would have told me at 13 years old that I was gonna win a Golden Globe, I would have thought you were nuts! So maybe if you tell me at 44 that I would be president, I would say that's crazy, but who knows? Maybe I'll look back at 72 years old and I'll be like, 'What's up, America?!'"