Which Actress Bit Beyonce?
Tiffany Haddish Reveals the Legal Reason She Will Never Tell Who Bit Beyoncé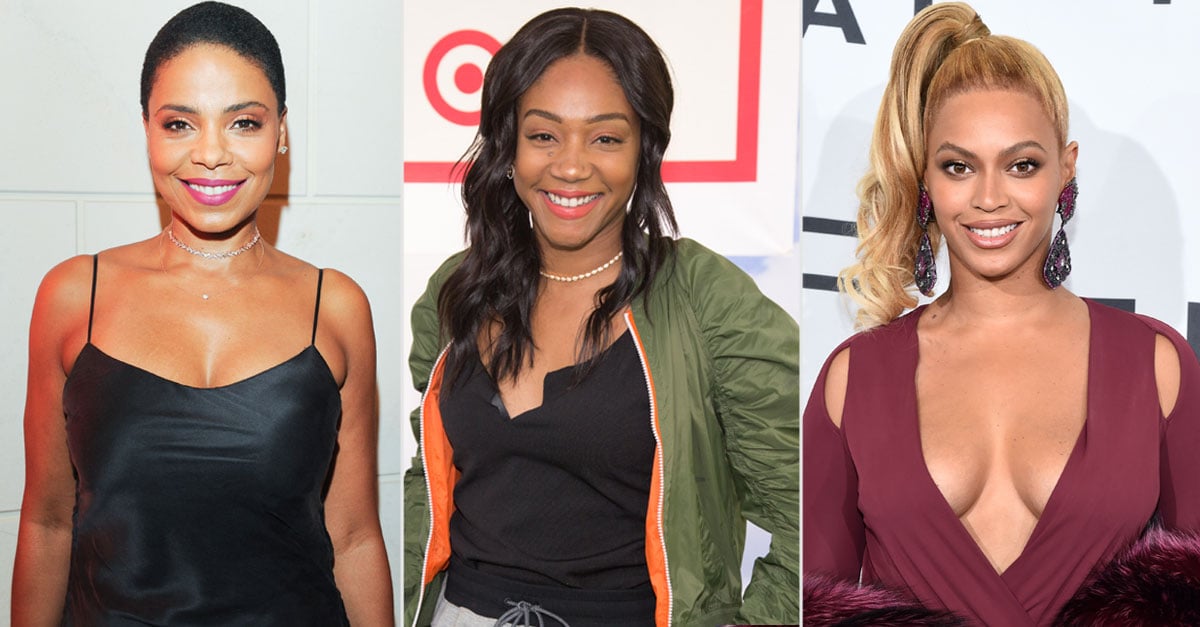 Image Source: Getty / Amy Graves, Gabriel Olsen, Ilya S. Savenok
Update #1: Having been contacted for comment by both people in the media via email and furious Beyhive members via Instagram comments, Sara Foster opened up about the incident by posting screenshots to Instagram. One was an email from Insider asking her to clarify what happened (which she captioned "Flattering that anyone thinks I could get this close to Beyoncé"), and in her Instagram story she wrote "I wish I could get close enough to Beyoncé to bite her." Which . . . relatable.
Chrissy Teigen has also changed her tune, noting that her "initial guess was wrong." Not only that, but the culprit is someone she "never would have guessed."
My initial guess was wrong. The real person? I *never* would have guessed. I'VE SAID TOO MUCH

— chrissy teigen (@chrissyteigen) March 26, 2018
Update it is NOT the person I think is the worst. IM DONE

— chrissy teigen (@chrissyteigen) March 26, 2018
Next, we have Tiffany Haddish stepping back into the ring. After a fan tweeted that the actress in question might be Taraji P. Henson, she responded with a succinct, "No it wasn't."
No it wasn't

— Tiffany Haddish (@TiffanyHaddish) March 26, 2018
Finally, Sanaa Lathan, who spent much of the day being attacked with bee emojis in her Instagram comments, addressed the story with a tweet:
Y'all are funny. Under no circumstances did I bite Beyonce and if I did it would've been a love bite 💋

— Sanaa Lathan (@justsanaa) March 26, 2018
Update #2: Multiple sources close to Tiffany have stepped forward to tell TMZ that the biter is, in fact, Sanaa. Apparently the bite, which reportedly took place after Sanaa (or SOMEBODY) began talking to JAY-Z in a way that made Beyoncé very uncomfortable, was "playful and noninvasive, but still caught Beyoncé off guard."
Update #3: Tiffany Haddish confirmed the reason she cannot reveal which actress bit Beyoncé is because she recently signed a nondisclosure agreement with the Lemonade singer. "NDAs are real, so I'm not saying sh*t about nothing," the Girls Trip star stated during an Instagram Live chat on Wednesday, Us Weekly reports. Beyoncé previously made reference to Tiffany signing the legally binding contract in her song "Top Off" with DJ Khaled and husband JAY-Z.


Original Story: There are some questions that are destined to haunt me forever: does Bigfoot actually exist? What really happened to Amelia Earhart? And, of course, which actress dared to bite Beyoncé on the face — ON THE FACE — at a party in December 2017? While the answers to the first two will likely continue to elude me, it's time to investigate the latter situation.
Let's examine the facts, shall we? First, I have to thank Tiffany Haddish for this information, even if the mystery is currently driving me insane. During her recent profile in GQ, the Groupon-loving comedian opened up about attending a bash Beyoncé and husband JAY-Z threw last Winter, which is where she met Queen Bey for the first time. They shared "a brief, pleasant exchange" that quickly evolved into something more.
"There was this actress there that's just, like, doing the mostest. She bit Beyoncé in the face," Tiffany explained, declining to name the bite-happy star. "So Beyoncé stormed away, went up to Jay-Z, and was like, 'Jay! Come here! This b*tch—' and snatched him. They went to the back of the room. I was like, 'What just happened?' And Beyoncé's friend walked up and was like, 'Can you believe this b*tch just bit Beyoncé?'"
Reader, when I tell you I gasped.
"And so then . . . a lot of things happened," Tiffany continued. Apparently Tiffany began keeping an eye on the mysterious actress throughout the night, until finally she approached Tiffany and told her to stop dancing, which didn't go down so well. Tiffany went up to Beyoncé and told her things were about to get physical, but then Beyoncé, a tranquil goddess even after having her face bitten, asked the Girls Trip star to "have fun" instead. They took the below selfie.
Oh, did you think that's where this drama ended? Nope! "Near the end of the party," Haddish added, "Beyoncé's at the bar, so I said to Beyoncé, 'Did she really bite you?' She was like, 'Yeah.' I was like, 'She gonna get her ass beat tonight.' She was like, 'Tiffany, no. Don't do that. That b*tch is on drugs. She not even drunk. The b*tch is on drugs. She not like that all the time. Just chill.'"
The situation has garnered so much attention that even Chrissy Teigen has hopped into the ring, tweeting that she can "only think of one person who would do this" and that she is "the worst." So, who is the face biter? Despite everyone jumping to the conclusion that it must be Jennifer Lawrence (likely because that sounds like a very Jennifer Lawrence thing to do), the Red Sparrow star was in NYC at the time of Bey and Jay's December 2017 party (that's when she was spotted reuniting with ex-boyfriend Darren Aronofsky).
According to the sleuths over at The Cut, that leaves just two actresses on the guest list for this party who likely committed the crime: Sara Foster and Sanaa Lathan. While we can't prove it was either of them definitively, some fans have speculated that Love & Basketball's Lathan is the most likely candidate, given her history of 1) hanging out with French Montana, who was also at Beyoncé's party, and 2) getting "too turnt," as evidenced by the below Instagram.
TL;DR? The identity of the actress is still a mystery, but I will think about who it might be every day, for as long as I live.