The Beckham Family Shared the Sweetest Throwback Photos in Honor of Romeo's 18th Birthday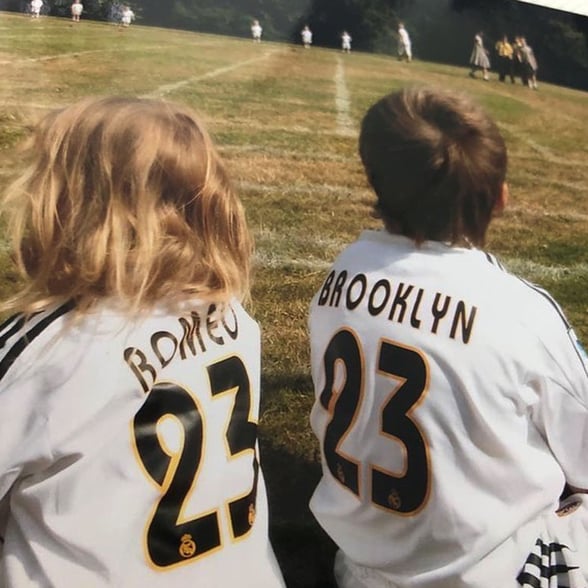 In what's become a Beckham family birthday tradition, Victoria, David, and their brood took to Instagram to wish one of their family members a very happy birthday. This time around, it was for son Romeo's 18th birthday, and the Beckhams put together some sweet photo reels for the occasions.
First up to wish Romeo a happy birthday was dad David, who posted a series of flashback photos along with his heartfelt message. "Happy 18th to my little man (or not so little anymore) 🤨 You have grown into the most beautiful person and that as you say yourself (a man finally) 🤔 we love you so much never give up on your dreams & goals," David wrote. "This shows from day one in my arms with the song you were born to up until our latest moment where yes I had to finally admit my son is taller than me 😩 Happy Birthday mate."
David's gallery of photos includes both touching and intimate photos (like of David in the hospital holding Romeo right after he was born), as well as hilarious videos of David teaching Romeo how to shave and finally having to admit the fact Romeo has grown up to be "slightly" taller than him.
Victoria also shared an adorable series of photos and short video clips to wish her second-eldest son a happy 18th birthday. "We couldn't be prouder of the young man you have become x," she wrote. "You are beautiful inside and out and we love you so much. The sweetest, kindest soul, our everything. So many kisses from us all xxxxx."
Both Cruz and newly engaged older brother Brooklyn also made sure to send Romeo sweet birthday notes, with each of their posts accompanied by throwback photos of the Beckham kids. Keep reading to see the brothers' cute snaps, along with the rest of the family's virtual birthday messages.
The Beckham Family Wishes Romeo a Happy 18th Birthday